Fouad Whatsapp or FM Whatsapp apk is a modded version of whatsapp that provides tons of customization and features that are not included in stock version of whatsapp. The latest Fouad Whatsapp v8.93 apk is available to download. You can find the downoad link and installation instructions below. The best thing about this mod is it is safe, you won't have to worry about for permanent or temporary ban on your whatsapp number.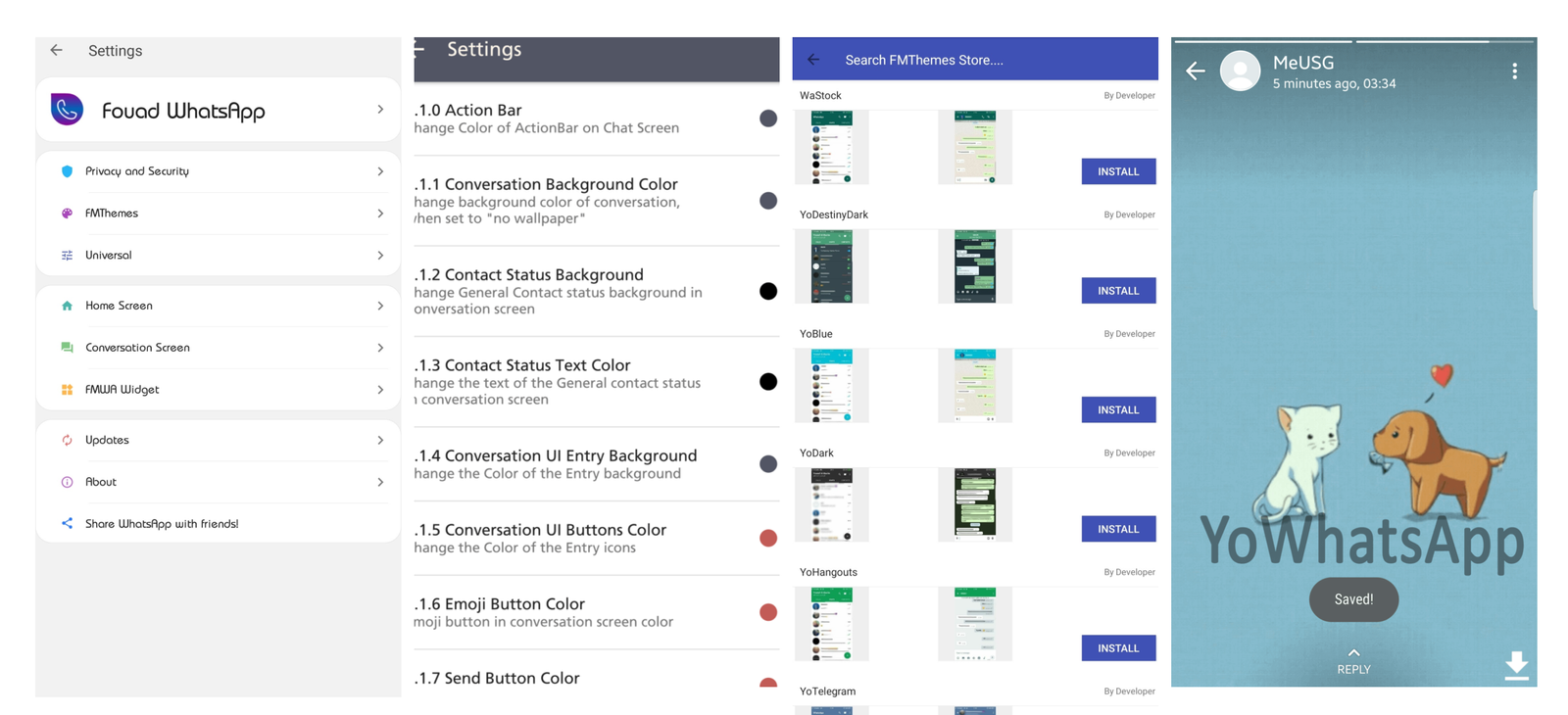 Most used features of Fouad Whatsapp apk is its themes, anonymous read activity for texts and anti delete feature for status and text messages. Moreover you can also save anyone's status in Fouad Whatsapp. If any one tries to unsend a message or delete a status, it will still appear on your side. The new FM Whatsapp v9.10 apk update also now includes voice changer for voice messages.
Fouad Whatsapp Apk
You can install FMWA mod on your phone after downloading the apk file from below link. All the steps required to install Fouad whatsapp on any Android phone are given further below. You would need to delete stock whatsapp from your phone and use Fouad whatsapp as your only whatsapp.
FM Whatsapp v9.10 Changelog:
V 9.10
Added: Download for View Once images/video
Added: View All Messages sent by contact in group (click on name)
Added: Option to change Online Dot color (FMMods > Home Screen > Rows)
Fixed: Archive Chat not showing on group tab
Fixed: RC-TELEGRAM X recording box bug
Fixed: Crash when trying to archive a hidden chat
Fixed: Large Empty space in Hidden chat and archived chat
Fixed: Groups with "Admin Only" still showing send message box in some entry styles
Misc: Many other fixes and improvements that we forgot :p
Misc: Enjoy and discover by yourself!
Misc: Other fixes and improvements
Fouad Whatsapp Apk Download
Download FM Whatsapp Apk latest version from this download link and follow installation instructions
Previous Versions:
How to Install FM Whatsapp Apk on Android
Here are the steps you need to do to install this modded whatsapp. And another thing, don't get confused with the names FM Whatsapp or Fouad Whatsapp because both are the same thing.
Download the apk file from the above link.
Allow the permission, install from unknown sources on your Android. I know all of you would probably know how to do that.
Locate the FM Whatsapp apk file in the downloads folder in file manager.
Tap on the apk file, install it on your phone.
Now launch the Fouad Whatsapp and register your phone number.
Enjoy the FM Mods.
That is it folks, Share this Fouad Whatsapp mod apk with your friends. Do comment below if to give it a thumbs up. Thank you, Peace.