Smartphones are the ultimate computing machines which have taken over normal human lives, it's almost impossible now to skip the use of one. There was a time when we could use the smartphones only to dial a number or text someone, but now, you can do everything on your phone. And now, you can even track someone's cell phone with an app like Hoverwatch.
You may not get what's Hoverwatch simple by reading first paragraph. You need to have look further below to completely know about this app. How, it is useful and is it worth having on your phone or not. So, guys let's start.
What is Hoverwatch?
Well, Hoverwatch is a Cell Phone Tracker. It is a desktop application which records SMS, call history and audio, camera, locations, WhatsApp, Facebook, internet activity, calendar, contacts etc. Nowadays, teens use smartphones and a parent needs to track their phones so that they can see what and with whom are their children interacting. For Kids, smartphones have both pros and cons. Basically, it totally depends on the purpose for which the kids are making the use of a smartphone.
If your kid is using a smartphone and it puts you in a worry about what your kid is doing, then you need a simple solution which can easily let you monitor all the activities of your child. Similarly, you can monitor the phone activities of employees working under you in order to reduce distraction in work and increase productivity.
Hoverwatch is an intelligent piece of software which stays invisible in an Android smartphone, the smartphone user completely remains unaware of the application working in the background. Once active, it starts recording all the incoming and outgoing activities of the phone. Not only text messages, Hoverwatch can also read up Facebook, WhatsApp and Viber communication and bring up all the information in your dashboard. The GPS tracker of Hoverwatch keeps you updated about the geolocation of the user having that smartphone. The camera features allows Hoverwatch to snap a picture of the user whenever he/she unlocks the phone, and the picture pops up in your Hoverwatch control panel.
That's not it, you can also look over a group of people working in a team to checkout their progress and their work behaviour. There's a lot more that you can do using this tool. Get your hands on it and experience the full control over your loved one's activities to keep them safe and sound.
In points, Hoverwatch has following Features
The app remains invisible from the computers where they have been installed.
The SMS and call tracker enable you to keep a record of all incoming and outgoing calls.
The app can track where the target device is right now.
You can access all Whatsapp and Facebook messages on another Android phone.
The tracking app takes a photo each time the screen of the Android phone unlocks.
GO TO Web, Free phone tracker by Hoverwatch
The overall procedure involves three steps:
1. Sign up with an email account.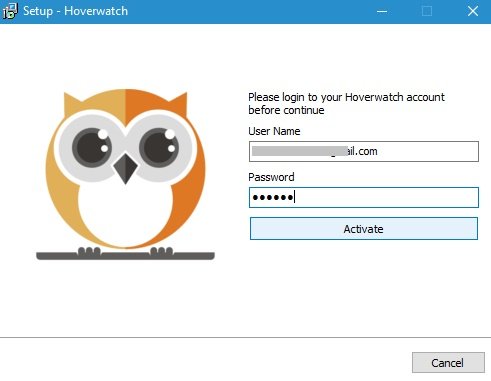 2. Download and install Cell Phone Tracker in accordance with your device requirements.
3. Monitor all data from the phone with call, SMS, GPS and other features.
Go and get this app to keep watch on anyone you care about.