Pokemon Go Gen 2 Latest News, Update, Egg Chart, New Features and more
Last Updated on Nov 27, 2016 by Faiq Ahmed
Since the release of Pokemon Go, Gamers are hooked up. This game from Niantic Lab has successfully penetrated the gaming industry. The game updates are scheduled by Niantic for once in every two weeks. According to the reports the next update may come with several new features including Trading, Buddy Pokemon, New Incense Types, Legendary Pokemons.
Means, the next generation of Pokemon will be released. Meanwhile Pokemon Generation 2 egg chart was posted on Reddit which you'll be viewing in the succeeding post. Pokemon Go Gen 2 will highlight 100 new Pokemon species and 86 new set of moves. Also, a new mechanic is set to be introduced in this new update, called as Baby Pokemon which are hatched from the egg through Pokemon Breeding. The new set of Pokemon will continue the legacy of evolution on the first generation of Pokemon such as Zubat, Onix, Slowpoke, Chansey, Horsea, Eevee.
A Redditor named Vivpix calculated how many steps are needed to successfully hatch an egg for each "Pokemon Go" Gen 2 creature. He was the one who calculated steps, not kilometers (converted kilometers into steps), so that a player can hatch an egg in "Pokemon Go" Gen 2. He based the calculations on the 2km, 5km, 10km eggs in Generation 1. However he thought that it might be convenient for players of "Pokemon Go" to have an idea on what to expect in the Gen 2.
If you're curious to know, let me tell you. In "Pokemon Go" Gen 2, players will have to walk 5,000 steps to successfully hatch a 2km egg, while 5,000 to 5,999 steps are needed to achieve and hatch a 5km. Meanwhile, a total of 6,000 or more are required to hatch a 10km egg.
5000 steps = 2 KM egg
5000-5999 steps = 5 KM egg
6000+ steps = 10 KM egg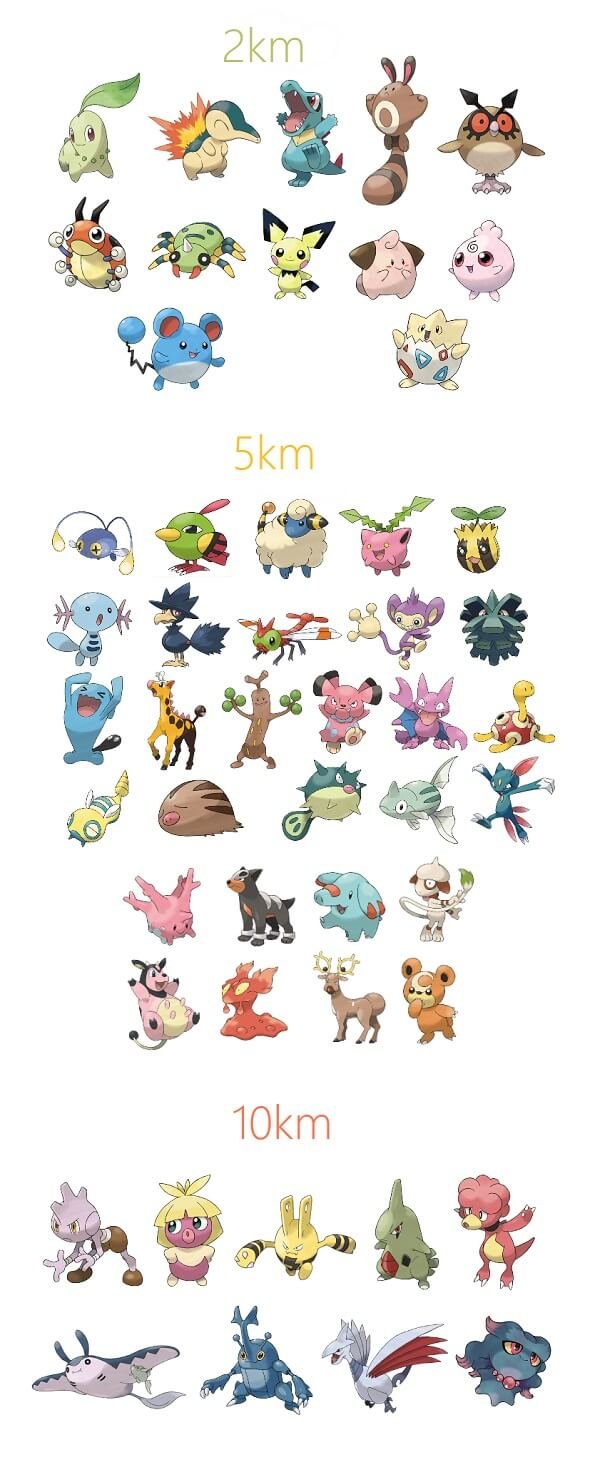 Also, Pokemon Go Hub posted a brand new egg chart showcasing the second generation of Pokemon. The egg chart shows a complete list of Pokemon that will possibly come out of hatching. Based on the post, the generated chart is based on the pattern of the first generation egg chart. So, it is highly expected that Niantic would apply this similar pattern on their second generation of eggs. A number of pokemons from the Johto region are the presented in the infographic and the said pokemons will soon appear in "Pokemon Go" Gen 2.
'Pokemon Go' Gen 2 Release Date
Currently an there is no official date as to when the Pokemon Go Gen 2 update will be released. Pokemon Go Gen 2 featuring new set of pokemons is rumored to be released in the first quarter of 2017. while some changes will be featured in the game such as Baby pokemons, more choices in evolution types and the speculated evolution stones.
Stay tuned for more updates on "Pokemon Go Gen 2."