With Amazon Echo and Google Home you get assistance with everything from weather forecasts to smart-home control. All you need to do is ask. The Echo and Google Home do not send data to servers until they're activated by a hot word (by default OK Google, Alexa). So, all the silly things you say around them shouldn't be recorded. Now, if you're looking to see what kind of recordings Amazon or Google have on you, you can do that. And you can even delete that data.
Alexa App
As it is known that both devices start listening when they detect the hotword, but only record and keep your conversation if they produce a valid response. When they do keep something, Both Google and Amazon allow you to listen to what you said.
The Alexa app, which is available for Android and iOS devices and on the Alexa website. You're able to view, listen to, and even Delete your recordings.
If you want to delete your recording, head to Settings > History. You'll see a list of all your past Alexa requests. Touch or click on the specific recording you want to remove, and then choose Delete from the next screen.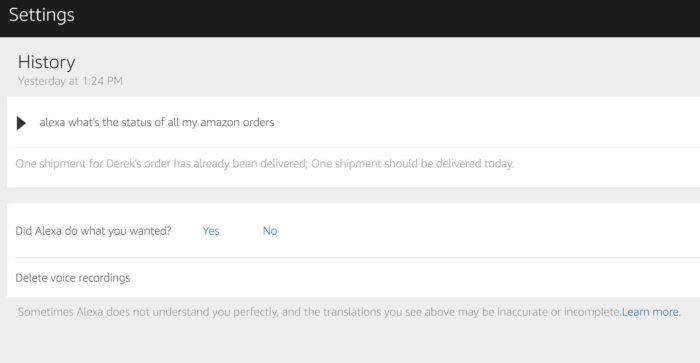 You can delete specific voice recordings that you don't want around anymore.
To wipe all of your Alexa requests head to the Manage Your Content and Devices page. Go to Your Devices and select your Echo. Click the box next to it and select Manage Voice Recordings. You can choose any of your Echo devices and it will take you to all the recordings, no matter which Echo you used.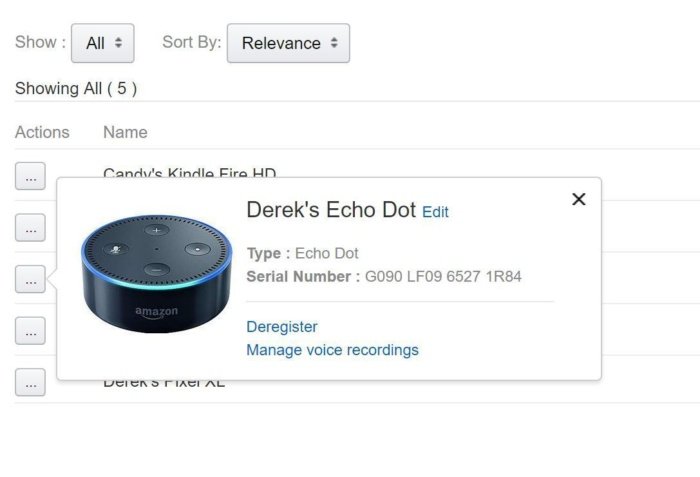 Select Manage voice recordings if you want to wipe the Echo's slate clean.
The next screen will give you a disclaimer. This is where you can delete them all at once.
OK, Google
Keep in mind is that all of your interactions with the Google Assistant are in the same place, whether you talked to it through a Google Home, Pixel, or Allo messaging app.
Go to My Activity to manage this. There's a link inside the Google Home app, but no matter the platform, all of this account information is accessed through the web. You'll see a rundown of all your Google actions.
To get what you need, click or touch Assistant from among the services.
All your Google activity is saved in one place.
Choose one of the recordings and you can listen to it. Select details for more information. Get a rundown of all your interactions with the Google Assistant.
Select filter by date and product and choose Assistant. Click on any of the entries to hear it, further analyze which device you used, or delete.
To delete them all away at once, touch or click the search bar after you've chosen Assistant and choose Delete all.
Such services are designed to learn about you and get more personalized over time. However, it's worth understanding that you can wipe the slate clean, if you wish.
To know more and for more updates subscribe below and share, Thanks!