Google's been killing it lately with the release of Android Nougat and Pixels, it is a fact that Google also manufactures other smaller hardware devices, like Google Chromecast. The Chromecast is a device which converts your normal television into a Smart TV. Last year, Google released a second version, with slight enhancements and much better speeds and functionality. However, since it's bound to happen, sometimes things don't go accordingly, and they fail.
Yes, Google Chromecast can have problems too and at some point, the solution is simple reboot or factory reset your Chromecast. Its a good thing that not all problems arise due to hardware defaults. While these options are slightly hidden to prevent an accidental reset.
Reboot and Factory Reset Google Chromecast
It doesn't matter whether you're an iOS or Android user, the reboot or reset process is the same. Except the menus look slightly different. The first thing you'll want to do is make sure your Chromecast is on and connected to the network. If it's powered by an AC adapter plugged into the wall, you shouldn't even need to have the TV turned on.
Once your TV is on, fire up the Google Home app on your phone or tablet and swipe over to the "Devices" tab. If you have multiple Chromecast devices, just scroll until you find the Chromecast you want to reset.
1. Chomecast is turned on, launch the Cast application on your device. If you have multiple devices, then scroll and select the one you desire to factory reset.
2. With respect to the device, tap on the three dots on the top right corner (hamburger menu) of the window, and this will bring up further options. From there, tap 'Device Settings'.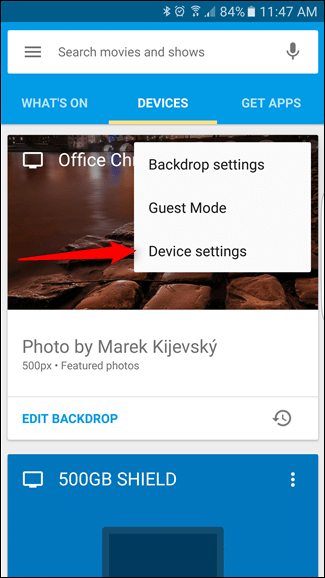 3. Then, again tap the hamburger menu, and select "Factory Reset" from here.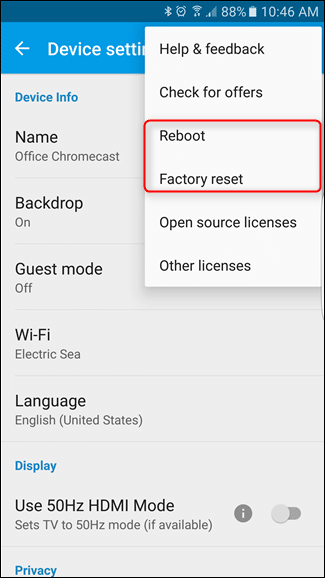 4. A pop-up will appear and you will get a confirmation to factory reset your Chromecast. Confirm the factory reset process, it might take a while, so be patient.
5. Now, your Google Chromecast will reboot, go through the usual setup parameters, and set it up. It's just like new now!
Now that the settings are restored, I'm sure all issues are fixed as well. But if you are still facing some we, try resetting it one more time or take it to a nearby hardware shop.