Multiple accounts, are needed if you are managing more complex tasks on your device. But Most of the Social Networking apps, and Texting apps allow only one user account per app. Even when we have two SIM cards it is not possible to register and use two different WhatsApp accounts, Facebook accounts, or even some games accounts.
Some apps like Twitter, Google+ already support multiple user accounts and only time will tell how long will it take for others to add this functionality. Now, Not all Android apps offer the possibility to manage more than one account. But thankfully, there a few apps that allow you to manage multiple user accounts for a specific app without having to log-out/log-in every time. Here are top five on the list.
1. Parallel Space
Parallel space, Consuming only 2 MB space in your phone's memory lets you share multiple photos/videos in separate accounts. It lets you toggle between two networks or accounts on a single Android device with just a tap. You can login to two multiple social or communication accounts on the same device.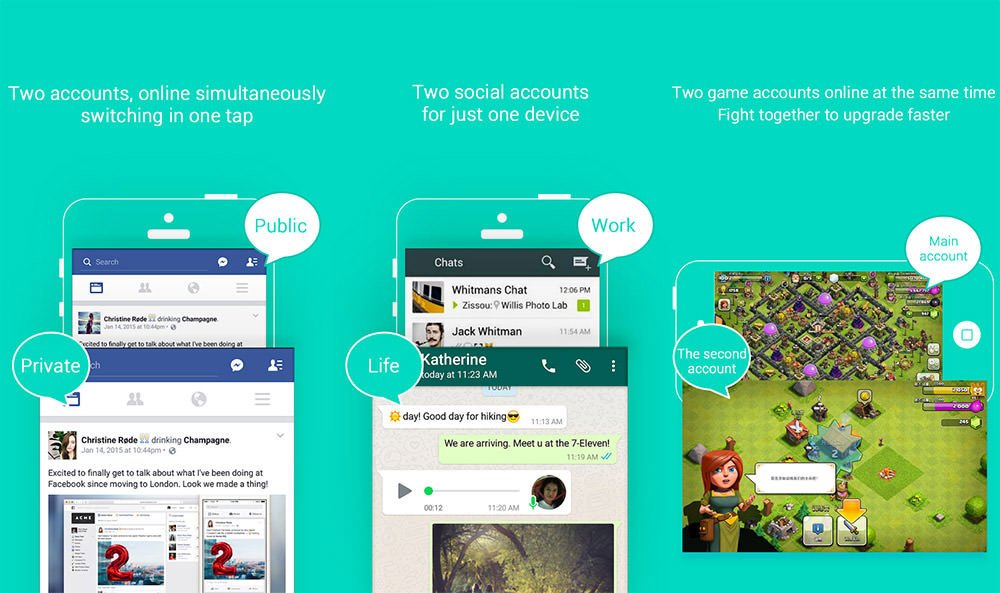 Enjoy multiple user accounts on apps like Facebook, WhatsApp, etc. and switch between them with just a tap. Keep in mind that you cannot stay online on both the accounts simultaneously. The app respects your privacy.
Download it Here 
2. 2Accounts
2Accounts is specifically developed to login to two IM, gaming or social network accounts. One of the main advantages of 2Accounts is its clean user interface, instant messaging, parallel function which separates storage for different accounts. Like Parallel Space, it lets you login to two networks or accounts (WhatsApp, Facebook, Google+, WeChat etc) on a single Android device.
Download it Here
3. App Cloner
As the name suggests, App Cloner lets you create app clones of your existing apps. This allowing you to use multiple (not just two) networks or accounts. You can select the app for which you want to have multiple accounts and the App Cloner will create a clone of that particular app. App Cloner supports multiple logins to popular social networks, including Facebook, Twitter, Skype, etc. It's like running two instances of the same app side by side.
Download it Here
4. Multi Accounts – Multi User Switch
Multi Accounts is a very well designed app. It enables you to to sign into more than one account from your device. You remain connected to both networks simultaneously. Multi Accounts supports almost all major apps, such as Facebook, WhatsApp, Snapchat, Line, WeChat and many more. You can seamlessly switch between different user accounts with a simple tap. You also receive notifications from various accounts simultaneously.
Download it Here
5. 2 Lines for Whazzap (Root required)
2 Lines for Whazzap gives you the option to use more than one accounts on your device. It allows you to instantly switch between two accounts and stores the history of each account for any further use. However, it needs root access on your device. If you are not certain whether your device is rooted or not, you should not use this app.
Download it Here
So, Which multiple accounts manager app are you going to try out? Tell us in comments!