Are you trying to lose weight and looking for an app? Well, you're at the right place, we've gathered top best apps for losing weight both for iOS and Android devices. These are the best weight loss apps you can download to get in shape. These apps will help you work out smarter and faster as well as monitor your activity whether you're at gym or eating.
These are the apps you need on your iPhone or Android to lose weight and get better shape.
Lose it Weight Loss App
This app also includes a website, to help you see your info on computer as well. It is a free weight loss app to help you achieve sustainable healthy weight loss. You can create a personalized weight loss plan and food information will also help you do it as Lose it includes access to a verified food database that helps you track your calories with easy searching. It helps you connect with people and various devices so that you can set goals with friends and colleagues.
Download
Lose It is free, with a $39.99 premium option that includes much more tracking, meal planning and other upgrades.
Pact
Pact is another amazing free weight loss app. This app will keep you on track to work out, eat more veggies and more. Pact lets you earn money if you'll perform the tasks you promised, you will earn money with the app – from $0.30 to $5 a week. Since joining Pact in 2012 Zach Bingham earned roughly $500, and lost $40 by doing the same workouts he had been doing before he started. One more thing if you don't keep the pact, the app will debit your bank account for the money you put on the pact. This can help you with motivation, you'll eat more veggies and work out more.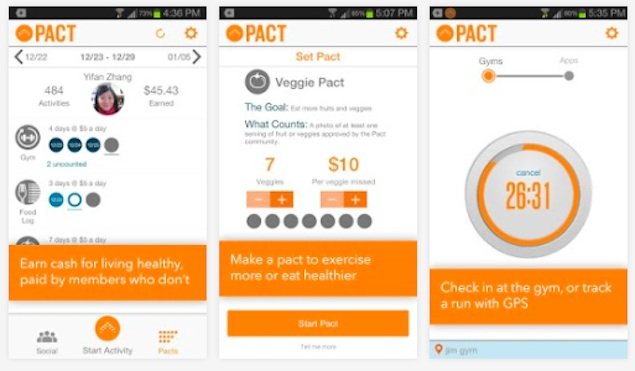 Download
Diet Hero App
With Diet hero you don't need to count calories anymore just tell the app what food you're eating. The foods you like and what foods you have, and the app will tell you how much to eat and what to eat. If you only have a few things handy at home the app can adjust. If there is something you don't wanna eat, swap it out and the app will intelligently replace it (protein with protein). The app will need your info (height, weight, gender, the amount of weight you want to lose and how fast) the app will arrange everything for you. Diet Hero is free until January.
MyFitnessPal
Another useful app to help you keep the track of your food intake and work out. MyFitnessPal includes access to a all food items in a searchable database so that you can easily add your food log to your smartphone. You can connect with people, contacts and Facebook friends for support and motivation. This app free, with apps( Withings, Runtastic, Endomondo, Jawbone UP, Pact) that make logging easy, you should give it a try.

Download
Google Fit
Google Fit is not just available for Android smartphones but also smartwatches. Google Fit is a fitness app from Google that helps you track your activity. You can also connect apps to the service and you can track your weight, your daily activity and specifically the daily heart healthy activity. With a goal to move 60 minutes each day.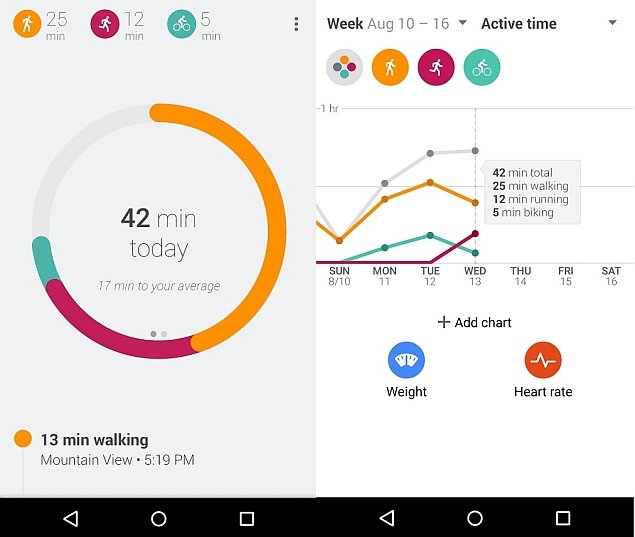 Download Google Fit for Android
Google Fit is free for Android and works with most Android smartphones.
Fooducate
This app is all about the food. Fooducate helps you with what food is actually good for you to eat. With Fooducate you will learn about healthy foods. Also it lets you instantly see if foods are good for you by scanning a barcode with your iPhone or android device. Using your device's camera see the grade for food you are considering buying or eating. You can also ask questions.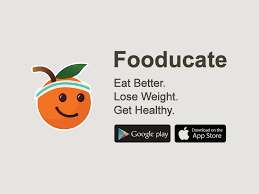 Download
These were some great weight lossfitness apps for your Android and iOS devices, hope you will find what you are looking for.