If you've Rooted your Android device that's a bold decision you made. Why not download a few apps that take advantage of your smartphone's newfound freedom? Android uses the term Root or SuperUser for elevated administrator privileges. There are certain Root-enabled applications that allow users to enjoy full use of the Android system, and can do much more than root-disabled applications.
Let me give you an example, without root you can uninstall apps you installed. But after gaining root access you're able to uninstall system apps (bloatware). There is an app for it and here are ten best root apps for Android!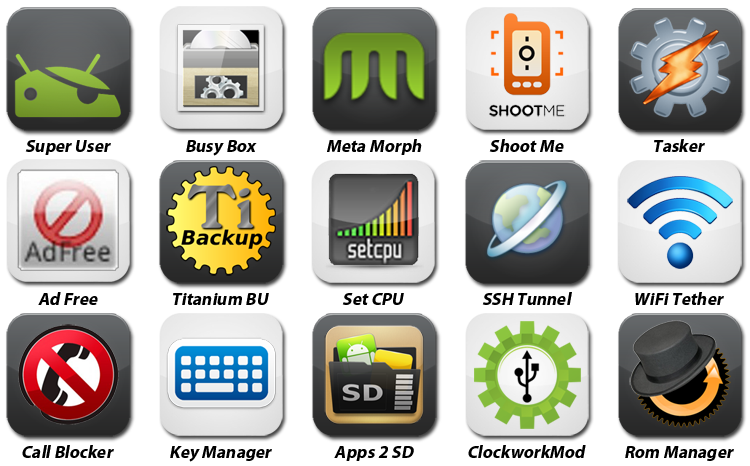 1. Greenify
This app is one of the several reason why rooting your phone can save so much battery life. Greenify is a mix of battery saver and performance booster. It can boost battery life by an average of 2-4 hours. It hibernates applications that consume more system resources, and make your device run faster and smoother. Available on both rooted and non-rooted devices, Greenify is one of the world's most popular rooted apps. It works much better when installed on a rooted device. Just go and get Greenify!
2. System App Remover
There it is! Get rid of Bloatware apps with System App Remover. These Additional apps by manufacturers are annoying (to me) and degrade device performance. One can only uninstall these system apps after installing System App Remover, which requires root access.
3. Titanium Backup
Titanium Backup is not some normal Backup app because it can do a lot. The app can backup and restore user data even at the time of upgrading the ROM or installing a new custom ROM. It also allows batch jobs for install, restore, uninstall and backup of applications. Titanium Backup is a root-only Android app created by Titanium Track.
4. Flashify
Flashify for Flashing! Allows you to flash files without using a custom recovery. Files like custom ROMs, mods and custom apps can be flashed using this app without rebooting the phone. Just Launch the app, select the file and Flash it.
5. AZ Screen Recorder
A screen recorder app, can be used to record the screen of your Android device. The application comes very handy for bloggers and tutors to record steps for a tutorial. After recording the video you can edit it.
6. Quick Boot (Reboot)
You don't need to hold buttons to reboot your device. Quick Boot lets you easily reboot your device, power off your device, or boot your device into recovery or bootloader mode with just a single tap.
7. AdAway
I don't think you like Ads, Do you? Of course not. This is one of the most popular benefits of rooting your Android device. Adaway blocks advertisements across all apps and browsers. AdAway is one of the best ways to do.
8. GL Tools ($3)
It's a paid app and enhances the graphics on your rooted Android device as long as it has an OpenGLES 2.0-compatible GPU and an ARM or x86 processor. Use it to optimize shaders, decompress and resize textures, tweak resolution and rendering, and check the frame rate. Buy it after checking whether it is Compatible with your device or not.
9. Tasker
This powerful application can make your phone do pretty much anything you want. Many of the functions don't require root access but to get the full range of things you'll be able to do, root will be required. It's a great application, especially for tinkerers and those who have unusual needs for their Smartphones.
10. ROM ToolBox
An all-in-one solutions for root users that still actually works. It has a bunch of features that includes a built-in file browser with root, app manager (uninstall system apps, etc) , ROM management, script writer, font installer, and a lot more. On some devices, you can even change the boot animations and themes.
Did we miss something? I'm sure you will tell us in comments.