Today we will tell you about some Android hacking apps. We know that hacking and pen-testing is a computer thing and smartphones cannot compete with them but now there are many hacking apps for android devices which means the distance between computer and smartphone is getting shorter. I'm sure many of you guys searching for hacking apps are aware of hacking, security testing and are security Analyst. There are many tech geeks who want to unrestrict restricted features and you guys may find hacking app you're looking for long time in our Apps list.
Most of of the programmers and apps developer are quite familiar with what hacking is and some may know how to do this. Ethical hacking is only certified hacking used for the capturing the flaws in online systems, servers or any software engine. Otherwise back hacking is illegal and is a crime. However today we will show you some best Hacking apps for Android.
Top 6 Hacking Apps for Android
If  you want to enter into the world of smartphones and want to become a hacker then these below best hacking apps for android will help you make familiar in hacking ethics. Have a look at them. These are apps that can assist you with security, penetration testing, scanning, performing exploits etc. All the apps below can be downloaded from Google Playstore easily for free.
NOTE: We warn you not to use these apps for any wrong purposes but for educational purposes only.
ZANTI
ZANTI is a penetration testing and security testing hacking toolkit. You will find many security tools in this app, it enables complex audits and provides cloud-based reporting, ZANTI is an amazing and useful Android hacking app.
Shark For Root
This Android hacking app is traffic sniffer works with Wireshark or similar software. If you are aware of Wireshark software then you may know dump files. The dump Files come from Wi-Fi sniffing and to open them you will require Wireshark on PC or you can read this data on phone using Shark reader.
WPS Connect
As the name shows it is related to wi-fi hacking, yes you can hack Wi-Fi password using WPS connect. In fact you will not need any password WPS Connect has master key Routers collection and it runs on WPS security only. So using this app you can connect your device to any Wi-Fi network which runs on WPS security. It is on of the best Hacking apps for android wifi.
dSploit
dSploit is a hacking android app useful for IT security Experts as it is an Android network analysis and penetration toolkit. Using dSploit you can perform all network security assessments on your Android device.
APK Inspector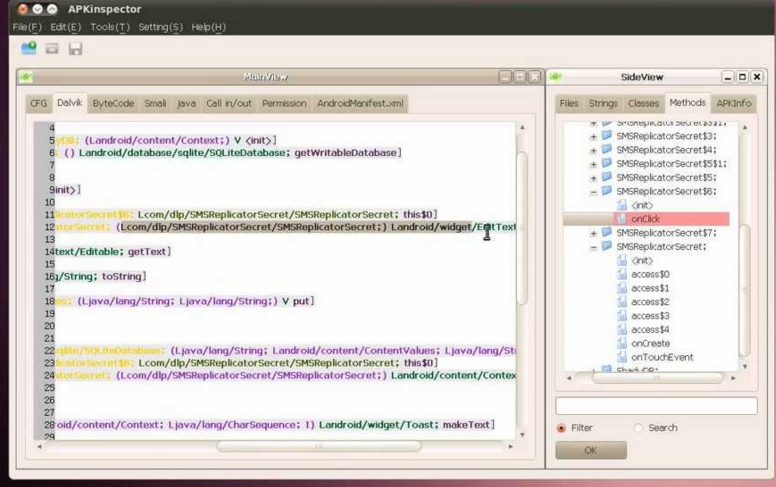 As the name suggests APK Inspector, It is a very useful tool for analysts to analyze Android applications. It is powerful GUI tool and can be used by reverse engineers to visualize compiled Android apks and DEX codes.
Hackode
Las but not least in the our list of top 6 hacking apps for android we have Hackode. Hackode is a useful hacking tool to perform scanning and reconnaissance. it is very useful for Ethical hackers, IT administrators and penetration testers. Its various tools work to support entire testing.
That is it guys. Hope you like my list of best Hacking Apps for Android. Comment below to share your views. Please share it and subscribe to our blog for more. Sharing buttons are below and subscription box is at the end.