Android Nougat 7.0 is the latest update for Android devices and these two features were most awaited features. After reading this article you'll be able to use split screen mode, as unfortunately night mode feature is no longer available but we will tell you how to re-enable it.
Split Screen mode
Android Nougat's split screen feature isn't a new thing as LG and Samsung has already been doing it but now it is out in the open so everyone can enjoy it. As google has a native way to run two apps on the screen which means better compatibility for Android Nougat supported devices. To use this feature there is no complicated trick its just a simple process.
Let's say you need to look at your browser and Google Doc at the same time, we're using chrome here. With Chrome on the screen, tap the 'recent apps' button.
Now you're seeing recent apps, long press on Chrome. Now two highlighted areas will show up depending on the orientation you're using (either the sides or top and bottom). Now drag Chrome to one of those boxes and it will push chrome to half display and recent apps to remaining half.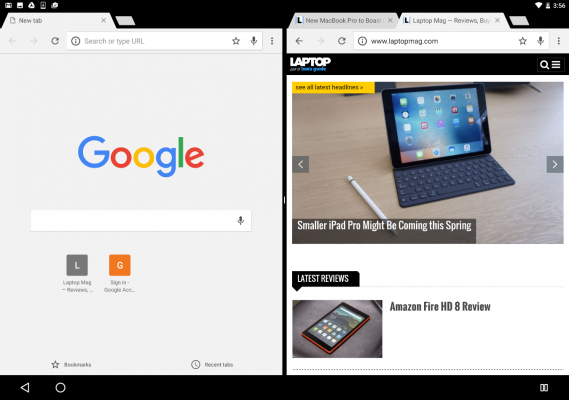 Now from here you can load another app from recent apps menu or even you can load a new app. To load from recent apps just tap the app. To launch a new one press home, this will drag Chrome to one edge and recent apps will be closed. Now tap the new app you need to use, both chrome and the app will appear on display. You can resize both windows (black bar in the centre or mid depending on orientation).
Yeah that was very simple, to close the apps do what you usually do, one will minimize first and then the second.
Night Mode Feature
Night mode feature was very useful but the final update lacks this feature. Google has issued a statement saying they have removed Night Mode from final build because of performances concerns. But don't worry, you can re-enable it, all you need to do is have an app on your device developed by Michael Evans and his colleagues.
Enabling night mode makes your display a little friendlier on your eyes (blue light filter decreases contrast). It seems that the code for enabling night mode is disabled which with few ADB commands could be re-enabled. And for that an app is available now (Night Mode Enabler). There is a chance that may be removed permanently or google might bring back the blue light filter at some point in the future.