Anyone who's rocking the Yalu jailbreak for iOS 10.0-10.2, It's time to install your favorite tweaks on your jailbroken iPhone, iPad or iPod Touch. There have been a number of jailbreak tweak releases specifically for iOS 10 since the jailbreak's initial release. To help you discover new tweaks and get the most out of your jailbreak, we've compiled a list of the top iOS 10 jailbreak tweaks and apps. There is going to be a little bit for everyone, its worth checking out.
CCRecord
CCRecord adds a shortcut to Control Center for recording your iPhone's screen. Once you tap on the button, Apple's native screen-recording process begins, and it will continue until you re-open Control Center and tap on the button again. A .MOV file gets saved to your Camera Roll that shows everything you just did on your iPhone.
Evanesco
Evanesco is a great tweak. Whenever you don't touch your iPhone for a while, it will dim the objects on your Home screen to make your wallpaper easier to see. Objects like app icons, dock, and the Status Bar. It's pretty cool aesthetic that you can add to your jailbroken iOS 10 iPhone.
Littlemoji
For those who don't like bigger emoji in iOS 10. Littlemoji is a free tweak that returns the size of sent and received Emojis in the Messages app to the size of a line of text. This also means Emojis take up less space and you can see more of your conversation.
Activator
Activator provides a bunch of gestures to perform custom actions. For example, you can long hold on the Home button to enable Night Shift rather than doing it from Control Center.
Cream 2
Cream 2 is a watchOS-inspired tweak that spices up your Control Center by colorizing the toggles that have been enabled. This tweak is perfect for those of you that like to customize your device so it doesn't look like anyone else's. You can choose your own colors.
Eclipse 4
This one is popular, brings dark mode to iOS 10. It applies a dark color scheme to the interface of your apps, making it easier to read at night.
FingerTouch
FingerTouch essentially lets you assign certain actions to different TouchID-based gestures, whether it's tapping and holding, double-tapping, or something else. You can assign the gestures to a variety of actions, like toggling your flashlight or taking a screenshot.
Coco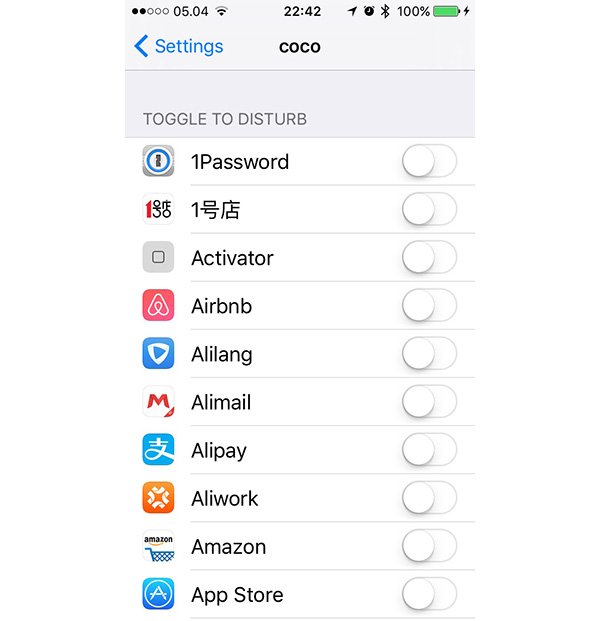 Apple's Do Not Disturb mode great. But sometimes you wish one app could poke right through. That's where this tweak comes in handy, with app-by-app levels of Do Not Disturb now a thing that you have control over.
ColorFlow 3
ColorFlow 3 colorizes the Now Playing music player based on the dominant colors of the album artwork. Even the smallest details of the Now Playing interface, the buttons, the knobs, the meta information, the Status Bar, would show album artwork.
MirrorlessCamSound
Yes that can happen, thanks to this tweak. Your iPhone's camera will sound like a full-fledged mirrorless shooter.