There are tons of iOS launcher apps created for Android. You just need to download one of the launcher app from the Google Play Store and then, each time you would be booting up your phone, can experience the iOS feel. You would feel that you're running a different OS altogether, and not the Android version your smartphone is running in. Here, we are going to discuss the best iPhone launchers for Android. They are all free to use, so, let's check out the list.
1. OneLauncher
One Launcher is an awesome launcher for Android Smartphones. You will find it quite the user-friendly app. Much like iOS, all the apps icons are scattered over the home screen for the much precise experience. A wide range of themes is available. Cool widgets with significant effects are here waiting for your single touch. You have to give certain permission on the Android Marshmallow and later versions. One Launcher makes it easy for everyone to get the experience of the iOS ecosystem.
2. iLauncher – OS9
A very powerful launcher, it brings the dock less experience where every app you have is listed on the home screen itself like iPhone. It does not lessen the speed of operation. It is compatible with all Android devices with Android 4.1 (Jelly Bean) or the latest OS. You can delete and arrange the apps with one tap. The Google Now integration makes it enough more convenience; it acts like Siri For Android which is a bonus. You can customize its themes, scrolling speed. You can long tap on the icons to edit and dislocate the icons to anywhere as your needs.
3. i10 OS Launcher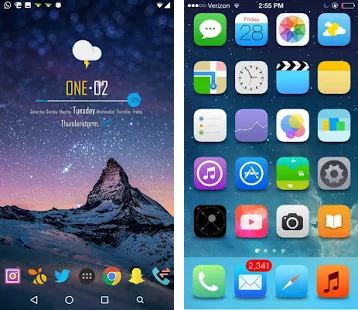 This one has a lot of smart features and is light weight. The "Quick Touch" feature makes it convenient for you to use the app. If you want to protect certain apps from the access of others, just use this feature, and your apps will be safe and secure. "OS Booster" and "OS Market" gives you the top ranking apps and games.
4. Espier Launcher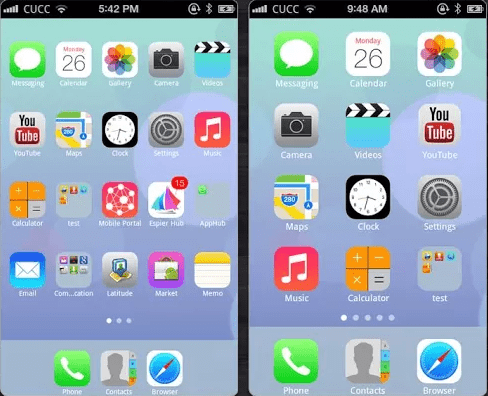 Espier being the home screen replacement app, it makes your smartphone smooth, lag-free and appealing one. Best part, you don't have any limitations when it comes to the widget, you can have up to eight. You'll experience the real iPhone UI without anything wired or missing. Apart from that, you'll get the powerful customization over the icon size and layout so that you can change your smartphone look.
5. 6 Plus iOS Launcher
It is a free application and highly rated from the ones who love iPhone 6 features but unfortunately it's loaded with lot's of ads. It provides a lot of similar features and also keeps the phone performance in mind. You have interesting wallpapers to choose from and the My app screen makes mobility easy.
6. Launcher For iPhone 7
Launcher for iPhone 7 is one more iOS launcher for Android that enables you to get the iPhone lock screen on your smartphone. Apart from that, the UI seems promising. Nothing fancy, but gets the job done without any customization options, expect few ads.