If you have a Xiamoi Mi or Redmi phone and you want to flash Fastboot Rom on Xiaomi then Mi Flash Tool will do this for you. You can download and install Mi Tool to flash the MiUi Rom on Xiaomi phones like Redmi Series or Mi series. If you have bircked your device or  want to install the new MiUi rom then Mi Flash will be used. Today I will show you how you can use and install Mi Flashing Tool.
You have to do Mi Flash Tool Download and then I will show to how to install Mi Flash program and how to use it to install the Fastboot Rom on Xiaomi phones. Using this process is very easy. If you own a Xiaomi phone then you probably should know about this.
Supported Devices:
Almost all the Xiaomi phones like Mi 3, Mi 4, Mi 4c, Mi 4i, Mi 5, Mi Note, Redmi Note 2, Redmi Note 3G, Redmi Note 4G, Redmi 1S, Redmi 2 Prime etc are supported for this method possess the Mi Flash or Fastboot flash process.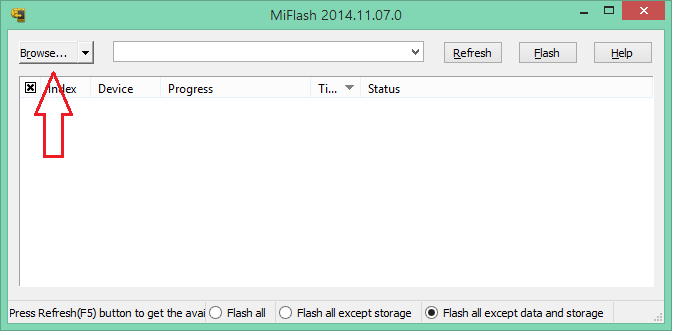 Download Mi Flash Tool
How to Install the Mi Tool on PC
For downloading the tool you need to first extract the downloaded package. Now install the flash tool that is in the package. After the installation completes, you can follow the below instructions to know how to flash the fastboot rom using Mi Tool
How to Use Mi Flash Program to Flash Fastboot Rom
The instructions to use Mi Flash Tool are below.
First of all Download the Mi Flashing tool from the link above and install it on your PC.
Now download the Fastboot Rom for your Xiaomi phone.
Now put your phone in fastboot mode by pressing and holding Power+Volume Down buttons for few seconds.
After the above three steps, launch the Mi Flash application.
Connect your device to the PC and click on the refresh option in MI Flash Program.
Now click on the Browse option and chose the fastboot rom.
Once you have selected the fastboot rom there are three options to flash it on your phone.
Flash_all: it will clear all the user data and storage files. Flash_all_except_storage: This option will clear the user data but not the bult-in storage. Flash_all_except_data_storage: Nothing will be erased in this option.
Now click on any of the Flash option you like to install Fastboot Rom on your phone.
Wait for few seconds. Your phone will automatically restart after the completion of the process.
At First startup your device will take some time to reboot. So have patiennce and all done.!!
That is it guys. Hope you download Mi Flash tool and install on your PC. Now you know to flash fastboot rom with MI Flash Program on Xiaomi phone. If you have any questions then ask in the comments below. Please share it and subscribe. Sharing buttons are below and subscription box is at the end.