If you own a Samsung Smartphone or tablet, you must be familiar with Odin. Odin is a very useful tool that detects your Samsung device only when it's in Download Mode and it can flash files with .tar or .tar.md5 extension. It is needed when you accidentally brick your device. Some users while tweaking (like rooting and Flashing ROMs) their Android devices end up with bricking. Odin is needed to flash Stock Firmware and Fix your bricked Android Devices.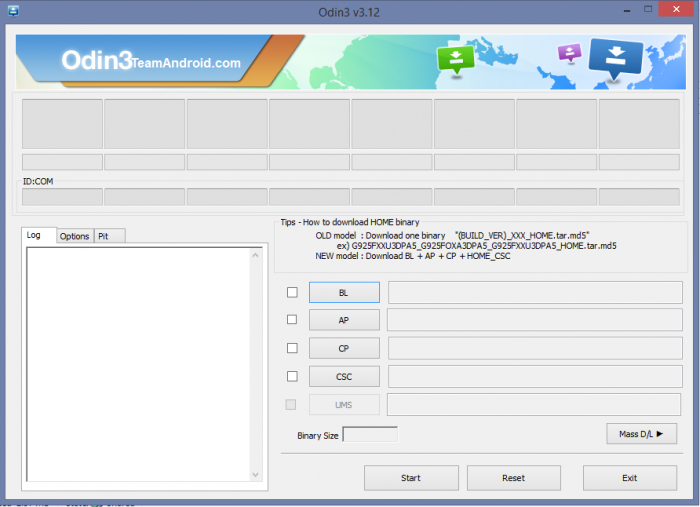 Odin can also be used to Root your Samsung devices and flash custom recoveries like CWM [Clock Work Mode], TWRP etc.  Developed by Samsung, Odin was originally meant to be used only in company's service centers. The Odin tool we use is actually the leaked version of the official. In this guide you can find / download all versions of Odin tool. The success rate of Flashing files with Odin totally depends on the version of Software tool.
Downlod Odin Versions (Old-Latest)
Here you can download Odin tool for your Samsung device. We have also mentioned which Odin version is best for specific Android version. Since the success rate of flashing files with Odin differs according to Odin versions, you should always use the Odin version recommended by the tutorial you are following.
Odin For MAC and Linux Based OS
Few Tips for Odin
Odin is primarily used to install firmware on Samsung's Galaxy devices. As I said above, with it you can also root or install TWRP recovery on Samsung devices. Here are few things you should know about Odin before using it.
Auto Reboot Option
When you don't need to restart the device right after flashing the firmware then uncheck the Auto Reboot box.
PIT files
Normally, don't use PIT file. It has to be used in rare circumstances, like when your device is unable to boot and got its partitions corrupted because of flashing of wrong firmware or anything. When using PIT file, check the Repartition box.
Fix Wi-Fi Issues
Odin can be used to flash non-hlos.bin file directly to phone. These are modem files that have come as a fix for Wi-Fi disconnection on some devices.
Ap Tab
The AP tab can use the full firmware when only one .tar is extracted from the firmware. However, if you get more than one .tar files, then use file whose name begins with AP prefix in the AP tab
BL Tab
The BL tab is for the file whose name begins with BL prefix. BL stands for bootloader.
CP Tab
The CP tab uses the file whose name begins with CP prefix.
CSC Tab
The CSC tab uses the file whose name begins with CSC prefix. Such files include region-wise APN details and such.
Need to ask something? Feel free to reach us out via Comments.