Galaxy S4 is popular android phone made by Samsung, a famous Multinational Electronics Company. This phone was released in 2013 march and got so much fame (like every Samsung's new phone). The reason for its popularity was it great features, hardware, performance and its fascinating looks. As time goes by new phones appear in the battle and old ones step out but Galaxy S4 is still one of those phones who didn't lose their place easily. Even though many new phones are released but Galaxy S4 is still owned by a large number of people. Anyways, the point is that you are here because you have a Galaxy S4 and you surely want to take it one step further to taste its full power, customization, roms, tweaks etc and for this purpose you need to root Samsung Galaxy S4 because it is the only key that will enable you to do tweaks, performance upgrades on your phone.
First of all let me give you a little concept about, "what is rooting"? If you are new to the Android Geeks industry you probably wan to know the answer of this question. In Android rooting is something called Freedom or dominion. Rooting means that to free your phone from its sub-systems and software restrictions. By rooting the phone you will get access to the full operating system means that your phone will no longer takes commands from the internal system for a third-party operation rather it would use Super user or Super SU for granting permissions to several operations. Super SU is controlled by the user. So you can grant or deny the permission of any app or operation using Super SU. Apart from this, rooting the phone will allow you to install custom recovery on your phone, custom roms etc and also you will be able to overclock the CPU of your phone. So, in short, rooting the phone is the basic step to dive deeper into your phone's system. Below is the very easy one click process to root Samsung Galaxy S4 (any model) without PC.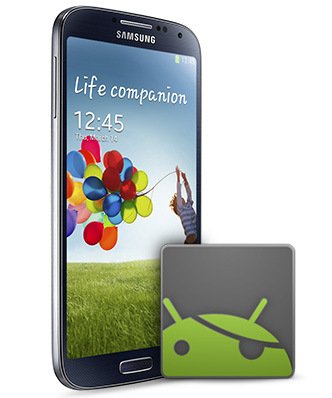 Rooting the Samsung Galaxy S4
You can root your Samsung Galaxy S4 without PC very easily. No need to use that Odin or CF-Auto Root file. You just have to download an app called towelroot which will root Galaxy S4 and the good thing is that this process works on all models of Galaxy S4. You can root any Galaxy S4 version whether it is international or some other. So, guys !!! get ready to root Samsung Galaxy S4. Follow the instructions given below and you will root your device.
Disclaimer
Rooting is an Unofficial process and you will void your Phone's warranty after you root your phone so, do this at your own risk. The method below works with all versions of Galaxy S4. Follow the step by step instructions below in order to Root Samsung Galaxy S4, Thanks.
Download towelroot
Open the link and click on the big red icon to download towelroot.
Steps to Root Samsung Galaxy S4
Step-1
Download the towelroot app from the link above.
Now on your phone, go to the phone Settings>>Security>>Unknown Sources, enable the Unknown Sources option. (Skip if already enabled)
Now go the download folder where towelroot has been downloaded and install it by clicking on it. A screen will appear saying some security message, check the box and tap on Install anyway option
Step-2
After installing the towelroot, launch it from the apps menu.
Step-3
Now when the towelroot is opened, there will be an option "make it ra1n" on the screen. Tap on that option to root your device.
Step-4
After tapping on make it ra1n, a message will appear that your phone will reboot in 15 seconds. Wait till your phone reboots. When it reboots it will be rooted.
Congratulation guys you have rooted your phone successfully. A simple one click method that is very easy. Now that your phone is rooted you can do many tweaks in your phone.
Remember guys you should need to install Super SU app on your phone because towelroot will only root your galaxy S4, it won't install Super SU on your phone. You can download Super SU from Google Play Store.
Check and Verify Root Access on your Phone
If you want to verify that whether your phone is still rooted or not you can install root from google play store to verify root access on your phone. You have to download root checker, open it and tap on "Verify Root" option to verify the root access on your phone. If your phone is rooted a greetings message will appear on the screen. Download Root Checker from Google Play Store.
So that was it. This was the easiest method to Root Samsung Galaxy S4 any Version. Hope you like it. Now it's time to go # Bye Bye, will see you again with a new day.!!!
---
Please Like, Share and Subscribe. If you have any problem then comment below. Will appreciate your supporting comments also, Thanks.