Apple's Touch ID is fingerprint identity sensor with which you can unlock your device, log in to apps, use Apple Pay, and make purchases from the App Store. This needs touching and holding your finger against the sensor. When it works, it's magical, and it is the only thing you want but when it doesn't, you just feel pissed.
Touch ID is a thing that figuring out why they're failing is a real pain in the ass. You'll see Touch ID from the outside like the stereotypical black box, which scans fingerprint and then it either works or doesn't. And this is not that simple because when it does not work there's no way you can even predict what went wrong. You don't know why it's not working or how to fix it. Is there any way it can be fixed? So, the answer is you can try, there are few things you can do when Touch ID stops working, keep reading.
Before that you might wanna know how does Touch ID work?
Your iOS device, has a capacitive ring around the Touch ID sensor. When you touch it with your finger the sensor detects and triggers a high-resolution image capture. Now, that image is converted into a mathematical representation, which is then sent to a secure enclave through the hardware channel. If the representation matches what's stored in the enclave the Touch ID action is authenticated. If not, no one knows better than you what happens, all you get is a digital head shake. Every time you use Touch ID it adds additional detail to the representation, to improve.
Troubleshooting trippy Touch ID authentication
These few tips and tricks might help you in not getting any trouble with Touch ID:
At the time of registration, make sure you move your finger around enough that the entire surface gets scanned during the first stage, and then every edge gets scanned during the second phase.
Keep your fingers and Home button dry and clean. Sweat or liquid on your finger can interfere with the scan. So, keep both your finger and the Home button off and dry.
The sequential improvement process can sometimes go off-track. If an error occurs delete the fingerprint and re-register because instead of getting better it'll get worse.
Make sure your finger is touching the capacitive metal ring and the Home button. Touch ID is super fast these days, but lifting your finger too quickly is not appealing.
Try not to move around your finger too much when you're authenticating.
If your iOS device has screen protector or case, do not cover up the capacitive ring or the Home button.
If all else fails, it's time to head to the Apple Store for one-on-one support.
How to delete and re-add your Touch ID fingerprints
The finest solution is to re-add your Touch ID fingerprints. If you're having trouble with Touch ID on an iOS device, here's how you wipe the slate clean and start again!
1. Launch the Settings app.
2. Next, tap on Touch ID & Passcode.
3. Type in your Passcode when prompted.
4. Now, tap on any fingerprint.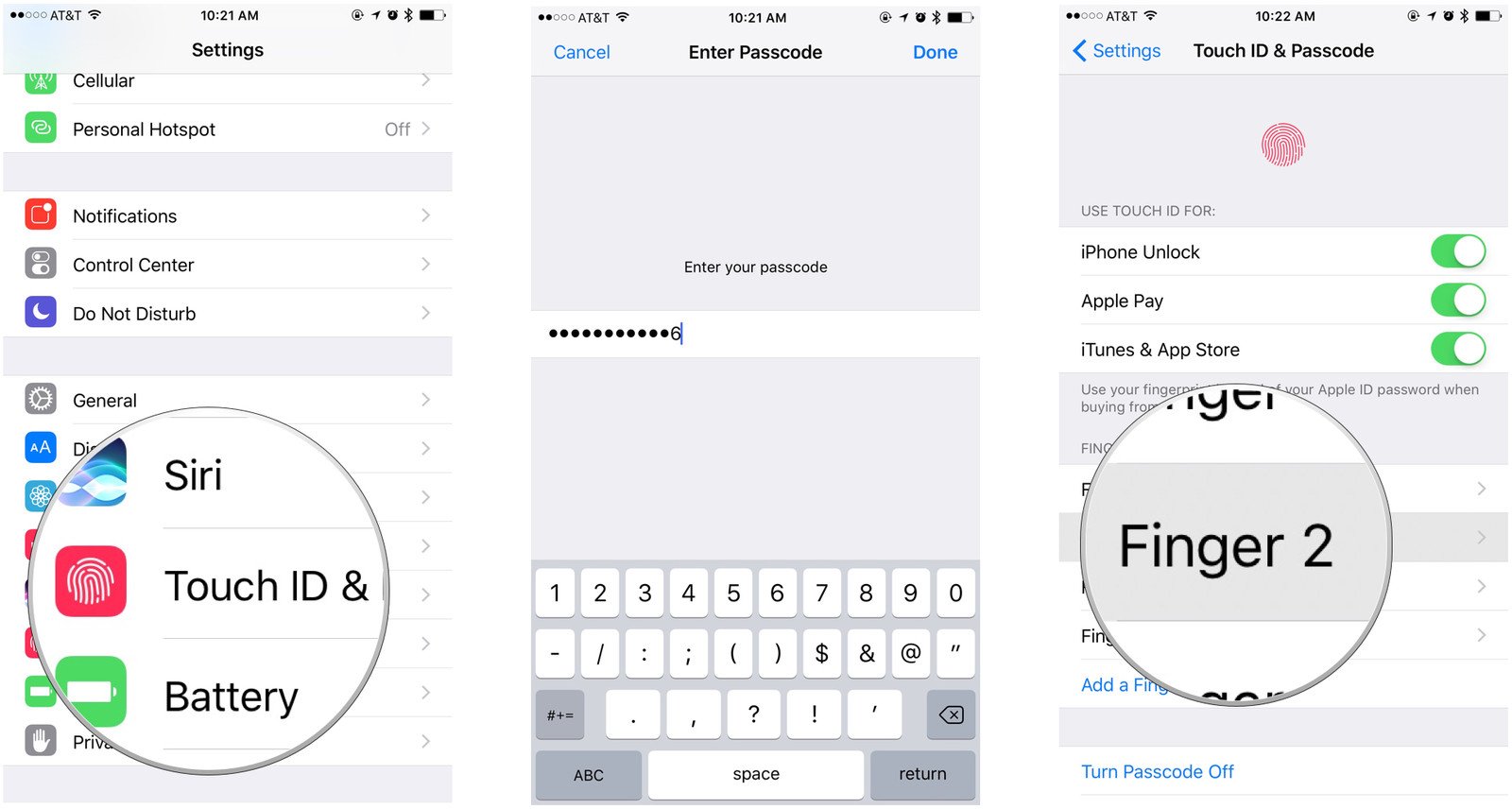 5. Then, tap on delete Fingerprint. Do it again until all your fingerprints are deleted.
6. Next, to re-add Tap on Add a Fingerprint.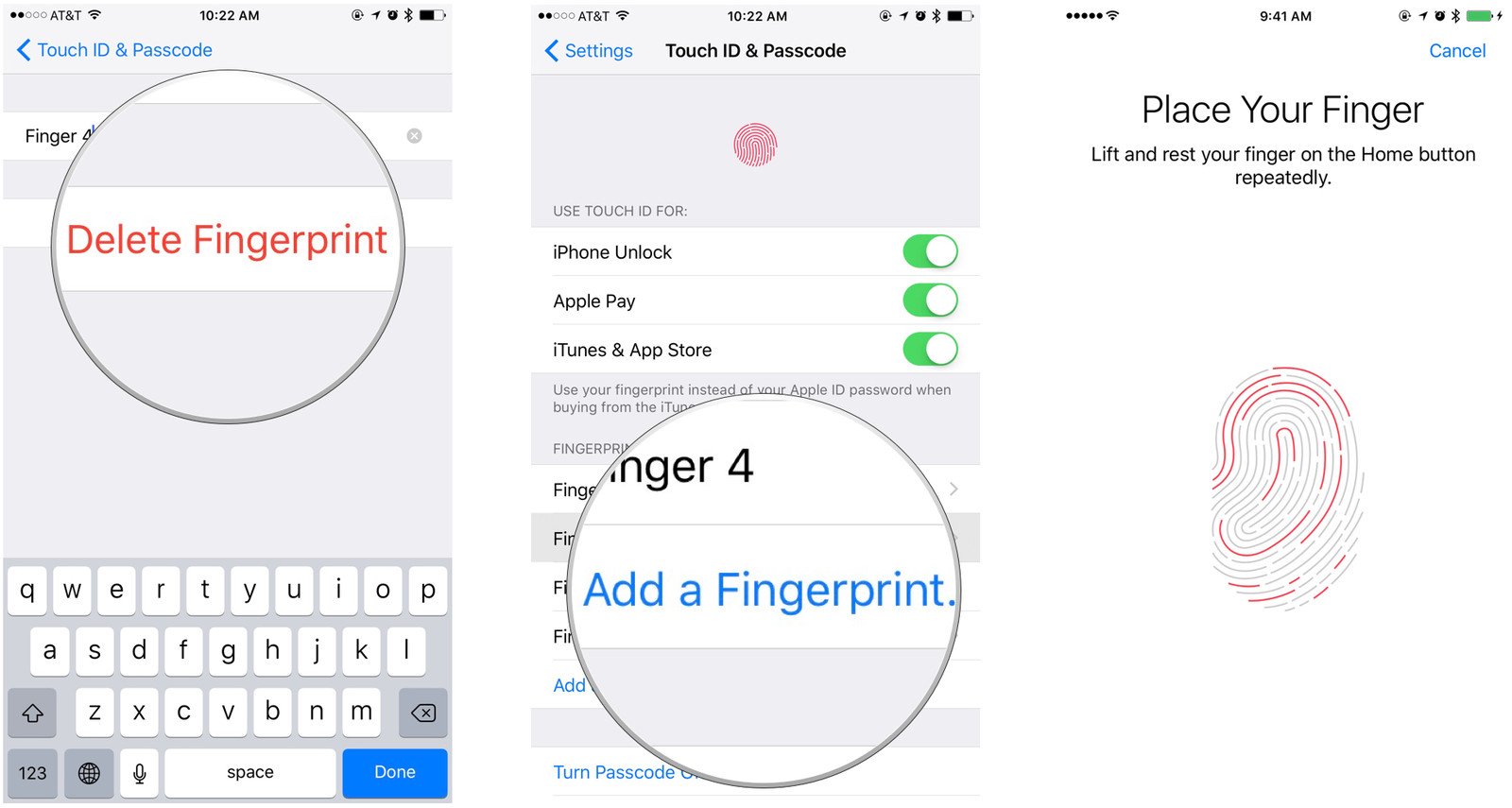 7. Follow the on-screen instructions to set up a new fingerprint.
So, that's how you can fix "Touch ID not working" issue, any queries? Join the comments section.