While installing Windows 10 if the Installation fails in the SECOND_BOOT phase with an error (0x8007002C – 0x400D) here's how to fix it. Microsoft don't publish these error codes widely, instead they only publish the one that a million people are complaining about. On 29th July, 2015 Windows 10 was released by Microsoft. Millions of users are using Windows 10 after reserving their free copy of Windows 10 and then Upgrading their Windows 7/8 to Windows 10. Windows 10 is by far the most awesome Windows ever released by Microsoft.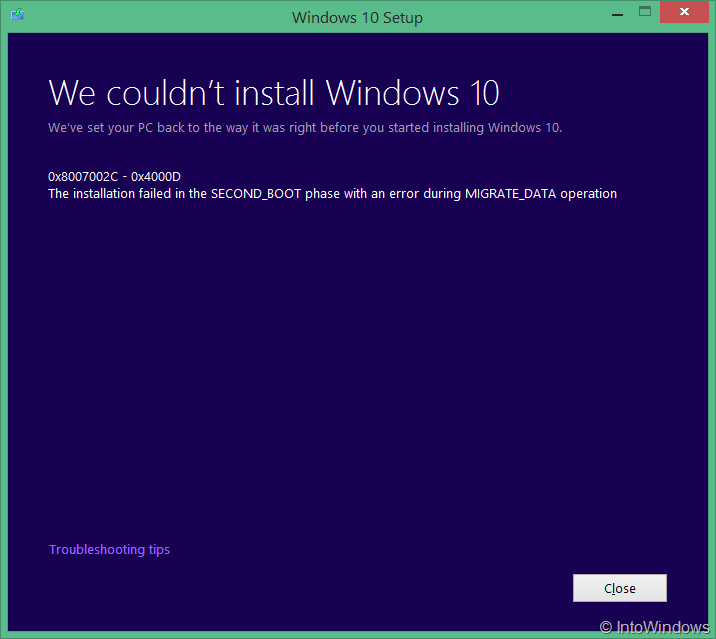 Most of the users, easily got the Windows 10 update and installed it without encountering any issue. However, some of the users are facing the (0x8007002C – 0x400D) Error while installing the Windows 10. So, in this article, we will show you How to Fix We Couldn't Install Windows 10 (0x8007002C – 0x400D) Error in Windows 10.
The full error says: "We couldn't install Windows 10 (0x8007002C – 0x400D). The installation failed in the Second_Boot phase with an error during Migrate-Data operation". After that, it restores the previous version Windows.
How to Fix We Couldn't Install Windows 10 (0x8007002C – 0x400D) Error:
There could be many reasons for this error. In this article we've written a few possible causes as well as fixes for the error code 0x8007002C – 0x400D. Let's see if these fixes fix the error, read on.
Before that check out whether your system meets the requirements needed for Windows 10 or not.
Fixes:
1. You might be ignoring the only reason for which this error is occurring, that reason is you don't have sufficient space in your Windows Drive, the C drive mostly in which you have Installed the Windows of your system might be going low on space. The error says "The installation failed in the Second_Boot phase with an error during Migrate-Data operation", it failed during the data migration process, maybe because of insufficient disk storage space.
So, to fix it, try emptying some of the space in your drive or transfer some of the space to another drive. Windows 10 requires 16 GB for 32 Bit system and 20 GB for 64 Bit system. You can also free up some space by uninstalling the unwanted programs, turning off hibernation. Don't forget to clean the Recycle Bin folder. If this fix doesn't work, keep reading.
2. You are facing this error maybe because you used Windows Creation Tool to upgrade your Windows, if yes, then try updating the Windows through "Get Windows App" process. With get windows app your system will install the windows easily. It comes automatically once the Windows has installed the required update.
3. Reserve Free Copy of Windows 10
If the above written fixes didn't work then it could be that you have some Password Protected folders and a Password Protecting software Installed or a Folder Locker. Simply remove the password protection from the folders as well as uninstall the Software. Hopefully, it will resolve the issue.
4. If you're upgrading your Windows through the Media Creation Tool provided by Microsoft, then you should select "Keep Only Apps" option and then update the Windows. But make sure you make a backup of your files, pictures and documents, as it will format everything completely. Just the stuff that is in Windows Drive.
These were some fixes, we hope you're not facing (0x8007002C – 0x400D) error anymore. If unfortunately you're still having problems feel free to drop a comment below.