Samsung galaxy s6 edge is a latest flagship device from the well known phone manufacturer samsung. It inspires many phone lovers with its beautiful curved display. It is the world's first smartphone which has beautifully designed dual edged display. The stunning new design of galaxy s6 attracts many audience to take a feel of it. The samsung galaxy s6 represents a seamless fusion of metal and glass.
Now coming to the features of galaxy s6 edge it has a 16 megapixels rear camera which is capable of recording 4k video. It has a powerful Exynos Octa Quad Core processor and 3GB of ram and 32/64/128 GB of internal storage. Samsung has added a new feature of wireless charging in its new flagship. Samsung galaxy s6 also offers a fast charging means that after charging for just 10 minutes you can 4 hours of usage. So, never worry about your battery again. The device is equipped with a 5.1" Quad HD (2560 x 1440) Super AMOLED display giving a much saturated and crisper display. It doesn't have a SD Card slot and remove able battery. It comes in four different different colors, White Pearl, Black Sapphire, Gold Platinum, Green Emerald.
DISCLAIMER:
Rooting the galaxy s6 edge voids the warranty so do it at your own risk. This method is for the above specified models only. Don't try this on any other model.
ROOTING THE SAMSUNG GALAXY S6 edge, TUTORIAL
The latest samsung galaxy S6 edge is ready to root. Thanks to the well known rooting experts Chainfire that has revealed CF-AUTO Root for galaxy S6 edge. By rooting the device we can get the full access over the phone. We can install many apps that require root access. Also we can overclock the CPU to optimum power. All the software restrictions are removed by rooting the phone. Thus the user gets full access over his device.
STEP-1
First of all you need do download the file which is compatible with your model number. So, check the model of your gaalxy s6 edge and download from following links.
Download Samsung s6 edge SM-G925F
Downlaod Samsung s6 edge SM-G925T
Downlaod Samsung s6 edge SM-G9250
Now download Samsung USB drivers from (here) and install if you don't have them on your PC.
STEP-2
Download Odin 3.09.exe if you don't have it on your PC.
STEP-3
Now on your device go to settings–>Developer Options and enable Usb debugging mode. If you don't find any developer options in settings then go to About Phone in settings and tap on  "Build number" repeatedly. This will enable Developer options on you phone.
STEP-4
Now switch off your phone then press and hold "power+ Home+ Volume down" buttons and a warning screen will be shown then press "Volume Up" button to get into download mode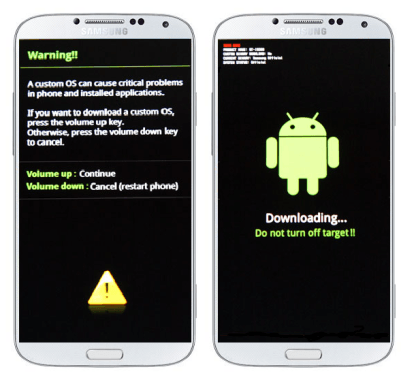 STEP-5
Run the odin and and connect your galaxy S6 edge to the PC via USB data cable. The odin will detect the device and the colored ID.COM box will appear like in the image below.
STEP-6
Unzip the CF-Auto root file that you have downloaded and then open the odin and click on PDA or AP  file and choose the unziped CF-Auto root file which is in tar.md5 format.
STEP-7
Now after choosing the file you can click on the start button and wait for sometime to complete the flash. Also make sure that Auto Reboot and F. reset box is checked. When the flash is complete the pass message will appear like in the image below.
STEP-8
Unplug the device and wait for it to reboot. After the reboot you can see the super su app in the apps menu. Now your samsung galaxy S6 edge is rooted and ready to use.
NOTE: IF ODIN IS STUCK DURING THE FLASH THEN UNPLUG THE CABLE AND REPEAT THE PROCESS AGAIN.