HTC has unveiled their premium phablet HTC U Ultra. Everyone knows HTC had a rough couple of years, despite once being one of the great kings of the Android world. While the HTC One M7 and One M8 were both positive steps in the right direction for HTC. Last year HTC attempted yet again to turn things around with the HTC 10.
HTC 10 was better received than its predecessor, but unfortunately it failed maybe because it wasn't exciting or noteworthy in any way, so, it didn't sell well. Now, HTC with their U line up show promise and the new direction that the company has taken. The company understood years ago that everyone wants something different from their phone. Let's see what HTC U Ultra brings this time.
Specifications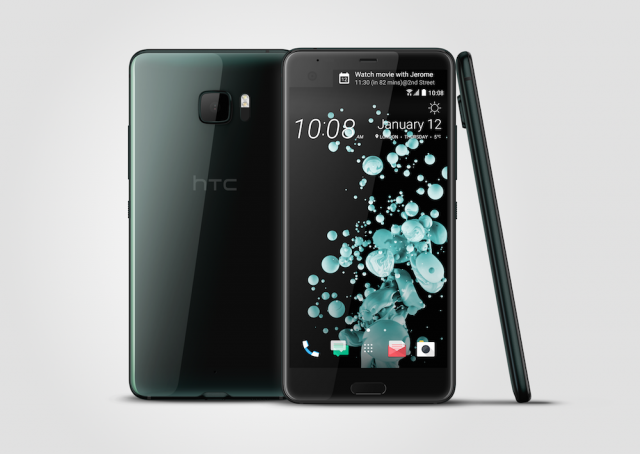 Display
HTC U Ultra is a premium phablet with a 5.7-inch 2560×1440 IPS LCD display. Its screen is significantly larger than the HTC 10's 5.2-inch display at 5.7- inches with a resolution of QHD. Also, introducing a 2-inch secondary display above the main one, with a resolution of 160 x 1040. The primary display is for the apps and other regular functions and the secondary display is dedicated to the AI, HTC Sense Companion. The secondary display will allow users to connect with their AI companion.
Design
Finally, after years of offering a metallic design, HTC is making a with the HTC U Ultra. HTC opts for a 3D contoured glass design that we can't help but feel is quite familiar to what we have seen from companies like Samsung. This has been described by the company as a  liquid design. The smooth and glossy look provided by the glass used adds to the liquid effect of the device. They may use the Sapphire glass which is strong and scratch proof, but this addition will only be seen in limited devices coming out later this year. The smartphone will be available in 4 colors, blue, pink, white and green.
Hardware and Software
The phone rocks pretty solid hardware specs including a Qualcomm Snapdragon 821, the powerful Snapdragon 821 SoC is clocked at 2.15 GHz. Along with 4GB of RAM, and either 64 or 128GB storage as well as microSD expansion up to 2TB. Under that display is a button configuration, with the HTC U Ultra you once again get a home button that doubles as a fingerprint scanner. It will be running on Android Nougat 7.1.
As far as the camera specs go, a 12MP UltraPixel 2 camera sensor with laser autofocus, can be found on the rear and a 16MP selfie shooter. The camera specs are similar to the ones used in HTC 10 with the ability to capture 4k content, phase detection autofocus, OIS, a 1.55 µm pixel size, and f/1.8 aperture.
And there's more like the HTC 10, you get a non-removable 3000 mAh battery, considering the display is a great deal larger than the 10, and Qualcomm 's Quick Charge 3.0  There is no 3.5 mm audio jack, instead the USB-C port will be used for stock headphones. Without a headphone jack , HTC leaves out one area it is known for , though we imagine that its wireless sound support is also top notch , and you can , of course , except some kind of USB – C audio adapter for those that want to use existing wired headphones with the U Ultra.
Price
The HTC Ultra U is expected to start shipping in March and will be priced at $749. For more subscribe to our blog and follow us on Twitter, Facebook, Google+