LG has announced five new smartphones at the Consumer Electronics Show in Las Vegas. The four smartphones are part of the new K series, set to succeed the L series. The new K series of smartphones, contains four devices that share similarities, but that are designed for a range of different customers.
LG is calling the K series its new line of "mass-tier smartphones", which we presume means for anyone. LG has imported some software from its high-end devices as well, including Gesture Shot and Gesture Interval Shot, for taking better selfies.
Detailed Specifications
1. LG K10
The K10 (2017) comes with a 5.3-inch HD display (720p), 13MP camera, and 5MP front or selfie cam. It is powered by MediaTek's MT6750 (1.5GHz octa-core processor) and along with 2GB of RAM and 32GB internal memory. The K10 has a fingerprint scanner and comes with 2,800 mAh battery. K10 will be running Android 7.0 Nougat.
2. LG K8
The K8 (2017) has a smaller 5-inch HD (720p) display, but the same camera as K10 (13MP rear and 5MP front). It runs on a Snapdragon 425 (1.4GHz quad-core) processor and comes with 1.5GB of RAM and 16GB of internal memory. The device doesn't have a fingerprint sensor and comes with a 2,500 mAh battery. K8 is also on Android 7.0 Nougat Operating system.
3. LG K4
The K4 has 5-inch 854×480 (FWVGA display resolution) display and is powered by a Snapdragon 210 processor (1.1GHz quad-core) processor. have. The LG K4 has 1GB of RAM and 8GB of internal storage. The K4 has a 5MP front and rear camera and battery capacity of 2,500 mAh. It is running Android Marshmallow 6.0.1.
4. LG K3
The K3 and K4 have same specs except K3 has 4.5-inch 854×480 display. It is powered by same Snapdragon 210 (1.1GHz quad-core) processor. Rear camera is 5-megapixel while 2-megapixel front. K3 is also running Android 6.0.1 Marshmallow.
LG Stylus 3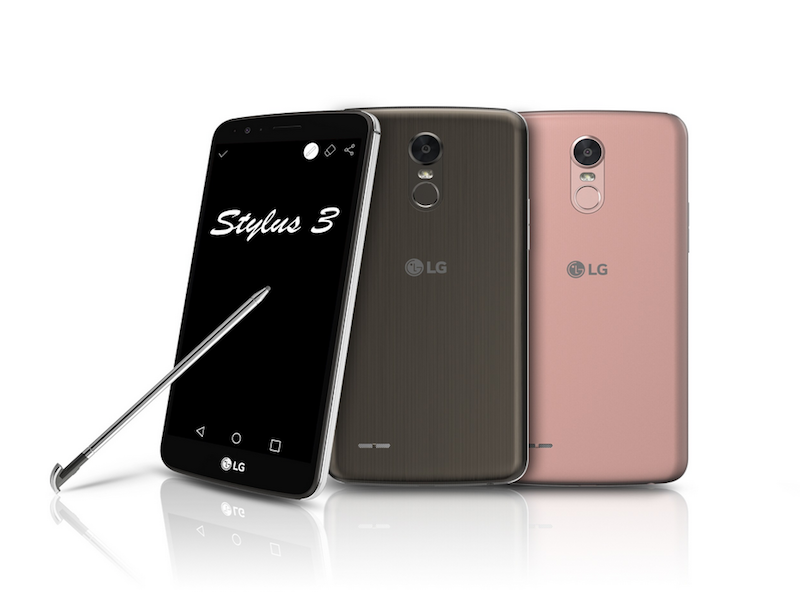 The Stylus 3 is powered by MediaTek's MT6750 SoC with an octa-core CPU and comes with 3GB of RAM and 16GB of internal storage. The Stylus 3 has the biggest display of all of the announced phones – 5.7-inch. The phone also features a 13MP main camera and 8MP selfie camera. It comes with a 3,200 mAh battery. Stylus 3 supports fingerprint scanner and is running Android 7.0 Nougat.
Now, as we can see K series ranges from mid-range to the lowest-tier budget ranges. LG hasn't released pricing information, but we'd expect all of the K series devices to be quite affordable. The Stylo 3 is also a mid-range device, pricing and availability of these devices will be released soon.