For iOS 10.3.3 a bunch of jailbreaks are available now, upon which there is newly released Meridian Jailbreak ipa for iOS 10 and 10.3.3. It supports all 64 bit devices including iPhone 7 and 7 plus which the last jailbreak I published didn't support. You can install Meridian Jailbreak via Cydia Impactor to jailbreak iOS 10.3.3 or 10. It comes loaded with Cydia but substrate may not work. For working cydia and substrate you can use G0blin Jailbreak
Meridian jailbreak ipa for iOS 10.3.3 is based on Siguza's v0rtex exploit and Xerub's KPPless exploit developed by, Ben Sparkles. Although this jailbreak is in early stages of development but you can use it and it also supports iPhone 7 and 7 Plus. If you are on iOS 11, then use LiberiOS jailbreak.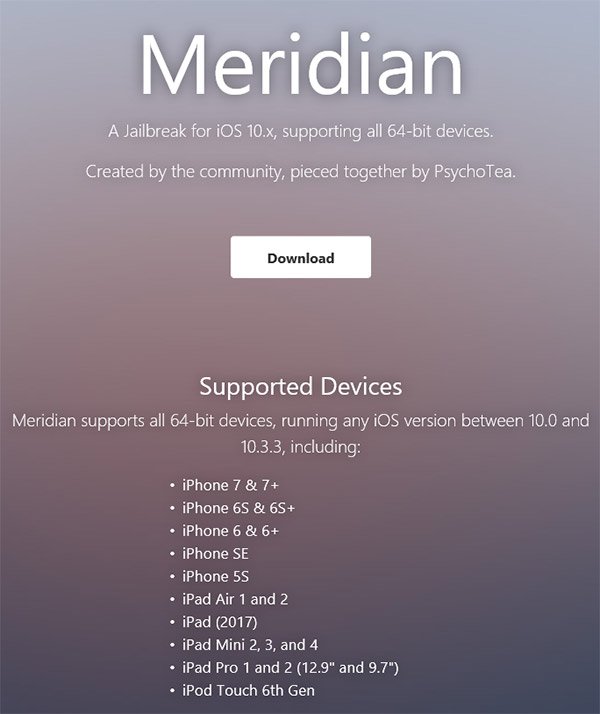 Meridian ipa Jailbreak
iOS 10.3.3 has received quite a plenty of jailbreak exploits, upon them the newly released Meridian ipa is at your service. In this tutorial, you will find all the steps to jailbreak your iPhone or iPad on iOS 10.3.3 or iOS 10 via meridian jailbreak ipa. First you have to download the ipa file and then you can use cydia impactor to sideload this hack.
Meridian Jailbreak Compatibility
Meridian is compatible with below iOS versions.
iOS 10.0/10.0.1/10.0.2/10.0.3
iOS 10.1/10.1.1
iOS 10.2/10.2.1
iOS 10.3/10.3.1/10.3.2/10.3.3
Meridian iOS 10.3.3 jailbreak supports these phones.
iPhone Models
iPhone 7
iPhone 7 Plus
iPhone 6S
iPhone 6S plus
iPhone 6
iPhone 6 plus
iPhone 5S
iPhone SE
iPad models
iPad Air
iPad Air 2
iPad Pro
iPad mini 2
iPad mini 3
iPad mini 4
If you have any of the phones above, you can proceed with Meridian jailbreak ipa.
Before Proceeding
Make sure to backup all your important data including, contacts, media, apps and accounts.
You have to do this process on PC or Mac.
You should have a 64 bit phone.
Download Meridian Jailbreak ipa
You can Download iOS 10/10.3.3 jailbreak and cydia impactor from below link.
Download: Meridian ipa
Download: Cydia Impactor
How to Install Meridian ipa Jailbreak on iOS 10-10.3.3
Follow these steps below to perfrom the procedure.
First download Cydia impactor on your pc or mac.
Then download g0blin ipa on your pc or mac.
Connect your phone to computer.
Launch Cydia Impactor.
Now, click on your Meridian jailbreak ipa file and drag it onto cydia impactor.
Sign in with your apple id.
The ipa file will install on your phone now. Disconnect the phone when it installs completely.
After that, go to Settings>>General>>Device Management and trust the profile of newly installed app.
Now, launch meridian ipa jailbreak app that you just installed.
Tap on the Go button.
Merdian will perfrom the jailbreak porcess. Your device will be jailbroken.
That is it. You you no sucessfully jailbreak your iphone or ipad on iOS 10.3.3/10 using Meridian Jailbreak ipa. For any queries comment below.