Buying a new smartphone and leaving old isn't that easy, in a way. After switching to New Android phone first thing you want is all your data (from old one) on your new smartphone. It is not that complicated but it takes time and no one wants to spend forever moving all their stuff to a new phone.
Don't worry! We are here to guide you through the whole process and it won't take long. Google has ways to go when it comes to getting all your stuff off of your old phone and onto the new one. You just need right Google tools, third-party apps, and perseverance. What you are going to learn here will be a good practice and more likely, when you buy a phone next time you wont have to worry about moving data.
Backup Options
If you're not signed in to your Android phone, you shouldn't expect much. You should sign in to your phone using Google account. Go to settings > backup and restore, there make sure Automatic backup and restore option is checked. In this way all your application data, Wi-Fi passwords, and various phone settings are sent to Google servers. They'll be at the ready for you when you sign in to a new phone. This way you won't have to re-enter passwords to networks you've already saved.
Samsung Users
If you are using Samsung device, you can also use the Back up my data option to your Samsung account. This will save your text messages, phone logs, contacts, or email accounts that you've used with Samsung's apps. Keep in mind if you're not going to get a new Samsung device, you don't need to use this feature. Samsung also offers its own app called Smart Switch, which promises to move your messages, contacts, photos, and more over to a new Galaxy phone.
If you're running Android Marshmallow on your Android device you'll find an app called Google Settings. This controls a number of different services connected to your Google account. It does a lot more than just backup your data. The Google Settings app has many features. Like Smart Lock for Passwords which stores passwords from your supporting apps and websites to your Google account. This way if you sign in with Chrome on your new phone won't have to re-enter the password. There are some third-party apps also available Dashlane, LastPass and 1Password.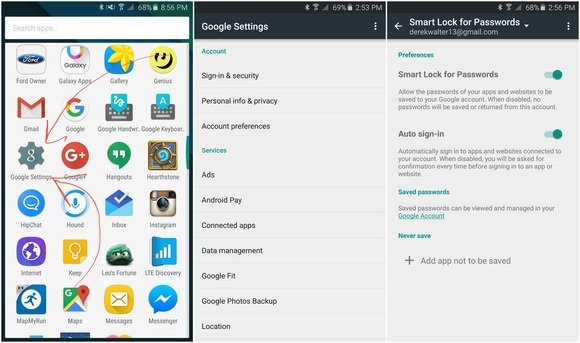 Google Photos Backup: This allows you to send all your images and videos into the safe arms of Google Photos. You're granted unlimited storage.
SMS and MMS messages
You don't need to worry about Facebook Messenger, Hangouts, whatsapp (Google drive backup) or other messengers, where all you have to do is sign in and your messages are right there.
But for SMS and MMS messages, the finest solution is SMS Backup & Restore.
This app gets the job done, it will backup your messages to a microSD card and you can restore them whenever you want.
Don't wipe your phone until your new one is operational because if you accidentally forget to create backup of something, you'll have the option to recover.
Get your music ready
Just install Spotify, Amazon Music, Groove, or even if Google Play Music is your streaming service of choice, it's the best way to transfer music to your new phone. Play Music will save up to 50,000 songs in your own personal music locker. You can play them them on any device where you sign in to the app. In the browser, go to the settings and then upload your music to the desktop version of Google Play Music.
These were some options and I personally recommend you to keep your critical data in a Google account as the primary home for your email, photos, and contacts. After all it's Google's operating system.