If you've deleted your text messages by accident, stop texting anymore. Even if its a single Important Message because you can recover it. Deleted data is constantly being overwritten. There is a less chance of recovering those messages if you won't act immediately. We all delete data from time to time and accidents happen but Important data must be recovered.
All those files are hidden somewhere in the hard drive, waiting to be retrieved. Everything you delete, messages, photos etc sticks around until the space is needed to store other data. So, if you've accidentally deleted all your text messages, don't worry just follow our guide. Let's pray you are not too late and that data is not over-written by an app update.
Dr. Fone Android Data Recovery
A great solution for retrieving lost data is the highly efficient and easy to use software developed by WonderShare, called Dr. Fone Android Data Recovery. It is available for Windows, Mac computers and Android devices.
When trying out the software, it worked quite well. The design is very nice and the steps are very easy.
Get the software, download and install it. Select Dr Fone Android Data Recovery to recover my deleted text messages.
Connect your Android device. You'll be prompted to allow USB debugging. Go to the developer option and enable USB debugging mode.
Note: Now the software has permission over your device. It might temporarily root your phone, which thankfully, will not void your warranty.
Now, select what you want to recover.
It will take few minutes to retrieve the data. The time depends on the size of the files actually. You also have the option of retrieving all of the content from your phone, which would take even longer.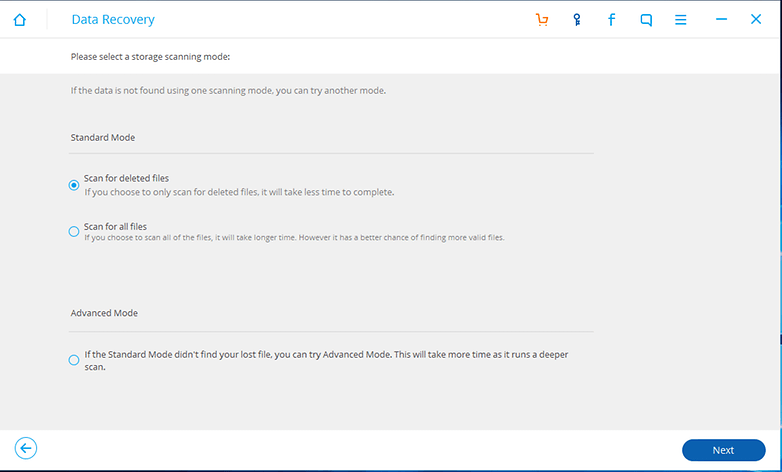 You'll be given an overview of contacts, pictures, videos etc, all of which can be recovered and saved onto your computer or to the location of your choice.
That's it! There is a free trial and you can buy it for $49.95 to get a lifetime license. There are few other recovery softwares available as well. Some of the popular ones are Android Data Recovery, Coolmuster Android SMS+Contacts Recovery and FonePaw Android Data Recovery.
To avoid any data loss in future you should Back it up. There are plenty of apps available on Google Play Store.
This is a full-fledged backup solution that can store your SMS, MMS, call logs, calendar, bookmarks, dictionary contacts and apps.