It is in the guts of a Geek to test different things and tweaks on his Gadgets. If you are an Android Geek like me too then probably you should be looking for your Galaxy S4 best Custom Roms. Samsung is really not good in releasing the new updates to its phones after it gets old. No doubt galaxy S4 is and was the best smartphone of its time. But it didn't get the latest update after the lollipop. Custom Roms are always there to make our phone latest and updated. Today I will show you some fast and stable Samsung Galaxy S4 best Custom ROMs that you should try.
In Android universe custom roms are popular for many reasons. As every smartphone cannot be upgraded to latest Android version but via custom ROM only. Custom ROM changes everything of Android interface it changes the overall layout of your phone and it will boost up your smart phone's performance. Installing best Galaxy S4 custom ROM enhances battery life and brings lots of new features like themes, launchers, boot animations, new apps and other customization options so today we are here with the Samsung Galaxy S4 best Custom ROMs.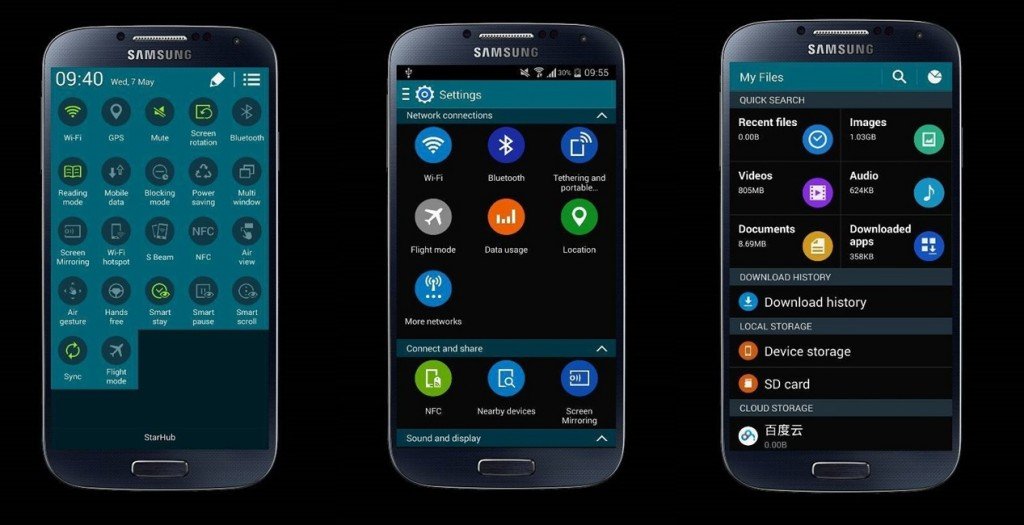 Flashing a custom ROM
For flashing a custom ROM on any android phone you will need to root your phone first and yes it is a bit risky process but if you know about flashing custom ROMs then it is a piece of cake. For installing custom ROM on Galaxy S4 you should have unlocked the bootloader and you should have a custom recovery installed on your device like (TWRP) recovery because it is easy to use as compared to others. Before flashing custom ROM don't forget to create a backup of all your important data like apps, contacts, call logs, texts.
Samsung Galaxy S4 Best Custom ROMs
If you are looking for a fast, smooth and stable Custom Galaxy S4 Rom then these ROMs we have here are the best. You can test these Custom ROMs for Galaxy S4 and let us know which one you like. So, let's start
CyanogenMod 11 and 13
CyanogenMod the one and only most popular custom ROMs company and in the list of Galaxy S4 Best Custom Roms, CM ROMs are available for all Android devices and that's why it is now a full fledge company. Its stability and unique features like Unlimited themes support, gestures, and ability to customize everything is the main cause of its popularity. For Galaxy S4 it is available as CM 11 ( based on KitKat) and CM team has also released their official nightlies for Samsung Galaxy S4 based on latest Android version Marshmallow, Flash it on your Galaxy S4 we are sure you will like it.
Pac-Man (4.4.2 KitKat)
Pac-Man is another best Custom ROM for Samsung Galaxy S4 based on KitKat. It has a beautiful interface and it also integrates features from CyanogenMod. Pac-Man is fast and performance oriented, it is not very feature rich but includes many customisation options. For galaxy S4 i9500 it is 4.4 based and for i9505 4.3 , the 4.3 version is more stable.
MIUI ROM
MIUI is another popular name in Custom ROM community , if you want to have stock experience then it is your thing. It includes many unique features like Child mode, pop-up view, Showtime, blacklist and many other. MIUI ROM was first developed by Chinese manufacturer Xiaomi which is gaining its popularity. It suits galaxy S4 because the screen size and color management work well together, so give it a try.
Carbon ROM (Android 4.4) KitKat
Carbon ROM is also best S4 Custom ROM for Samsung S4 specially for KitKat lovers this is best ROM, Carbon KitKat ROM is packed with many additional features and customization options, you can customize navigation bar and battery even signal icons . It has awesome launcher and shortcuts like you can turn torch-light on directly from lock screen by pressing and holding it for a while. Some other additional features are active display, dark mode, adding apps in lock screen ring, adding up to 4 apps in quick launch etc.
These are some Galaxy S4 best Custom ROMs ,try these ROMs on Samsung Galaxy S4 and enjoy their cool features. Also comment below to let us know which Rom you like the most for your Galaxy S4. Please share it and subscribe to our blog. Sharing buttons are below and subscription box is at the end.