Samsung launched its Galaxy S8 earlier this year along with the Galaxy S8 Plus. The Samsung S8 is launched with Samsung's TouchWiz OS (not stock) out of the box. TouchWiz is the smartphone OS designed specifically by Samsung for its devices. TouchWiz OS currently running on the Samsung Galaxy S8 is based on the latest version of Android Nougat 7.0. Besides the features of Nougat, TouchWiz also comes with a lot of additional features and apps.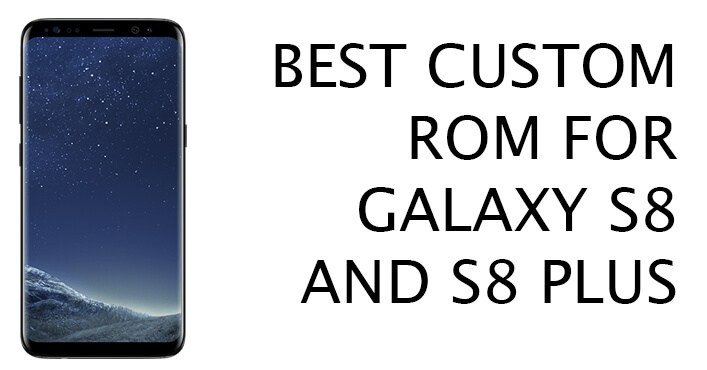 If you prefer to have the Stock version of Android running on your phone instead of the TouchWiz OS, you can always root your Samsung S8 and install Custom ROMs.
Why Custom ROMs
ROMs are general a skin over the stock android interface. Many different manufacturers have different skins, with little to too much of optimizations and customizations of the default android. This skin is called the ROM. The thing I like about custom ROMs is you can remove bloatware (apps come pre-installed on devices). There are tons of other features you'll see, once you flash a custom ROM. You are more free to turn them off than you are on a stock Google or OEM ROM. And, of course, you are free to add even more as your heart desires.
Disclaimer
You need to flash these custom ROMs at your own risk as we would not be responsible for anything that happens thereafter. Although it has become a lot easier compared to Android's early years, there are still so many things that could go wrong. If you're willing to take a risk make it worth it.
Pre Requisites:
Make sure that the phone has been properly charged.
The data on the phone may get deleted, so make sure that you get a secure backup before you begin.
You need to have root access on the device, to Verify Root Just Download Root Checker app.
You also need an updated custom recovery installed on your device.
This is a list of the ROMs available for your device. To  increase the performance and add many customizations and features. Before you begin with the procedure to flash the ROMs on your phone, make sure that the phone has been properly charged, and the data backed up.
Nemesis
Nemesis ROM is one of the First ROMs ever developed for the Samsung Galaxy S8. It adds build.prop tweaks for a more responsive system, removes hidden blaotware, and even has a speedmeter in the status bar. Somewhat amusingly, you can return the Samsung bloat via an option in the Aroma installer. Some of the interesting features of Nemesis ROM include call recording button in dialer, bloatware removed and floating message notifications. It was most recently updated on May 18th. It is currently running on the latest version of Android Nougat.
Galaxy S8 (SM-G950F)
Galaxy S8+ (SM-G955F)
BatMan
The BatMan ROM is made by the developer of the SuperMan ROM for the Galaxy S7 and S7 edge. Much like the name, Batman ROM is one of the coolest ROMs available for the Samsung Galaxy S8. This is built with the same TouchWiz OS design of Samsung. One can supposedly even enable and use the Samsung Knox security framework, which normally trips up on rooted devices and custom ROMs. Some of the customization options include Clock position change, adding RAM bar in recents menu etc.
Galaxy S8 (SM-G950F/FD/N)
Galaxy S8+ (SM-G955F/FD/N)
Renovate Ice
If there was one distinct feature that sets Renovate Ice apart is the fact that it tries to hide its customized and modified status from the powers that be, that is, from Samsung and Knox. For example, it resets Knox's "modified" counter to 0x0 at each boot so that it would appear as is the device was unmodified. It also lets users choose between SuperSu root, Magisk root, or no root. Impressive!
Project Alice
Project Alice is one of the lightest ROMs available. It weighs only 1.5 GB in size and is also designed to be as slim and feature rich as possible. So it is guaranteed to improve the performance of your phone and the overall stability. Also, Project Alice runs on the latest firmware version G955FXXU1AQCD and is based on Stock TouchWiz.
Ambasadii ROM
This ROM based on Android Nougat 7.0 comes free of all the pre installed bloatware. It has implemented build prop tweaks in order to improve the performance and battery life of your S8. You can also choose to add Mods like Adaway to block system wide ads and Dolby Atmos to improve the sound quality.
CarHDRom V2.0
This ROM is supported with the model SM-G950/55F
Download this ROM from HERE G950
Download this ROM from HERE G955
That was our list of various custom roms available for Samsung S8. If you have any doubt or any other suggestion of a rom, which should have been included in the list, then drop a comment.