Hey guys whats up. Today i am going to discuss that how to root any Android without PC. The first thing that we shout talk about before proceeding is that! What is android and what is root?. Android is an Operating System designed mainly for smartphones and developed by world's No 1 multinational technology company Google. Android is the most popular Operating System among all the other Operating systems. Almost every second person in the world owns an Android OS Smartphone. Even that now almost 70% new smartphones that release runs on Android OS. The famous Phone Brands like Samsung, Sony, LG, HTC are also using Android OS for their smartphones. The reason for the popularity of Android is that its User friendly and highly customizable. As android is a type of open source operating system so it is easy for everyone  to understand it. You can root your android, install custom roms on your android and can do may tweaks while other operating systems don't offer this kind of freedom. So folks! Android it is.
What is Root
To root an android basically means unlocking it from various software restrictions or simple rooting is Jailbreak for android. In iOS we can jailbreak the iPhone but in Android  there is root. We can root android to gain access to the system restrictions. Rooting an android enables the user to go deep in the software and removes all the restrictions offered by the software and its sub systems. By rooting the phone we can enjoy many third-party useful apps that require root access and most importantly we can install custom recovery and custom roms on our Android. You may be familiar with custom recovery and custom roms. A custom rom is a redesigned firmware that replaces your stock Android OS to the new Android OS and a custom recovery is a powerful multi function recovery which can do full device backup, install zip files and flash custom roms.
Root any Android Phone without PC
There are a lots of android phones out there and there are also a lot of methods to root them. Most of the rooting methods are quite difficult and they require an expert to do the process. So, today i will show the one stop easy method to root any Android phone or tablet without a PC. We will be using an application named Framaroot that can root any Android. The good thing about this tutorial is that you don't need a PC to root your android. So get ready because you are about to root your android.
Download Framaroot
Framaroot is an app that can root almost any Android phone without a computer. This app is developed from XDA developers by alephzain. Framaroot installs Super SU and SU Binary on the phone. The android version supported by Frameroot is 2.0 to 4.2.
How to to Root any Android with Framaroot, Steps
Step-1
First of all download the Framaroot app from the link above.
Step-2
Now on your device to the Settings>>Security, scroll down and enable the Unknown Sources options by tapping on it. (Skip this if already enabled)
Step-3
Now go to the download folder where the Framaroot has been downloaded and install it.
Step-4
Step-5
In the Framaroot select an option Install Superuser present on the top.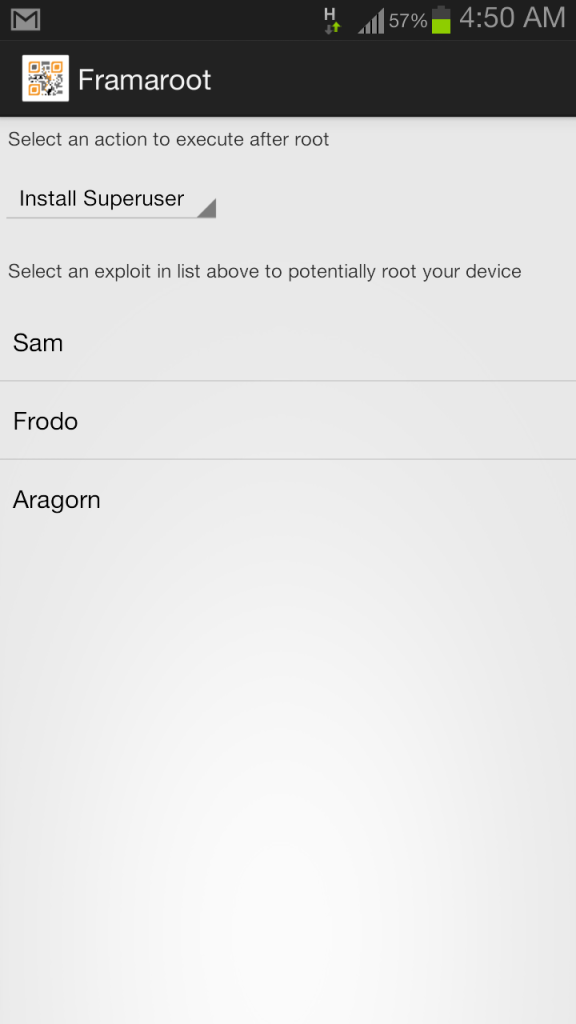 Step-6
After selecting install superuser option click on the exploits below to root your android and wait for some.
Step-7
There are three exploits Sam, Frodo and Aragom. IF your device shows the fail message then select another exploit and wait.
And if your device shows the success message then you need to restart your device.
So that was it. Congratulations your phone has been rooted successfully. Thanks for following my tutorial
Check an Verify Root Access
You can verify the root access by installing an app called Root Checker from Google Play Store. Root Checker is free and works on all Android devices.
---
Please like, share and subscribe for more. If you have any problems then comment. Enjoy.