After using your Android device for quite a while, you definitely struggle with its performance every time when you use it. It is common that after using a phone for a while its performance decreases and the major reason for its weak performance is the unnecessary apps running in the background and the junk files that always hide in the corner consuming the storage. So, today I will show you how you can speed up your android phone just by using these Top 5 Apps to Improve Android Phone Performance. These apps will really speed up your bulky, slowy android  phone.
I will list down some free cool apps that will boost up your Android Phone performance, free up ram and clean some storage on your device by clearing the junk files. Below are some apps that help to improve your Android Phone Performance.
Top 5 Apps to Improve Android Phone Performance
There are a lot of performance boosting apps on Google Play Store that claim to be the best for your android. No doubt, they are good but the problem is, most of these apps keep running on the background and the most annoying part is that when they clean the junk files from the phone they also delete the data which is useful or shouldn't be deleted. So, I will show you the most useful and tested android apps that will really speed up and improve the performance of your Android Phone and the good thing is that these all apps are free on Google Play Store. Ok Guys, Head over to our list of top apps to increase your phone speed.
Also See: Top 5 Fast Lightest Launchers For Android
#1) 360 Security-Antivirus Boost
The first performance app in our list is the 360 Security. It is a free speed booster and antivirus security app that will speed up your phone by clearing the RAM, junk files, temp files and malware from your phone. 360 Security is all in one app with builtin antivirus and memory boosting features. The interesting thing about this app is that it adds a light small Ram clearer widget on the screen which will enable you to clear ram and kill unwanted apps in the background very easily with just one tap. Moreover this apps has a very powerful cache/junk cleaning ability. The app is simply amazing and it really maintains the phone well. I use 360 security on my every Android Phone that I own and it's my favorite app. The app is free on Google Play Store.
#2) CCleaner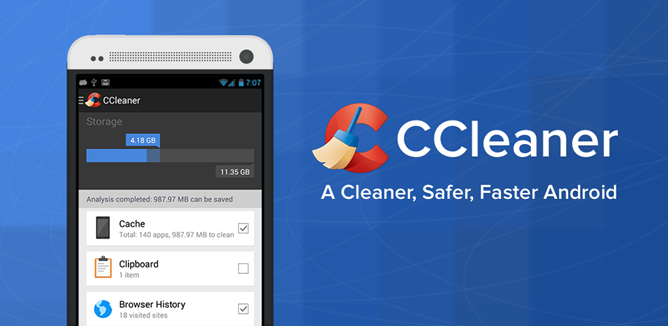 In our list of Top 5 apps to improve android phone performance, CCleaner lands on the second number. You may have heard about this app that how popular it is on desktop windows and on MAC OS. Its been the best maintenance application for Windows OS and also on MAC. But now it is ported for the Android OS. CCleaner comes with a very advance cache removing system, it allows to remove cache of files, temporary files, empty folder, cache of the browsers and even their history. It can also clear the call logs and sms logs. Moreover CCleaner has built-in app manager, CPU, Ram and storage meters along with battery life tweaks. The CCleaner is completely free on Google Play Store with an average rating of 4.4.
#3) Cache Clean Easy-Optimize
If you only want a single app just to clean up all the cache files of your phone then no other app is good from the Cache Clean Easy. Cache clean easy is a simple free app that will let you clean all your phone's cache files with just one click. The best thing about this app is that it is very quick, responsive and low size. All you need to do is open the app, click on the clean cache button and with in a moment your cache will be erased. The app also notifies about the cache size every time it increased. In short, Cache Clean Easy is the best app for those who only want a clean simple app to free up all the cache of the phone at one touch.
#4) Advanced Task Killer
Advanced task killer is a ram boosting very light and quick app with low size.. It is very responsive and powerful and kills the background ram consuming apps in one touch. Advanced task killer manages the running background apps and lets you choose the apps which you want to kill and which you want to keep. The user interface is very simple and easy. You just have to open the app and select the apps you want to kill. Advance task is very helpful app for freeing up ram on the device. It is completely free on Google Play Store and with a good rating of 4.4.
#5) Clean Master (Boost & App Lock)
Clean Manager is another ram managing and boosting app for Android. It offers the power to scan your device from malware, junk files and threats. The Clean Master has very advance features. It has a built-in app lock feature which lets you lock sms, contacts, gallery or any other app you want. This app has some of the best rich cool features such as, battery saver, iswipe that gives you quick access to apps, junk files cleaning, memory boost, CPU  cooler, memory booster, game booster, auto start manager that prevents apps from auto start and App lock etc. Clean Master provides every essential need to maintain and improve android phone performance beneath one shelter. It is also free on Google Play with a quite impressing of 4.7.
Guys that was our list of some cool top 5 apps to improve android phone performance. Hope you like it. Don't forget to comment your favorite app on the comments section below. If you know any other useful app then let us know. We will include it in our list,, Bye!!
---
Please like, share and subscribe. Comment to share your views. Follow us on twitter, facebook, GooglePlus
---