Also Fix "There was an issue importing your video. please try again" on Android devices.
How can we upload an existing video file from a phone or computer to instagram without using the in app camera?
We usually upload videos on Instagram using the in app camera but it is possible to upload the existing video files. It is possible to upload a different/existing video file to instagram instead of being limited to using the in app video camera. But of course the method is different depending on the device you're using an iPhone or an Android device.
So we've decided to make a thread and focus on both devices. Here's the original thread for the iOS devices and the process worked. The steps below were tested on an iPhone.
You will need of course an iPhone or any other iOS device with Instagram. A computer with iFunBox  or other file explorer, Quicktime Pro.
Here's how to do it, follow the steps:
1. Put your iOS device into airplane mode.
2. Next, launch instagram and tap on the video button.
3. After recording, share it(of course the upload will fail since You're in airplane mode)
4. Now, connect your device to computer and use iFunBox to navigate to user applications/instagram/library/application support/instagram/videos.
6. You will see at least two files there the important one is mov.locked file. Copy the file name of the one with .mov.locked to your mac, and put it on the desktop.
7. Now, remove the .locked from the file name and open that file in quicktime. Use window/movie inspector to view the file details and copy down the frame rate and bitrate.
8. Then, open the replacement video file in quicktime pro, select 'file/export' and use 'to quicktime movie'.
9. Select options/settings/video and use the following settings, but set frame rate and bitrate to match original file.
10. Set video size/as follows: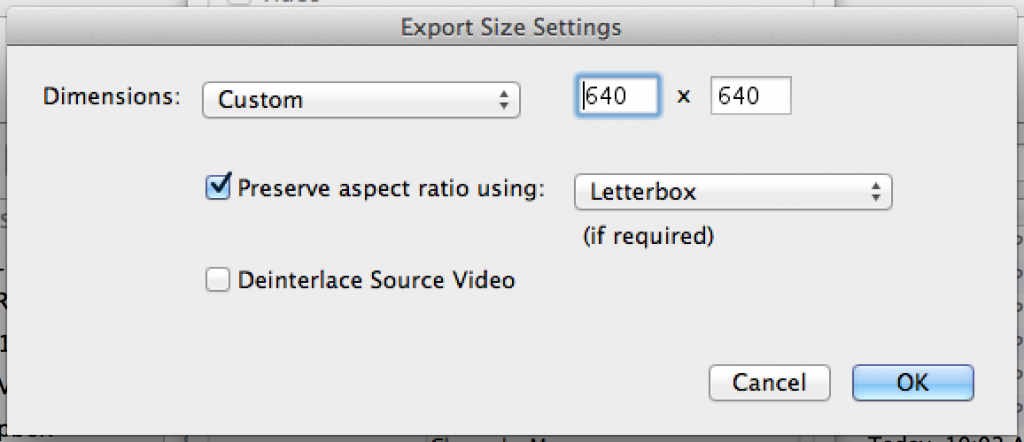 11. Set audio as follows: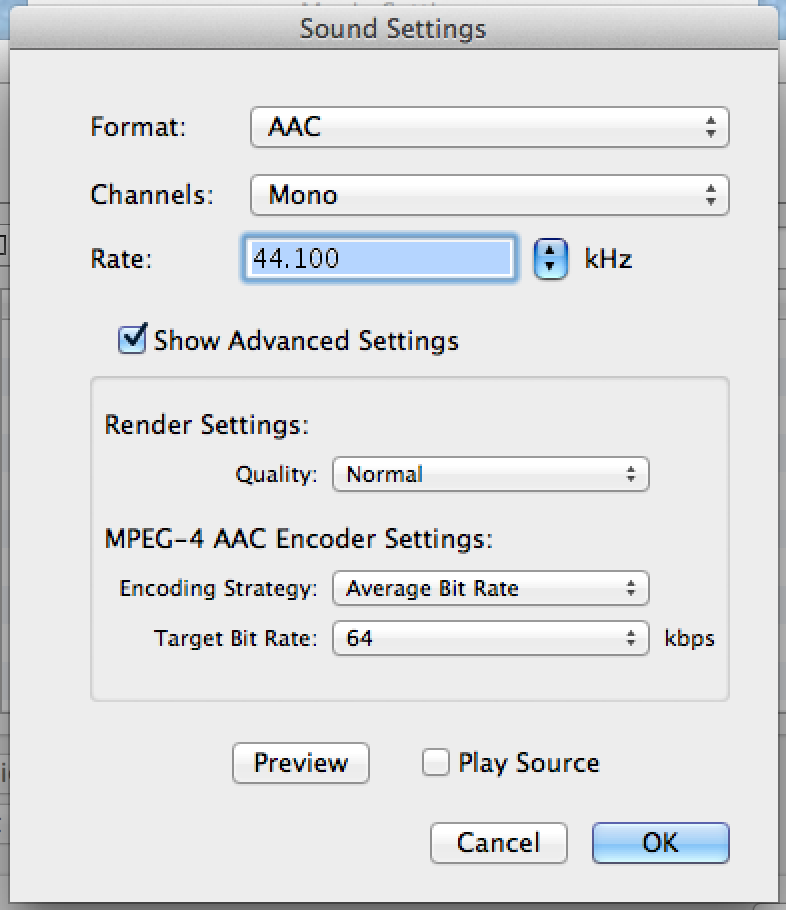 12. Export that clip with the same name as the clip you want to replace, by default quicktime will add an invisible .mov to the end even if you end the file name with .mov.locked.
13. Then delete the original video file from your desktop that you copied from the phone so you can replace it.
14. You need to make sure the filename ends in .locked and doesn't have an invisible .mov at the end. Use finder to get file info and rename the end of the file there to make sure it end in the original .mov.locked
15. Drag the file from the finder to the iFunBox window that's still showing you the directory. user applications/instagram/library/application support/instagram/videos. This will replace the original file you shot with the video you actually want to upload.
16. Turn off airplane mode hit 'retry' on your video. It should upload now.
For Android Devices
For Android devices you can easily upload any video by hitting camera and tapping next and share. But sometimes when you want to upload video from your Android device, after selecting video and tapping NEXT you get this, "There was an issue importing your video. please try again."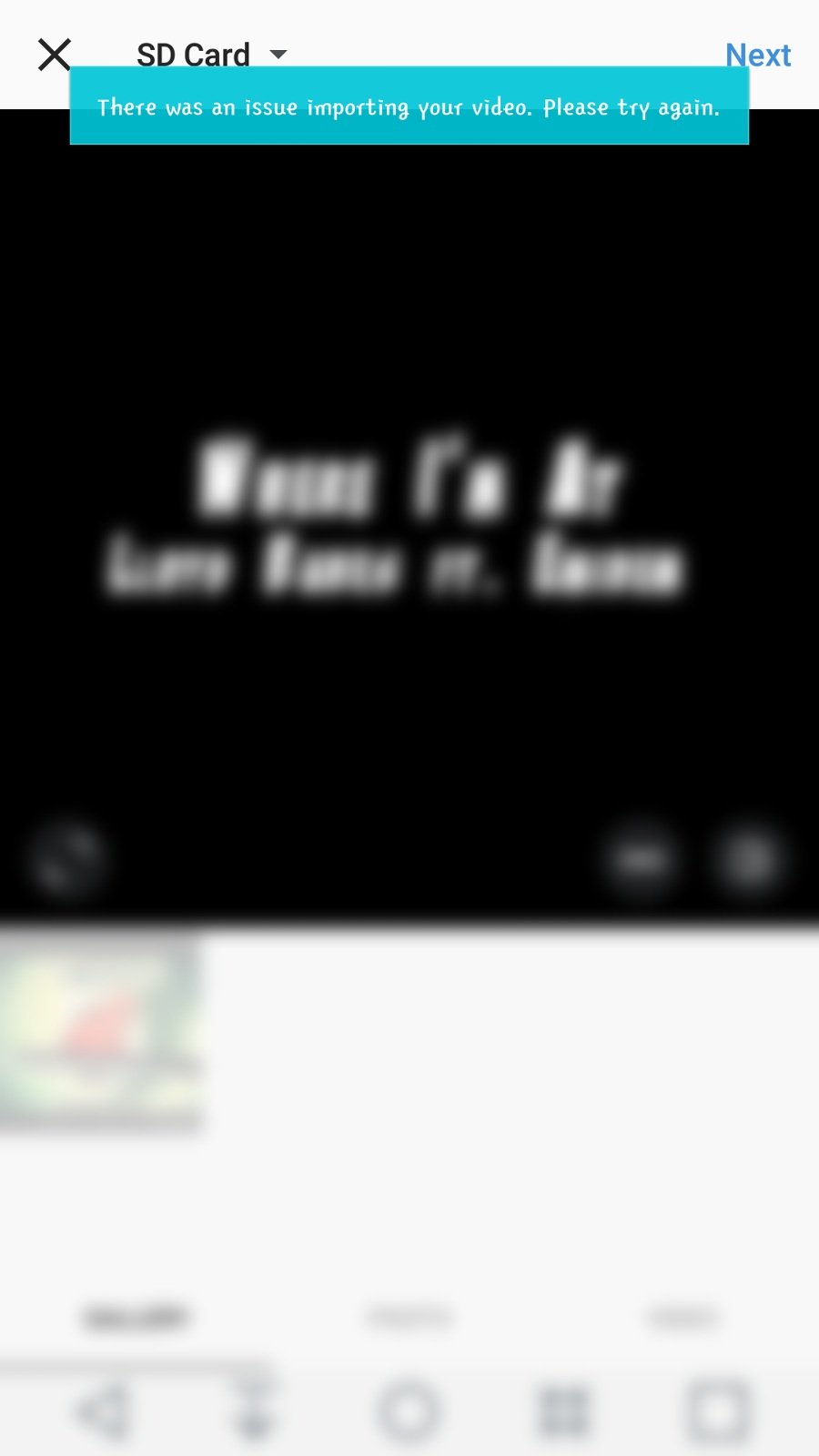 Fix:
Here's a simple trick to fix this issue, all you need to do is install a screen recorder. After installing screen recorder app launch it and record the video you want to upload on Instagram. You can use any video player and record it in any portrait or landscape mode. Make sure the resolution of video recording is HD. You can download screen recorder from the link given below.
After that the video will be automatically saved somewhere. Now, go to your Instagram tap camera button, find the recorded video and upload it. You can also trim it and set the cover.
That's it, any queries? Use comment box, below.