Switching back and forth between apps on iPhone just to share something is not cool. Whether you need to share work related documents or a web link in Facebook Messenger. Instead of copying and pasting or toggling between apps, just use Share extensions. Share extensions also let you share with yourself. Maybe save the interesting article you found for later in the read-it-later app.
You can access Share extensions anywhere you see the Share icon. Share extensions are located in the top row of the Share sheet. You'll see Message, Mail, and a few other ways to share pre-loaded by default. Here you'll find everything you need to know about Sharing Extensions.
Activating Share extensions on iPhone
Thats how you can activate share extensions in any app that uses the standard iOS Share Sheet on iOS 8 or later.
Launch Safari on your iPhone or iPad.
Navigate to a web page.
Tap on the share button.
Scroll all the way to the right end of the top row of icons.
Tap More and flip the switches next to any share extensions you want to use to the green 'On' position.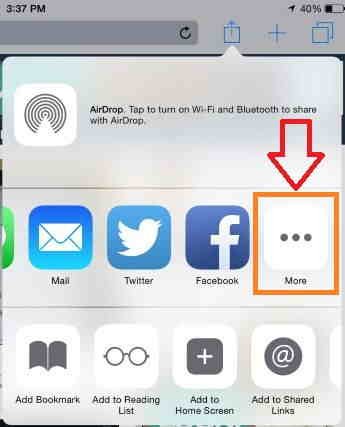 How to access and use share extensions on iPhone and iPad
Open your chosen app on your iPhone or iPad.
Tap the share button.
Tap the share extension that you want to use.
How To Edit The iOS Share Extensions
Grab your iOS device and open Safari or any other app that comes with Share Sheet menu functionality.
Open the full-screen view of an image and tap on the Share Sheets button.
Slide with your finger on the available Share Actions until you reach the More button. Tap it!
Change the order of the available Share Extensions with the help of the drag & drop function.
The Share Extensions are also customizable. You can tweak the order in which the Share Action buttons are displayed and even enable or disable the Share Extensions made available by third party apps.
The more third party apps you install on your iPhone, the more crowded the Share Sheets list will become. Those sharing services that are used rarely should be obviously directed towards the end of the list. This keeps your most often Share Actions up for grabs, without having to slide for them.