Download free Youtube++ IPA tweak for iphone, ipad and ipod. This is the latest version and works with the newest iOS. With Youtube++ iPA iOS, you can have premium and unlocked features for youtube. It is much better than the stock youtube app. You can download videos, play in background, block ads etc. A similar alternative to TikTok++ IPA. As this is an iPA file, so you can not install it directly. You need to first download Youtube++ for iOS 16, 17 file on your pc and then sideload it using Altstore.
Youtube++ is supported on all new iPhone, iPad and iPod devices. Even if you have the latest iOS version, you can still install this tweak with ease. Moreover, youtube plus plus is one of the best third-party tweak that modifies the official YouTube app to offer additional features and functionalities. This tweak is not available on the App Store, as it violates Apple's guidelines on modifying official apps. Therefore, to install YouTube++ ipa, you need to sideload it onto your iOS device using a third-party app installer such as, AltStore, or Sideloadly.
Youtube++ iOS Features
The youtube ++ tweak comes with great premium features. Some noteable features are,
Ad-blocking: With YouTube++, you can get rid of annoying ads that interrupt your video watching experience. This tweak blocks all types of ads, including pre-roll, mid-roll, and banner ads.
Background playback: YouTube++ allows you to play audio from YouTube videos in the background while using other apps or when your device is locked. This means that you can enjoy music or podcasts without having to keep the YouTube app open.
Downloading videos: YouTube++ lets you download videos from YouTube directly to your iOS device. You can choose the video quality and format before downloading, and the downloaded videos can be viewed offline at any time.
Video playback options: With YouTube++, you can choose from a range of video playback options, such as speed control, looping, and default playback quality.
Auto-replay: If you love listening to a particular song or podcast on repeat, YouTube++ offers an auto-replay feature that automatically restarts the video when it ends.
Customization options: You can customize the YouTube++ tweak to your liking by changing the app's interface, theme, and more.
There other more features but above are the best features of youtube++ ipa for iOS.
Youtube++ for iOS 17 works very well and you can install it on any iPhone or iPad. It is a you tube tweak that adds more functionality and use to the app. Such as, you can block ads, play video as mp3 in the background, youtube red for free using Youtube++ iOS 16. You can also download videos as mp3 or whole playlist.
For installing this tweak on you can first download the youtube++ ipa file and after that, follow the step by step instructions below. I will also show you how to install it without pc. Youtube cercube ipa is another alternative for youtube++, you can get it here.
| | |
| --- | --- |
| App Name | YouTube++ iPA |
| Version | v18.35.4 – 3.0.1 |
| iOS | 11, 12, 13, 14, 15, 16, 17 |
| Developer | qnblackcat |
| Size | 106 MB |
| Updated | Sep, 2023 |
Download Youtube++ iPA for iOS
Tap on the link below to download youtube++ iOS ipa file. Then follow below steps to install it on your phone.
Tweak-1: uYou (v3.0.1)
Tweak-1: uYouPlusExtra.ipa(v18.35.4/3.0.1)
Tweak-2: YTLite.ipa (v18.35.4)
Also Check: Youtube Music++ for iOS
Install Youtube++ ipa file using Altstore or Sideloadly
FAQs
What devices can I use YouTube++ on?
YouTube++ is compatible with most iOS devices, including iPhones, iPads, and iPod Touch running iOS 7 up to iOS 16 and later versions.
 Is YouTube++ safe to use?
Yes, YouTube++ is safe to use. However, since it is a third-party tweak, you need to install it at your own risk. Make sure to download the tweak from a reliable source and follow the installation instructions carefully.
Will my YouTube account get banned for using YouTube++?
There is a small risk of your YouTube account getting banned if you use YouTube++ to violate YouTube's terms of service. However, using YouTube++ for ad-blocking or background playback is unlikely to get you banned.
How do I uninstall YouTube++?
To uninstall YouTube++, simply delete the app from your device's home screen like you would with any other app. You can also remove the tweak using the app installer that you used to install it.
Can I use YouTube++ without jailbreaking my iOS device?
Yes, you can use YouTube++ iOS Tweak without jailbreaking your iOS device by sideloading it using a third-party app installer like altstore.
What happens if YouTube releases an update?
If YouTube releases an update, the YouTube++ ipa may stop working until an updated version is released. You can check for updates within the app or on our website.
Is YouTube++ free to use?
Yes, You Tube++ is completely free to use. However, some sources may charge a fee to download the tweak or access certain features.
Can I use YouTube++ on Android devices?
Yes, there is youtube premium mod apk that you can install on android to get extended youtube features.
How to Install Youtube++ iOS 17 Latest Version
To install the youtube++ tweak. You need to sideload its ipa on your phone. You can do that either with cydia impactor or Altstore. As cydia impactor may not be working, you can use Altstore.
Do the steps below to install this on your phone.
First of all Download youtube++ file from above link.
Now Download Cydia Impactor from above link. Keep both files on your PC or Mac, not on phone.
Install Cydia Impactor on your PC or Mac.
Connect your iPhone or iPad to your Mac or PC. (whatever you are using)
Launch Cydia Impactor.
Click and drag Youtube++ ipa latest version file on to Cydia Impactor.
Cydia impactor will ask you to log in. Put in your Apple id username and password here.
Youtube++ iOS 14/15 will now install on your device.
When it installs completely. Disconnect the device.
Now once ipa file is installed. Go to Settings>>Device Management and trust the profile of recently installed app.
Launch the app on your phone and enjoy.
That's it.
Download and install Youtube++ iOS Latest Version without PC
To download Youtube++ without PC. You can follow below steps.
First of all install tutuapp iOS on your iPhone or ipad.
Now launch tutuapp.
Use the search bar and search for Youtube++.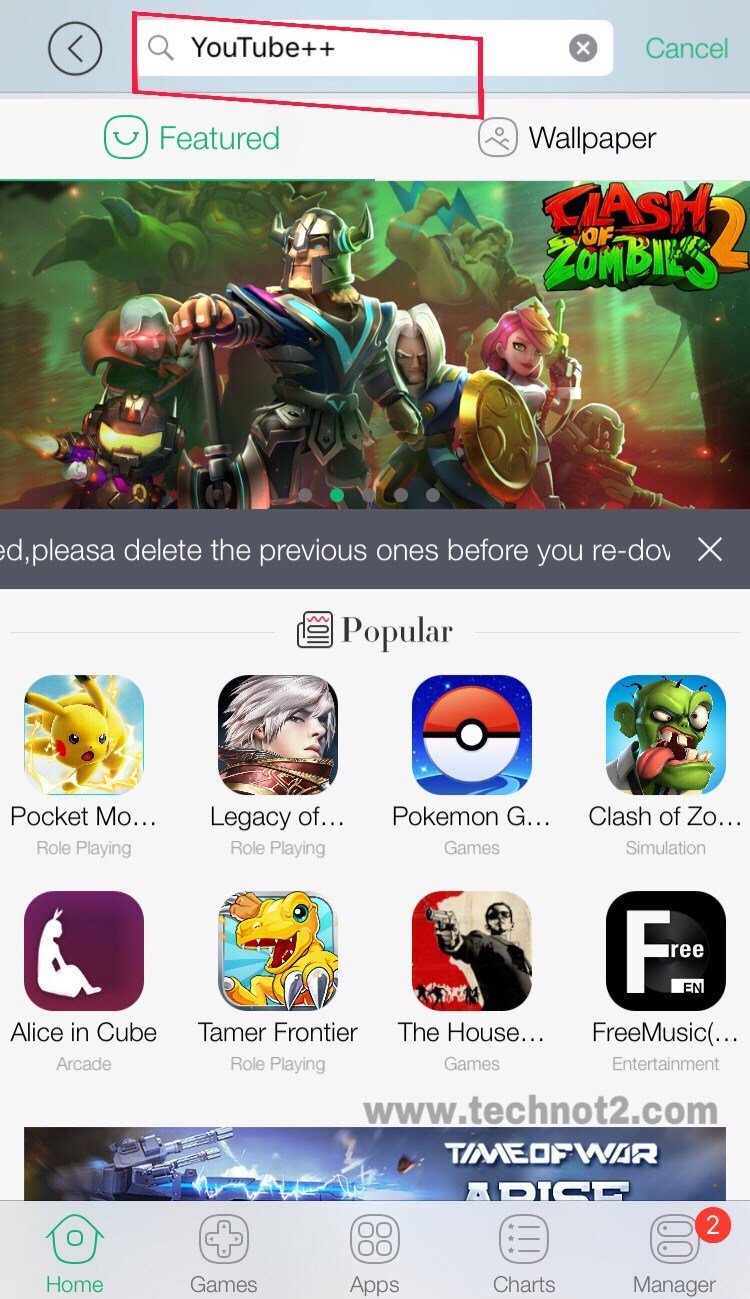 In the search results you will find the app listed.
Tap on it and Install it.
After installation finishes.
Go to Settings>>Genral>>Device Management and trust the profile of recently installed app.
Launch the app and enjoy.
That is all about Youtube ++ ipa on iOS devices. If the download is not working/expires then let us know in the comments. If you face any other issue installing youtube++ ipa iOS 17 tweak, ask in the comments.