Android's ability to change the general look and feel of the GUI using themes, icon packs and fonts is awesome. In Android system it's possible to completely transform your Android device with various launchers and widgets, cool fonts, lockscreen replacement apps, and icons. An icon pack is an application that replaces all your icons with customized ones. In general, they're very simple to install, and you can do that in the same way as you would any other app. With the hundreds of icon packs available for the Android, here we have 10 coolest, so let's check 'em out!
Voxel
Shadows combined with bright colors make Voxel icons stand out from the rest. This set gives you more than 1900 square icons to arrange on your home screen and achieve that neat tiled look. It also comes with a dozen wallpapers.
Supported launchers: Apex Launcher, Nova Launcher, Smart Launcher, ADW, Go, Holo, Aviate, Atom, Action Launcher, KitKat Launcher and few more.
Download here
VNYL
If you're a music lover, VNYL will bring a smile to your face. This icon set is special because its round icons are designed to resemble vinyl records, contains more than 2400 icons.
Supported launchers: ADW, Atom, Aviate, Apex Launcher, Epic launcher, Holo, KitKat Launcher, Nova Launcher, Smart Launcher, CyanogenMod Theme Engine, Solo Launcher and few more.
Download here
Pixel Icon Pack
If you don't have a Pixel phone, you can get hold of more than 2,700 ico in the Pixel icon style in one pack right here. There's a wide selection of well-designed HD icons and it offers the same icon request and background features that many of the others in the app list. One thing, it'll cost you less than $1.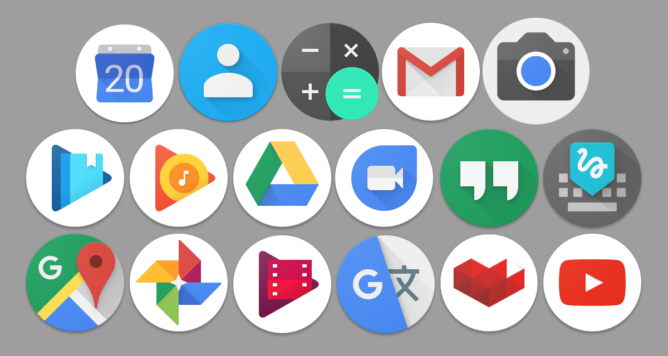 Supported launchers: ABC, Action, ADW, Apex, Atom, Aviate, GO, Holo, HoloHD, iTop, KK, LG Home, Lucid, M, Mini, MN, New, Next, and few other.
Download here
Silhouette
An artistic icon pack that makes clever use of shadows, outlines, and color to give an impression of, well, a silhouette of an icon. With 800 icons included, this pack is among the smaller ones on the list, but it does offer icon masking for icons that are yet to be added. Use the Silhouette dashboard app to apply the icon pack.
Download here
CandyConcons
CandyCons is different from other icon packs. It's 690 carefully crafted icons that come in various shapes and colors. There's also the obligatory icon request feature on the rare occasion you don't see the icon you're looking for. It strictly sticks to the Google Material Design color schemes, and includes around 20 wallpapers.
Supported launchers: ADW, Apex Launcher, Go, Holo, Epic Launcher, KitKat Launcher, Aviate, Atom, CyanogenMod Theme Engine and more.
Download here
Hooolm
Hooolm is a pretty good icon pack, glass-style icons and that's most pronounced with the Smoke and Glass, Spatial Glass, and Tinted Glass icon packs. Unlike many, Hoolm doesn't shy away from doing 3D icons, but still manages to keep them classy and sophisticated.
Download here
The PHLASH
Developer's, An awesome icons pack, you can buy Tha PHLASH's icons two ways. There is the Google Play collection or you can go to his official icon website to pick them up there too. They are some flashy and sophisticated icons.
Download here
Benas Dzimidas
The icon packs Benas is most known for include the Rondo icon pack, the Lai icon pack, and the Toca UI icon pack. Rondo is flat, round, and Material inspired and Lai pack are rectangular with muted colors and have over 2200 icons included.
Download here
Glim Icons
I guess you don't really want to miss out on more than 1500 free icons and a bunch of high-quality wallpapers? For a small fee, you can get access to 2000 alternative icons.
Supported launchers: Apex Launcher, Go, Holo, KitKat Launcher, Nova Launcher, Trebuchet, ADW, Atom, Epic Launcher and few more.
Download here
Black & White
Whicons
For BnW lovers, Whicons looks amazing with dark themes and backgrounds, and its 2732 icons should cover most of the apps you have installed. In case they don't, Whicons offers an icon request option in its Dashboard app, where you can also download Whicons wallpapers.
Supported launchers: Apex Launcher, Nova Launcher, Smart, Launcher, ADW, Go, Aviate, Action, Solo, KitKat Launcher, Epic Launcher, and more
Download here