Everyone has their method for establishing passwords, which is unavoidable. Even though this is often a very personal approach, it is based on some assumptions about the security of the online world. Many people prefer convenience above security for passwords, which is reasonable. However, the truth persists, and it is one that even those who take security very seriously must admit.
What sets a good password apart from a poor one?
There are a few aspects to consider while creating a safe password. Now let's have a look at them.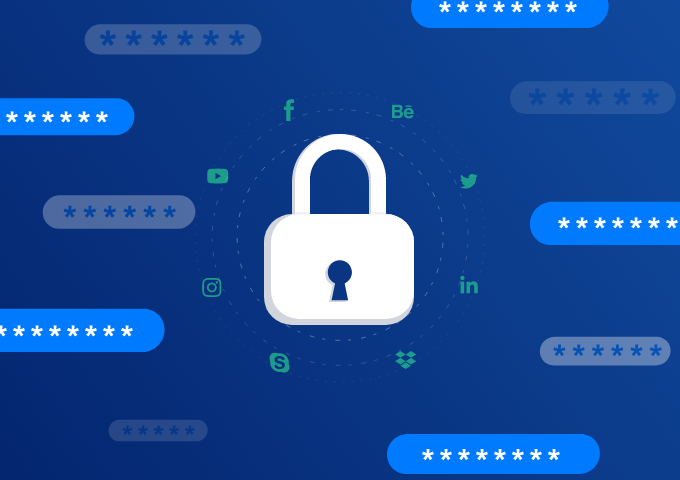 Uniqueness:
You've probably heard it before, but passwords like Password123 or 123456, or any combination of consecutive numbers and characters, are very easy to guess when used repeatedly. Furthermore, choosing a password that includes information that may be easily accessed by anybody using a simple internet search, such as your birthday or pet's name, is not suggested.
Length:
The more characters in your password, the better. In general, the greater the number of characters in your password, the less likely it is that it will be mathematically found. As a consequence, passwords with more characters are considered to be safer.
Complexity:
Numbers and one-of-a-kind characters might make your password stand out from the crowd. If they choose to, anybody may use their dog's name as a password. You may make your password unique by including numbers, characters, and upper- and lower-case letters.
Using each one on a single site:
Make sure you don't reuse your passwords after you've made a set of them. If one account has been hacked, isolating that account as quickly as feasible is crucial for your security. If one of your passwords gets disclosed to the public and you have several accounts with the same password, all accounts are in danger of being hacked. This might have bad consequences not just for your website, but also for your personal life. In case you have this habit, take an extra precaution or configure a VPN on your Windows system immediately.
10 Password Managers for Strong Password That Will Never Be Forgotten
A password manager may be able to assist you if you are having trouble remembering your passwords. There is a solution for folks who find it tough to remember different passwords for each of their accounts.
If you use a browser plugin that allows password auto-filling, it will not only store all of your passwords in a single vault but it will also autofill passwords. Furthermore, you won't have to worry about creating strong passwords since the application will do it for you.
1. Last Pass
In both the free and subscription versions of the application, an unlimited number of entries may be kept, and it also offers automatic form completion and secure password creation. It's worth mentioning that the program won't automatically complete forms for websites that contain malware. The premium version of the program includes secure cloud storage, robust multi-factor authentication, and password sharing with allowed contacts.
2. Dashlane
This password manager is a popular option for many individuals due to one-click password creation, note storage, two-factor authentication, updating many passwords used on many different websites with a few clicks, and a memory footprint that shrinks with each update. And it has a premium version with browser add-ons and mobile versions, although free mode has basic password manager features including autofill and digital wallet functions.
3. RoboForm
RoboForm is a software tool that enables cross-platform usage, keeps notes, and retains a limitless amount of account information. It may be used to generate both strong and unique passwords.
4. Sticky Password
As one of the most trusted password managers on the market, it also has a subscription version with additional cloud-based features. This password manager stands out from the rest since it supports both Face ID and fingerprint user login.
5. Intel TrueKey
Intel True Key is differentiated by its automated password management and automatic log-in features, making it ideal password storage solutions available. It employs biometric details to master passwords, allowing users to log in using their fingerprints or faces, among other things.
6. Google Password Manager
Google Password Manager is quick, free and ideal for passwords of websites that comes pre-installed with Google Chrome. You may use it to safely save all different passwords you use. It will automatically fill password information once you visit a site that has been stored. You won't have to worry about remembering all of the different passwords you use on the internet. Besides, your passwords will also be synchronized across any devices on which you use the Chrome web browser.
7. TrueKey
TrueKey, a McAfee product, can import data from other password management programs. It stands out for its ease, face and fingerprint recognition, two-step verification, and other features. Because of its range of login choices and usage of AES-256, one of the most secure encryption methods available. You can keep up to 15 accounts' worth of information in the free edition, which works with web browsers including Chrome, Firefox, and Edge.
8. Password Boss Premium
Considered among the best password management software, Password Boss Premium v2.0 syncs with all platforms and securely stores all passwords in one place. It also stores vital information such as bank and credit card information, as well as identifying papers such as ID cards, passports, and insurance information.
9. Bitwarden
Bitwarden is another relative newcomer to the market, having been launched in 2016. While this gives it a few years' heads start on developing rivals, it pales in comparison to established competitors, LastPass and Dashlane. Bitwarden is a comprehensive, secure, and low-cost alternative to other alternatives when considering its characteristics. For a sum that is significantly less than that paid by many competing services, the premium account removes a bunch of irritating constraints.
10. Keeper
It is another password manager allowing you to log in and manage your passwords across various platforms, including Windows, Android, macOS, and iOS. It is a free password tool that enables you to store and share your passwords with others. Extra features are available with the premium membership.
Don't you still need a password manager?
We are all aware that password breaches are on the increase, and traditional passwords will not be phased out for the time being. Knowing the risks and implementing guidelines to keep you one step ahead of potential attacks, as well as setting up a virtual private network on your computer, running an antivirus application, and using up-to-date software, will all help to enhance your security.
You may start by making your passwords more unique, tough, and long, which you can accomplish fast and easily with the aid of a good password manager. Perhaps in the future, we will encounter new authentication methods that do not need the use of passwords.