Here are all the changes and features in One UI 2.0 update. In short, its pretty much more refined and even easier to use as an interface. One UI 2.0 Beta Program has been started. Only beta program registered users have gotten the update and it will take some until Public update of Android 10 with One UI 2.0 is rolled out to every Galaxy S10, S10 Plus and S10e.
Now, I will show today what are the changes, features, and improvements that are done on One UI 2. And until its final stable release and minor plus minus is expected as usual because its only a beta version and not the stable one.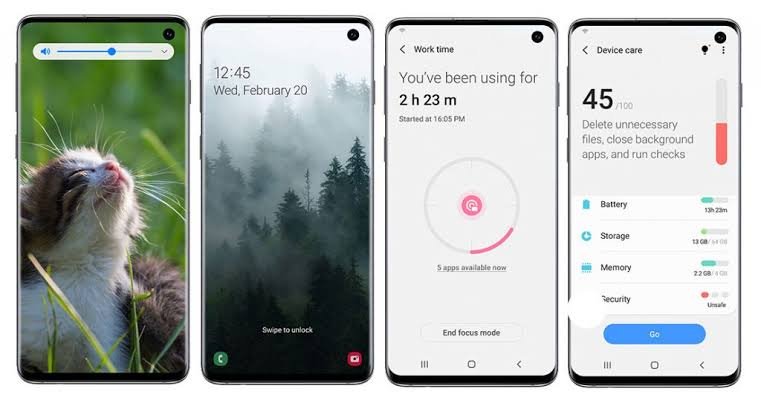 Galaxy S10 One UI 2.0 Features
Here are all the features of new Samsung One UI 2 that comes in Android 10 firmware. The latest UI has new gestures, camera, performance improvements, transitions and animations and much more. Lets go through them one by one.
The navigation gestures in previous One UI were already changed and you could swipe from bottom for going back, minimizing and opening recent apps. Now in One UI 2, the gestures are for navigation are on a whole new level. There are now google navigation gestures and you can also switch to the traditions buttons.
The new navigation, you can swipe from either sides to go one step back from any app, and swipe up from bottom to go to the home screen. Similarly swiping up from bottom and holding for a sec will open recent apps. There is also back gesture sensitivity you can set incase you are using rugged cases that have raised edges.
Pre Loaded Screen Recorder
Screen recorder now comes preloaded with in the system. This is an amazing and most awaited feature. You can record anything on screen using the in built screen recorder. And the good thing is you can even record picture of yourself while screen recording. This is mostly needed for all the mobile gamers.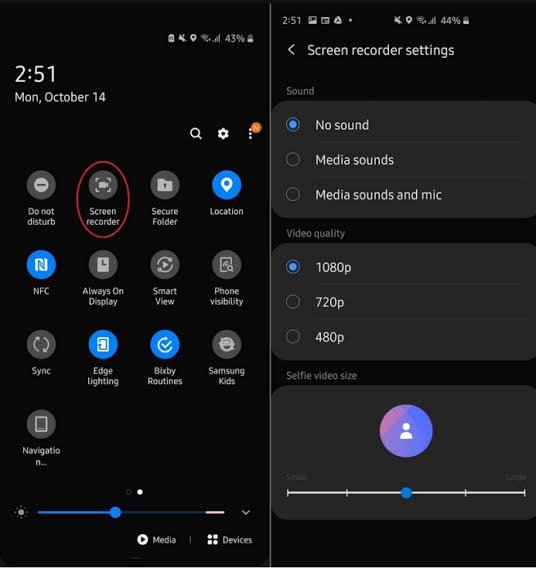 The screen recorder option can toggled on from the status bar dropdown.
The camera interface has been redesigned and way much cleaner in Android 10 One UI 2.0 update. In the previous version, all the modes were present above the shutter button, you would just need to swipe. Fairly saying, most of the people do not even use these other modes except the Photo and Video. So in One UI 2.0 Camera, there are only four modes above the shutter button, photo, video, live focus and live focus video.
Other modes are not moved to the more section. But you can manually drag each mode to the front interface above the shutter button.
Device Care Feature is now Much Cleaner
The Device Care feature also got a change up. Its interface is way cleaner and more organized. And the battery stats are now more detailed. And you can even set the limit to turn off the wireless charging if a battery percent falls below the specified limit. By default it is set to 30%.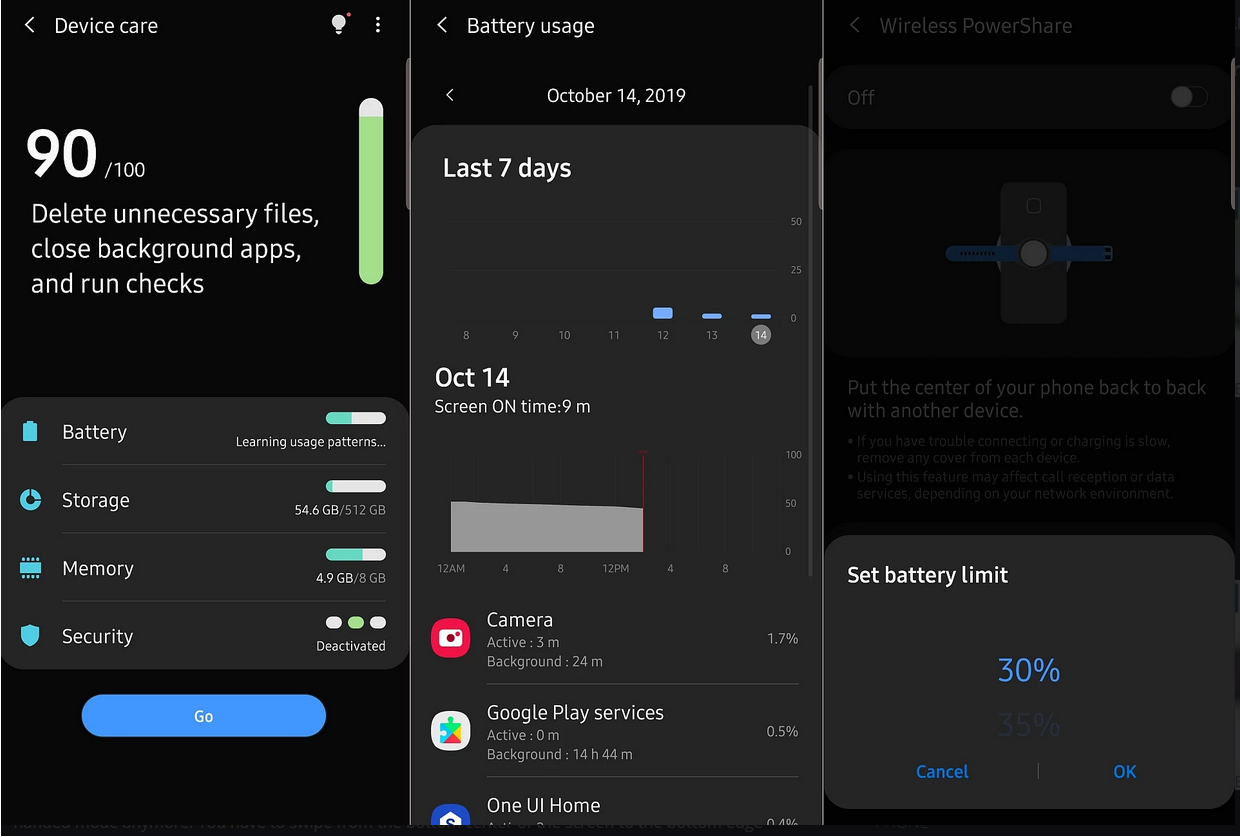 The battery stats gives more detailed usage of how you your battery is consumed and which apps are using more battery.
Changes in Digital WellBeing Feature
Google has made these type of features necessary in Android 10. However in Android 10 One UI 2.0, Digital Wellbeing now includes parental controls. The phone usage can be tracked. A focus mode is also added, enabling this will stop all notifications so you can do your work with ease.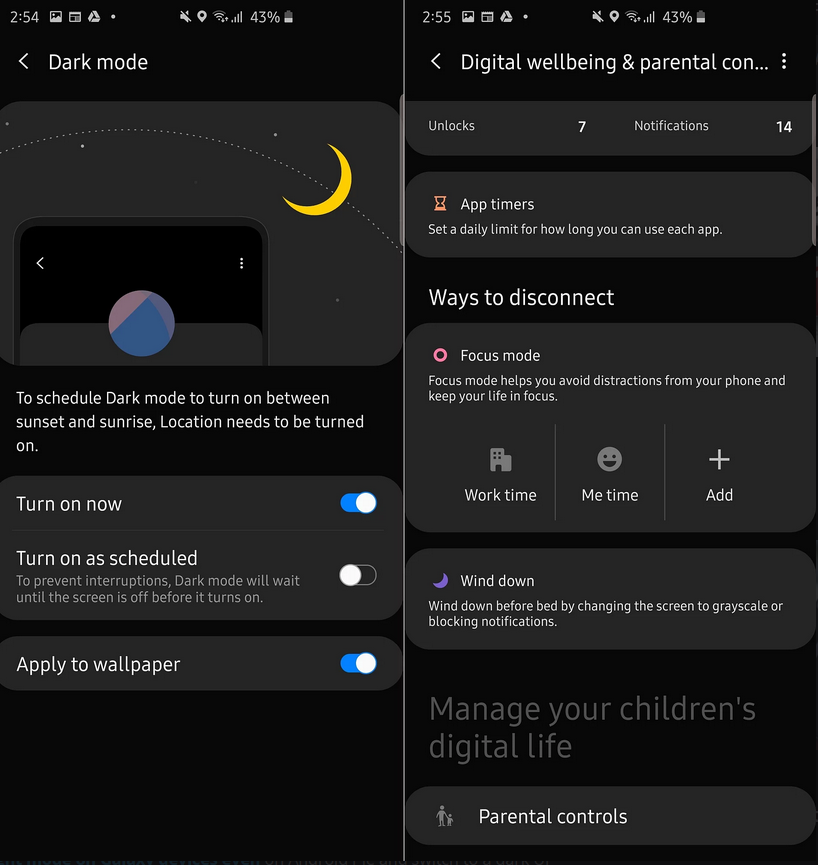 Night Mode now Called Dark Mode
Night mode has be renamed to Dark Mode. Enabling Dark mode makes your theme accent and background colors to dark to better suit the eyes in night time. And also it darkens the wallpaper to reduce the danger to eyes.
These were some major changes done in One UI 2.0 that comes in Android 10 for Galaxy s10 family.
 Other Notable Changes
New lighting effects added in edge lighting.
Volume control visuals are thicker.
In My files, you can now copy any file to multiple destinations at once.
Contacts have a trash folder where deleted contacts would be kept for 15 days.
My Files app also a trash section.
Calculator app can do conversion between units.
So, this is pretty much it. These were if not all but almost all of the changes and ONE UI 2.0 features that come in Android 10 for Galaxy S10. Share it and subscribe for more news. We will share more with you if there is anything to know about the Android 10 One UI 2.0 for Galaxy S10.