There's a handful of dialer applications in the Google Play Store that can give the dialer a new look. There are limitless possibilities to modify your Android phone but we often neglect the dialer part. Even though we look for camera specs and RAM while choosing our smartphones. But the primary function of is and always will be making and receiving calls.
Therefore, in this post, are few best dialer Apps for Android that you can use every now and then. If you're tired of seeing the same stock dialer of your phone again and again, read on!
Truecaller: Caller ID and Dialer
True Caller is the most popular dialer application. It's not only the dialer that makes this application popular. It is also the Caller ID feature that puts it ahead of other dialer applications. Anyone, who has ever installed this application and signed up, is in the loop. It also shows whether the person you intend to call is in another conversation, right in your contacts list. The pro mode monthly subscription can be bought as an in-app purchase, which removes all advertisements, and lets you send 30 contact requests in one month. True Caller is useful to identify unknown calls and block the people whom you want to get rid of.
Download from Google play store
Hangouts Dialer
Google has managed to put together a very nice combination of colors and UI elements in the Hangouts Dialer application. If you have ever used the Hangouts application, you must have seen it. Hangouts Dialer is now available as a standalone application. It can be installed on your Android smartphone and replace the stock dialer application. Hangouts Dialer has an outbound UI. Whenever you call a number, it can immediately tell you what country or what location this number belongs to.
Download from Google play store
Contacts Phone Dialer: drupe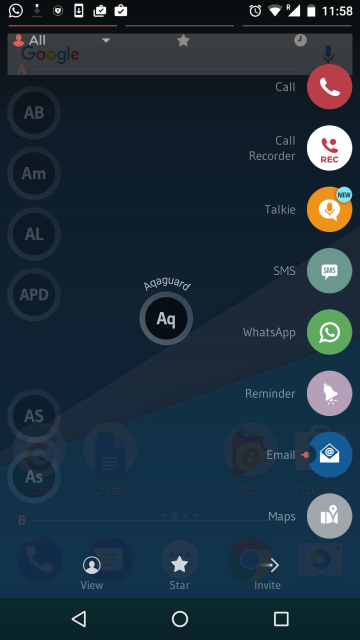 Your search for a good contacts and dialer app ends with Drupe. Once installed, Drupe will always be one swipe away, from a trigger zone of your choice. Scroll through the entire contact list or just the favorites, and then drag the contact bubble to the voice call icon, text message or any other specified apps. The app is highly customizable with tons of free themes, optional shortcuts etc. The app also offers a standard T-9 dialer, complete with speed searching.
Download from Google play store
RocketDial Dialer & Contacts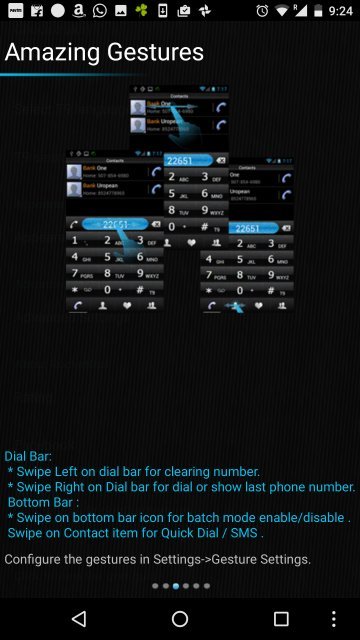 RocketDial Dialer is yet another app that uses T9 technology to allow you to search easily for your contacts. Not only that, but RocketDial Dialer also features large buttons that allow you to make calls easily and accurately. It also supports high-quality photos, so your contact pictures never look blurry and always crisp. With the ability to remind you of upcoming events and birthdays in one place, RocketDial Dialer also features Gesture support that provides you with the option of handwriting within the app to search for new contacts and so much more.
Download from Google play store
GO Dialer
This small package of dialer app contains fast dial feature with T9, the quick search for contacts, block spam calls. The app also supports dual sim phones. The Samsung Galaxy smartphone users may find the dialler app familiar as it offers some identical features such as swiping left or from call logs to send a text or make a call.
The main screen of the app shows three tabs: SMS, Contacts, and Calls (recents). There is no separate Favourites tab, but the Contacts tab has options to show all. The app is available for free in the Play Store.