BHTWITTER iPA is a Twitter tweak that allows users to modify their Twitter experience on their iPhone. The tweak offers a range of customization options, including the ability to download media, view images in full resolution and more. Its easy to use and is compatible with all versions of iOS.
Bhtwitter for iOS ipa is one of the most popular Twitter tweaks available for iOS devices, and it has gained a large following among Twitter users who want to take their Twitter experience to the next level. It is a free tweak that you can download and install without jailbreak.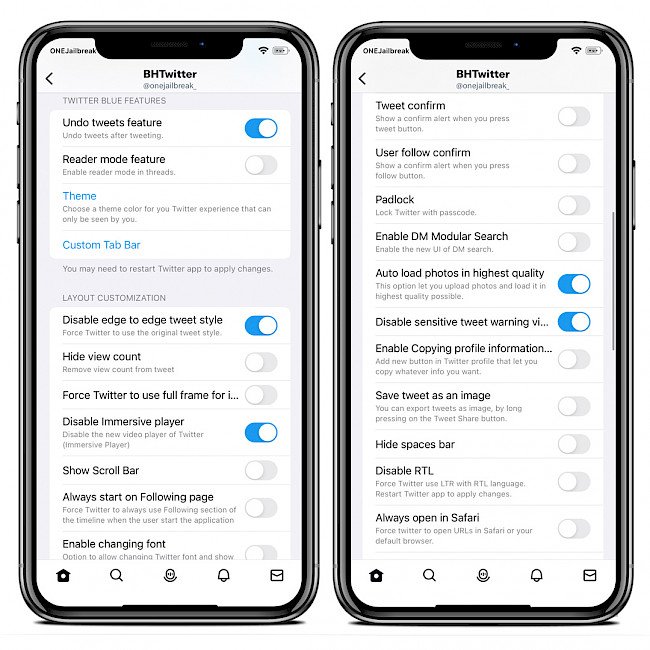 BHTwitter iOS
BHTwitter for iOS 17 can be installed easily andy iphone, ipad or ipod. It offers there features,
Download Media: With BHTWITTER iPA, you can download media directly from your Twitter feed, including photos and videos.
Full Resolution Images: The tweak allows you to view images in full resolution, giving you a more immersive viewing experience.
Disable Read Receipts: BHTWITTER iPA allows you to disable read receipts, giving you more privacy and control over your Twitter conversations.
Customizable Theme: The tweak offers a range of customizable themes, allowing you to personalize your Twitter experience.
Multiple Accounts: You can use multiple Twitter accounts on a single device with BHTWITTER iPA.
Remove Ads: The tweak also removes ads from your Twitter feed, giving you a more seamless browsing experience.
Quick Actions: BHTWITTER iPA offers quick actions, allowing you to perform common Twitter actions, such as retweeting and liking, with just a single tap.
Overall, BHTWITTER iOS 16 offers a range of features that can enhance your Twitter experience and make it more personalized and enjoyable.
Full List of Features:
Download Videos (even if account private).
Custom Tab Bar
Video zoom feature.
No history feature.
Hide topics tweet feature.
Disable video layer caption.
Padlock.
Font changer.
Enable the new UI of DM search.
Auto load photos in highest quality feature.
Undo tweet feature.
Theme (like Twitter Blue).
Twitter Circle feature.
Copying profile information feature.
Save tweet as an image.
Hide spaces bar.
Disable RTL.
Always open in Safari.
Translate bio.
Reader mode feature.
Disable new tweet style (A.K.A edge to edge tweet)
Enable voice tweet and voice message in DM.
Hide promoted tweet from the timeline.
Confirm alert when hit the tweet button.
Confirm alert when hit like button.
Confirm alert when hit follow button.
FLEX for debugging.
Download BHTwitter iPA
Click on the link below to get the latest ipa file. Trollstore users should download BhTwitter for trollstore ipa
BHTwitter 10.10.ipa | BHWtitterForTrollstore.ipa
Find previous BHTwitter iOS versions on Github Releases
How to Install iPA FIle
To sideload the ipa file on your iPhone, iPad or iPod. Use Altstore or Sideloadly
Whether you're looking to customize your Twitter feed or gain more control over your Twitter settings, BHTWITTER iOS iPA is definitely worth trying out. So, download it today and take your Twitter experience to the next level.