I know that your craze of playing Pokemon Go has not yet cooled down. And why should it be, nobody hasn't yet tired of playing this game and that is why new tweaks and hacks are being developed for Pokemon Go. PokeDetector is a tweak recently developed that gives the nearby pokemon notification whenever there is a new pokemon around you. Cool isn't guys. Now whenever you are going somewhere with a though in your mind should i search for pokemon or not, this app will let it possible by notifying about the nearby pokemons.
Pokedetector app is an app for pokemon go that notifies about the pokemons present near. This app is yet unofficial so we can say that is a tweak or hack. The app has a similar name as pokepatch that is for jailbreak bypass on iphone. Now one thing you shouldk know is that this app is currently for Android Only. So, iOS users should have to compromise on this one. If you want to know how to download poke detector pokemon notifying app then below instructions are at your service.
Download Pokemon Go Apk Any Country – Android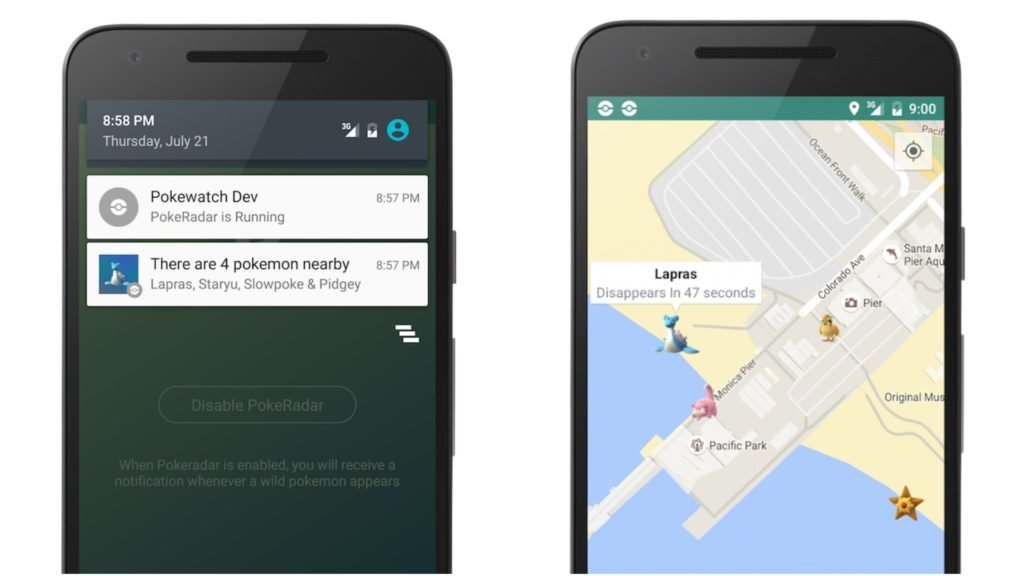 PokeDetector Notification App For Pokemon Go
The nearby pokemon notifications hack for pokemon go have made catching pokemons easier than ever. Let your phone be in your pocket while you go on pokemon hunting.
Pokedetector has made this game very easy to play. You just need to wait for the notification about nearby pokemon go beep and the next step you wanna take is to catch that pokemon. The app will itself send you a notification about nearby pokemon when you pass across.
The features of this app are pretty cool. You can filter out the pokemons you like to get notified about or set it to default to get any nearby pokemon notification with PokeDetector. Anyway, enough of the talk guys, let's do the work we all are here for.
Install PokeDetector Pokemon Go Notification App for Pokemons Nearby
Below are the steps to install poke detector app on your android to get notified about the pokemons near you at any time.
Step-1
First you should have installed Pokemon Go on your phone.
Step-3
Now download pokedetector apk file from their official site from here.
Step-4
After that head over to settings>>Security and enable unknown sources option.
Step-6
Now go the download folder where you downloaded pokedetector app. Tap on it and install it.
Step-7
Launch the app and set it up. Now it will notify about pokemons that are around. All Done!!
So that is it. Hope you the tutorial to install pokedetector notification app for pokemon go. Incase you face any problem drop a comment below. Please share it and subscribe if you are into tech and gadgets.