Samsung Android phones are very easy to customize and update manually. No expertise is required for a Samsung android phone to flash a firmware. That is why Samsung phones are the best selling smartphones in the market. Odin is the official tool for Samsung Android devices to flash and install update files manually. Now it is also available for Mobile itself other than the PC. Mobile Odin Pro apk is the mobile version and is available for Samsung mobiles. You can also flash the firmware through your mobile via Mobile Odin Pro free apk and it is a lot easier than the PC Odin version because you won't have to go into download mode or connect your device to the PC.
Mobile Odin pro is paid on Google Play store but don't worry. Today I will show you how to download and install Mobile Odin Pro Apk file on your phone. Mobile Odin requires root access so you have to root your android phone first in order to install this app.
Mobile ODIN Pro Mod
Mobile Odin is the the version made for Samsung Android mobiles. You can flash the firmware from your mobile via the Mobile Pro Odin. It works with almost all the Samsung phones. It supports both tar.md5 and .tar files. Flashing a firmware through Mobile Odin version is easier than then the Odin on PC. Just open the Mobile Odin Pro and tap on the option open file, now chose the files and tap on a start. In a moment you would be running the new firmware flashed on your device. But for Odin to properly work on your phone, your phone should be rooted.
Follow the instructions below to download and install Mobile Odin Pro Free Apk for your phone.
Download Mobile Odin Pro Apk
Click on the link to download mobile odin pro mod apk on your phone. After downlaoding the app, follow installation instrcutions explained below.
Download: Mobile Odin Pro Apk free
Installation Process
Now download the app on your phone from the link above.
Go to Settings>>Security on your phone and enable Unknown Sources option.
After that go to the download folder where Mobile Odin Pro is downloaded.
Tap on it and install.
All Done!!
How to Use Mobile Odin Pro App for Flashing Rom/Firmware
Download the specific firmware package for your phone model and move it to your phone.
Now open Mobile Odin Pro apk app that you installed on your phone.
Let the files required be installed when you run the Odin for first time on your Smartphone.
After you are in Mobile Odin, scroll down and tap on the option Open File.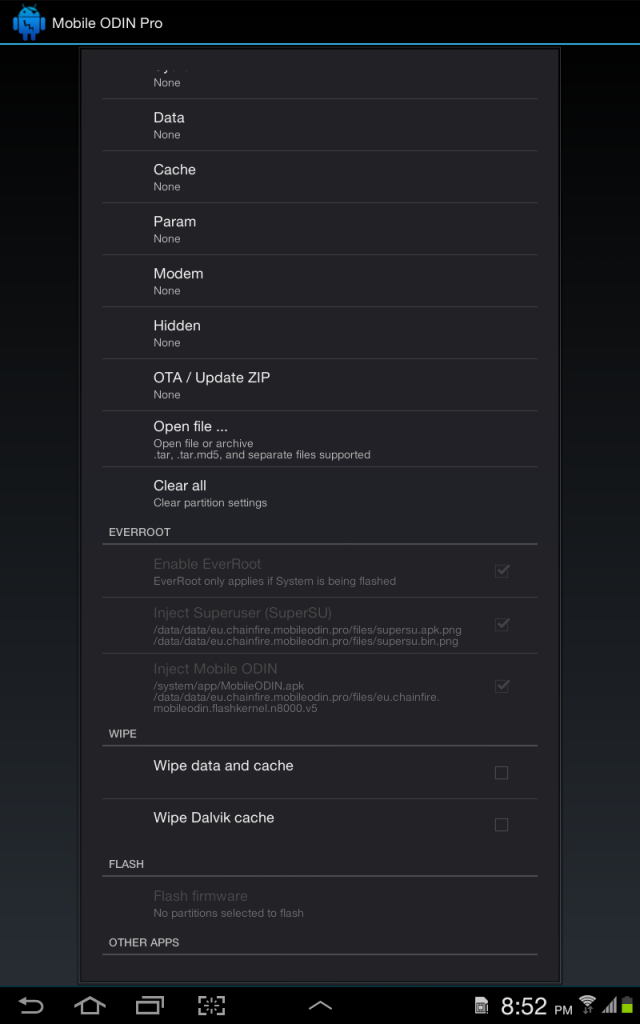 Select the file. Check the options below you would like to keep.
Now tap on the Flash Firmware option to start flashing the firmware.
Wait for sometime. After completion your device will reboot.
So guys this it. This was the process to download and install Mobile ODIN Pro apk for your Samsung Android smartphone and procedure to use it.
Comment below to share your views. Please share it and subscribe. Sharing buttons are below and subscription box is at the end.