Galaxy Note 10.1 N8000 has been one of the most popular and highly rated Android Tablet from Samsung. It's productivity features, performance, camera, design and every thing is brilliant. This was the first Samsung Note tablet with stylus S-pen. As the tablet is getting older now and also Samsung has discontinued the OS updates for this tablet after the final kitkat release but there are always Custom Roms out there for us to keep our device updated. Today I'm gonna list down Best Custom Roms for Galaxy Note 10.1 N8000 that are gonna change the whole experience of your device.
There are many Galaxy Note 10.1 N8000 Custom roms available but I will show you some of the best and most stable. A custom rom is a custom build software like program that has a lot of features and changes other than the stock OS. Mostly custom roms have the features of other devices ported for your device and is based on the latest OS available. Installing a custom rom on your note 10.1 requires a custom recovery. So, guys of you are interested to look for top custom roms for Galaxy Note 10.1 N8000 then have a look below.
Best Custom Roms for Galaxy Note 10.1 N8000
Some of the most amazing and stable custom roms for Note N8000 are here now beneath one shelter. I have collected the best custom roms for you so you can install the according your own choice. All the roms here are good and fast. You can chose any custom rom for Galaxy Note N8000 you like.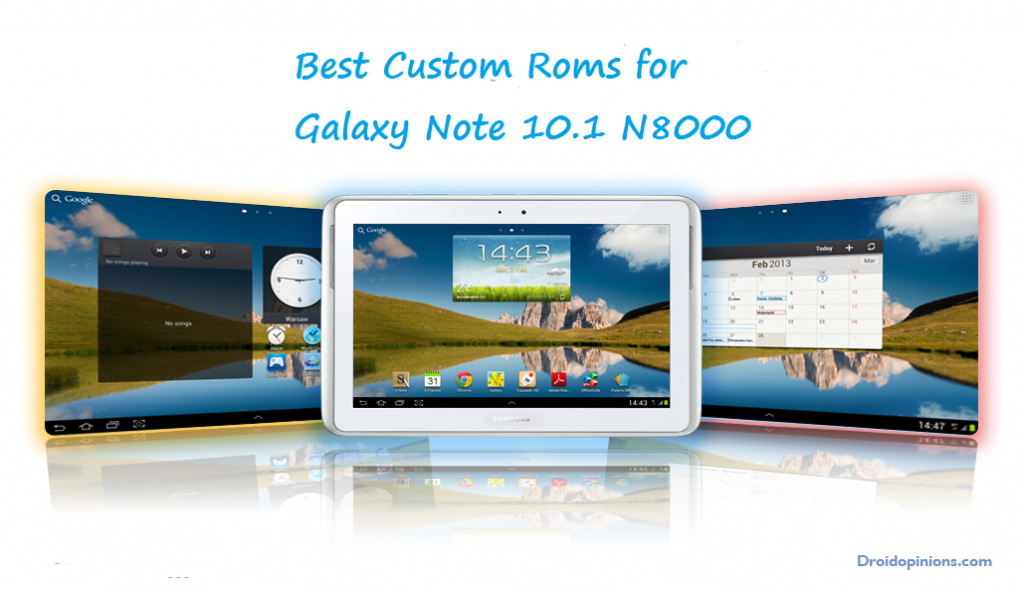 #1) Gnabo Rom
Gnabo is one of the features rich Custom rom for Galaxy Note 10.1. It is base don 4.4.2 kitkat and is very stable. No major bugs have been reported on this rom. I have used this rom on my Note 10.1 and it was great without any problem. The speed is great, features include Quad Multi window, air command, floating S-pen options in circle like Note 2014. Moreover it has the Galaxy Tab 4 launcher UI and Tab 4 browser. In short is a pretty decent and fast resonsive launcher.
#2) PACMan Rom
PACMan Rom is a combined rom made out of there different packages i,e Paranoid, AOKP and CyanogenMod rom having all the best features of all these roms. The PACMan is also is a full of options and performance rom. It has a lot of battery tweaks, UI tweaks, graphics mode and muh more. In short PACMan is a rom with almost all the options and features you need with amazing battery life.
#3) Omega v2.1 Rom
Omega v2.1 is based on 4.1.2 jelly bean firmware. It has stock OS feel and layout but the real tweak is in system performance and resources. The performance is on optimum in this rom and battery is great. The performance is amazing. The rom also has some other features like mods and themes in status bar.
#4) Collective Edition v6 Darkslide Rom
Collective edition is one of the best custom roms for galaxy Note 10.1 N8000. It has many customizations like you change the color and accent of status bar and settings menu. There is pimp my rom built in app through which you can customize the rom and add different features like sony's bravia engine. If you want a stock 4.1.2 feel but want more features, customization and power then collective edition rom is best for you.
#5) CyanogenMod10.2 Android 4.3 Rom
CyanogenMod roms are always the good and the most popular roms available for almost every Android Device. The team behinnd CyanogenMod roms always tries to the give the best shot they have and comes up the latest ported OS. CM10.2 is based on 4.3 android OS. It gives the pure Android experience like nexus devices. So, of you want a pure Android experience with features then go for CM10.2.
That is enough for today guys. These were some of the best Custom ROMs for Galaxy Note 10.1 N8000 that you should try. Comment below to share your views. Please share it and subscribe to out blog if you are into Android. Sharing buttons are below and subscription box is at the end.