With the release of the record breaking Pokemon Go. Many coders and programmers made hacks for Pokemon Go because because Naintec put some restriction at the early ages of this game. Like the game was unable to download and play on jailbroken iOS phones. But now this restriction has been removed. Now as you all know that Pokemon GO is location oriented game and you have to move around physically either to catch a pokemon or go from place to place. For hacking this situation and to to go every while staying stationary, tutuapp for pokemon go can  help us.
Although there are some Pokemon Go Tips and cheats which will make you master it but why not try the short way. PokemonGoAnywhere is used to hack real life walking in pokemon go by touching on the map. And you can hack pokemon go using tutuapp by installing PokemonGoAnywhere without jailbreak or Pc that will let you tap to walk.
Hack Pokemon Go with Tutuapp – No Jailbreak or PC
Actually Tutuapp is a cracked app store to download free apps. However this does not mean that you can use it for that though there are other better apps than this. Tutuapp is good because it provides you third party sideload apps for pokemon go. In short you will get many pokemon go tweaks apps. I will show you how to hack walking in pokemon go but furthermore you can also install other tweaks too if you like.
To hack real life walking in pokemon go using tutuapp. You can follow the steps below. You don't need any pc neither you need to jailbreak your device. Just install this appstore and download pokemonGoAnywhere as stated in the steps below. So, let's start.
Install Zestia without Jailbreak – Cydia Alternative
Install PokemonGoAnywhere with Tutu app
Below are the steps to install hack pokemon go real life walking using tutapp.
Step-1
Unlock your iPhone or iPad and launch the browser.
Step-2
Type the url address "tutuapp.com" and go. Now you will enter into official tutapp website..
Step-3
From there you need to install tutu appstore on your phone. Tap on the green button to download it.
Full Tutorial to Download Tutuapp
Step-4
Once it is installed now you need to trust the enterprise of this app. Hope you know how to trust this. It can be done by going to settings>>general>>profiles and trust the untrusted enterprise profiles.
Step-5
Once installed tutuapp. Open it from apps drawer.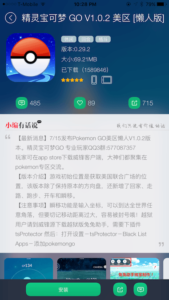 Step-6
There will be pokemon go icons there. Tap on any one of them. Install it by tapping the green button that scrolls with he screen. A prompt message will appear. Tap on install button.
Step-7
Now again trust the enterprise of this newly installed app from settings>>general>>profiles.
Step-8
All Done!!. Now you can launch pokemon go and tap on anywhere on the map to go to that place. Cool isn't it.
Note: You need to put coordinates of your location before logging in. You can find out your coordinates with GPS Coordinates Finder app. This will secure your account from soft bann.
Few Things to Keep an Eye on
Remember that this is a tweak and these type of tweaks can get your pokemon go account banned for some time.
You may face some functions of pokemon go unresponsive after this tweak. But it is only reported by users as i haven't tested it myself.
Also check out other pokemon go cydia tweaks.
So that is it. I hope you liked my tutorial on Walking Hack Pokemon Go (Tutuapp) without jailbreak. IF you have any questions, drop a comment below. Do share other pokemon go tweaks with us. Please share it and subscribe to our blog.