Hi fellows, How are you today. Today's article is for iOS geeks. On iPhone or iPad, jailbreaking is the only solution to get custom apps and repos on the phone. But most of the users don't want to do anything other than factory settings on their phone. Jailbreak has many limitations and risks. It is an unofficial. However if you still want to get free custom apps on your iPhone/iPad or iPod you can check Zestia cydia alernative for iOS. It is a cydia alternative that can be installed on your iPhone/iPad/iPod without jailbreak.
There are also some other apps like vShare, tutuapp to download free apps on iOS but Zestia is reported to be better cydia alternative. The app is availabel to be installed on iPhone/iPad/iPod for free without jailbreak. Previously its name was "X-Cydia" which was meant to be an alternative of cydia. With Zestia iOS you can get some of the apps that are for jailbroken devices on your unjailbroken device. However not every app that is available on Cydia can be installed through xestia platform but there are most of the apps thatyou can get using zestia.
Cydia Alternative Zestia for iOS 9/9.1/9.2/9.3 and iOS 10
So, if you are the one who want to let your iPhone remain at the stock settings with stock unjailbroken iOS version then probably you would be in search of some cydia alternative that requires no jailbreak. Well, you have seen the title. X Cydia is the one that can complete your requirement.
It will give you a handsome amount of apps and games and custom mods without jailbreak. Jailbreak users also see iOS 9.3.3 Jailbreak without PC. Anyhow without taking much of your precious time, let's start the procedure to install zestia cydia alternative  without jailbreak on iphone, ipad, ipod. Below are the steps.
Zestia Cydia Alternative Features
Some of its features are.
A worthy cydia alternative.
Almost all the famous apps and games are available for free.
Truly meant for factory users. Non jailbreak users.
Interface and design is decent and highly optimized for phones and tablets.
Compatible with the latest iOS version including iOS 10 beta.
Steps to Install Zestia on iPhone/iPad/iPod withoout jailbreak
The golden steps you have to follow to get the precious cydia alternative app on your everlasting iPhone, ipad or ipod are below.
Step-1
Unlock your iPhone and connect to an internet connection.
Step-2
Open safari browser and in the URL search bar, type the address "zestia.lmdinteractive.com" or go to this link.
Step-3
Now a website will load with an option to install zestia. When it loads completely, tap on the option below Install Zestia.
Step-4
Tap on the install button. On the next screen trust the app's profile and then again tap the install button on the top right of top to install the profile.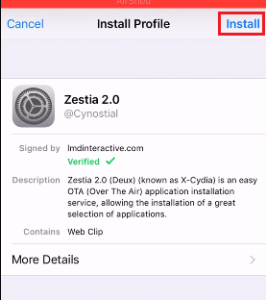 Now on the final screen again tap on the Install button. After that zestia cydia alternative will begin to install on your device.
Step-5
Now the app will install on your device in a few. When it installs completely, swipe through apps drawer and launch the app.
And Enjoy free custom apps, games and mods. All Done!!.
You can Install Apps By
Open zestia from apps menu.
Search for the app you want to install.
Tap on the install option and it will be installed in a short time.
Now once it is installed you need to trust the enterprise of that app to work properly.
You may be familiar with that. Go to Settings>>General>>Profiles. And trust the untrusted profile of the specific app you installed.
Run the app now, it will work properly.
That is it. The complete procedure to install Zestia Cydia alternative and how to install apps from it without jailbreak. If you face any problem just drop a comment below for getting help. Please share it and subscribe.
Enough for today guys. Bye, Take Care !!.