Pokemon Go++ has been updated to 0.291.0. Get the latest version from here for iOS or Android
Looking for the latest version of Pokemon Go++ for both iOS and Android devices? You're in luck! With the latest update, you can now download Pokemon Go++ and enjoy features like GPS location spoofing and a handy joystick on your mobile device. Whether you're using an Android or an iOS device, installing PokeGo++ is hassle-free. In this tutorial, we'll provide step-by-step installation instructions and download links, so keep reading until the end.
If you're interested in adding a joystick to your Pokemon Go game on both iOS and Android, you're in the right place. Currently, this is the most reliable hack that allows you to explore the world of Pokemon with a joystick. Please note that TutuApp no longer offers the tweaked Pokemon++ version due to Niantic's enhanced anti-hacking measures. Pokemon Go has become more challenging for developers to modify or tweak, but we're here to provide you with the best working solution.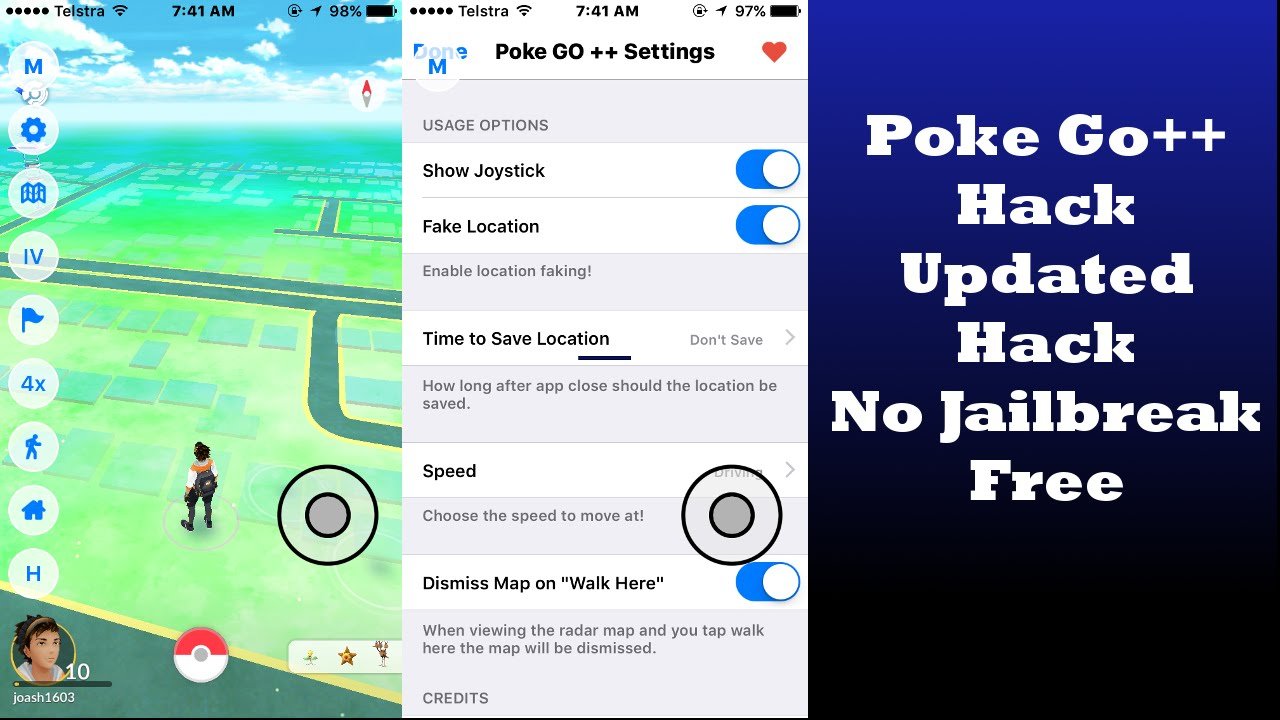 Pokemon Go++ for Android and iOS
One of the best things about Android is the ease and availability of third-party apps. Of course, for iOS, there are also .ipa apps that you can download, but Android offers a more straightforward experience. And the good news is, the Pokemon Go++ spoofing app is available for both Android and iOS devices, and it's updated to the latest version.
Here are a few key points to consider:
Cross-Platform Compatibility: You can enjoy the Pokemon Go++ experience on both Android and iOS devices, making it accessible to a wider audience.
Regular Updates: The app is kept up to date with the latest features and security improvements.
iOS Sideloading: If you're using an iOS device, you can sideload the Pokego++ .ipa file using tools like Altstore or Sideloadly.
Android Simplicity: For Android users, it's even easier. Simply download the Pokego++ .apk file and install it directly on your phone, no need for external apk installer tools.
Seamless Installation: Android provides a smoother process for installing third-party apps compared to iOS, ensuring a hassle-free experience.
Disclaimer: Before we dive into the exciting world of Pokemon Go++ hack, it's crucial to understand the potential consequences. Niantic, the creator of Pokemon Go, has strict policies against cheating. Using these hacks may result in penalties, including the suspension or permanent banning of your account. We strongly advise responsible and ethical use.
| | |
| --- | --- |
| App Name | Pokemon Go++ |
| Version | 0.289.0 |
| Size | 287 MB |
| Updated | Nov, 2023 |
Also Read,
Pokemon Go++ Features
Here are the features of Pokemon Go++ joytick for iOS and Android in 2023
Worldwide Teleportation: Travel to any location in the world with ease.
Shiny Pokemon Locator: Quickly find Shiny Pokemon in your vicinity.
Pokemon Pausing: Temporarily freeze Pokemon in their tracks during gameplay.
Incognito Mode: Stay discreet while enjoying the game.
One-Tap Movement: Move by tapping on the screen for a seamless experience.
Nearby Pokemon Indicator: Easily see Pokemon in your vicinity on the map.
Comprehensive Location Feeds: Access feeds for Nests, Pokemon spawns, Pokestops, and Raids.
Mapping and S2 Grid Overlay: Gain enhanced map features with S2 overlay.
Custom Routes and Hotspots: Create personalized paths for exploration.
Pokemon Stats Display: View statistics for all saved Pokemon in your collection.
Walking Joystick: Use a joystick for precise walking emulation.
Enhanced Throwing: Improve your throws and remember the last Pokeball used.
IV Preview: Check a Pokemon's IV before capturing it.
Empty Gym Slot Detection: Identify gyms with available slots for your team.
Cooldown Journal: Keep track of your cooldown periods.
Auto-Walking: Automatically traverse random or specific routes.
Pokmon Go++ iOS Download
If you have an iOS device, you can follow this procedure to download and install Pokemon Go Joystick hack for iOS. Android Users can skip this and scroll further down to the Pokemon Go++ Android Section.
Download Pokemon Go++ latest ipa for iOS from below link. After Installing the ipa file, follow the installation instructions.
Download: PokemonGo++.ipa
How to Install:
There are two ways to install the ipa app on your iPhone. You can use Alstore or Sideloadly (Drag and Drop ipa sideoader)
You can use Altstore to sideload PokemonGo++ iPA joystick hack on your iOS device
Or you can Sideloadly to install the ipa app. Sideloadly is a simple dragn and drop ipa tool just like cydia impactor.
Both tools work the same. You can use any one of these.
First of Download Cydia impactor on your windows PC or MAC.
Extract it and install it.
Now connect your iPhone/iPad to PC or Mac.
Launch Cydia Impactor that you downloaded and installed in the first step.
Now Click on the Pokemon Go++ Hacked ipa file. Drag it and drop it on Cydia impactor.'
Note: Delete any previous Pokemon Go from your phone.
After that it will ask you to sign in. Sign in using your Apple ID.
An Apple Developer Warning box will appear now. Click on OK.
After the ipa file installs on your phone. You can disconnect the device from the computer.
After that you need to trust the Pokemon Go app you just installed via Cydia impactor.
Go to Settings on your iPhone. Open General and then tap on Profiles. Scroll down and trust the Pokemon Go profile.
All Done now. Launch the newly installed Pokemon Go. Sign in and Enjoy playing with Joystick and hacks.
This is it for iOS. Now let's start for Android
Pokemon Go++ APK Download
Android users can choose from multiple tweaks to get pokemon go++ mod. You can either download PGSharp or iPogo to get spoofing features. There are multiple Pokemon Go Mod apk files below. You can install either of them.
Download: PGSharp. apk or
Download: iPogo.apk
How to Install:
Download the apk file from above links.
Go to your device's "Settings."
Scroll down and tap on "Security" or "Privacy," depending on your Android version.
Look for the "Unknown Sources" option and toggle it on to allow installations from sources other than the Google Play Store. Keep in mind that this can pose security risks, so only install APKs from trusted sources.
Open your device's file manager app.
Navigate to the folder or location where you've downloaded the APK file.
Tap on the APK file you want to install.
A confirmation dialog will appear, asking if you want to install the app. Tap "Install".
Launch the app after installtion.
Some Useful Tips and Tricks for Pokemon Go
Gather at the Digital Campfire

Niantic's Social Hub: Use Campfire to connect with other players.
Organize events and explore maps for Niantic games, including Pokemon Go.

Empower Your Pokemon with Mega Evolutions

Unleash the Power: Mega Evolutions offer enhanced strength for select Pokemon.
Accumulate Mega Energy by defeating Mega Raids to activate this feature.

Play Pokemon Go from the Comfort of Your Home

Homebound Adventures: Discover alternative ways to play indoors.
Use Remote Raid Passes to join virtual legendary Pokemon raids.

Seamlessly Transfer Pokemon with Pokemon Go Home

Cross-Platform Connectivity: Easily connect your Pokemon Go account to Pokemon Home.
Trade, receive gifts, and access news with the Pokemon Home mobile app.

Improve Your Pokemon Capturing Technique

Enhanced Capturing: Learn tips to make capturing Pokemon more efficient.
Optimize your approach and increase your success rate.

Locate Pokemon in Your Vicinity

Map Your Hunt: Understand how to find nearby Pokemon using real-world landmarks.
Get closer to your desired Pokemon with strategic location-based tips.

Master the Art of Throwing Pokeballs

Curveball Mastery: Gain extra XP by learning to throw curveballs.
Improve your accuracy and make capturing wild Pokemon easier.

Unlock the Secrets of Combat Power (CP)

CP Deciphered: Understand Combat Power and how it relates to your Pokemon.
Learn how to assess and increase CP effectively.

Evaluate Your Pokemon's Moves

Move Analysis: Examine a Pokemon's moves and their combat effectiveness.
Make informed choices about which moves to prioritize.

Optimize Egg Hatching and Understand Distances

Egg Incubation Tactics: Learn how to optimize egg hatching.
Understand the distances required for different types of eggs and their potential rewards.

Hatch Eggs on the Go

Mobile Incubation: Discover ways to hatch eggs without walking.
Explore various methods for efficient egg hatching.

Utilize a Variety of Berries

Berry Bonanza: Get the most out of different types of berries.
Combine berries with effective Pokeballs to improve your capture success.

Maximize XP Gain

Experience Points Boost: Learn strategies for earning more XP quickly.
Make the most of Lucky Eggs and evolution sprees to level up.

Unlock the Mystery of Lucky Eggs

Lucky Egg Enlightenment: Explore the benefits of Lucky Eggs.
Enhance your XP gains during evolution sprees with this special item.

XP Rewards for Various Actions

XP for Actions: Understand the XP rewards for different in-game activities.
Leverage Lucky Eggs and events to maximize your XP gains.

Transfer Pokemon Wisely

Responsible Transfers: Make informed decisions when transferring Pokemon.
Learn how to exchange unwanted Pokemon for Candy.

Enhance Incense Efficiency with Movement

Incense Strategy: Make the most of Incense by staying active.
Understand how movement affects the appearance of wild Pokemon.

Discover Location-Based Pokemon

Habitat Awareness: Find specific Pokemon types in appropriate real-world locations.
Improve your chances of encountering the Pokemon you desire.

Evolve Eevee with Creative Nicknaming

Evolution Secrets: Evolve Eevee into desired forms with specific nicknames.
Use creative naming tricks to influence Eevee's evolution.

Encounter Pikachu by Skipping Starter Selection

Electrifying Encounter: Learn how to find Pikachu without selecting a starter.
Follow a unique path to add Pikachu to your collection.

Manage Your Inventory Efficiently

Inventory Optimization: Keep your bag filled with essential items like Pokeballs.
Safely dispose of excess items to ensure you're always ready to play.

Exercise Patience in Your Pokemon Collection

Patient Pokemon Collection: Find strong Pokemon without evolving everything.
Wait for rare finds in the wild and anticipate future updates.

Assess Pokemon Strength with Individual Values (IVs)

IV Analysis: Understand how IVs affect a Pokemon's strength.
Use an IV calculator to make informed choices about which Pokemon to evolve.

Strive for High-CP Pokemon with IV Optimization

CP Mastery: Secure Pokemon with over 1,000 CP through IV optimization.
Discover the importance of CP, HP, and IVs for successful evolution.
FAQs about Pokemon Go++:
Some frequently asked queries about pokemon go++ are below. In case we missed any question, kindly ask in the comments.
How does Pokemon Go++ Work?


The tweak works by spoofing your GPS location and providing the joystick on screen to help you move in the game. Using this, you can go to wherver you want and catch the rare pokemons. It increases your xp and you can level up in the game.

How do you get Pokemon Go Plus Plus on Android?


Pokego plus plus on androd is avaialble for free. To download it on your phone. You can get the apk file from the link given above in this article. After downloading the file, follow the steps to install the game.

How do you Hack Pokemon Go 2023 on iPhone?


You can get the pokemon go hack on iPhone by installing iPogo on your iOS device. To do so, go above in this post, download pokego tweak ipa file and then install it on your phone.

Is Spoofing illegal in Pokemon Go?


Yes, location spoofing is against the terms and conditions of playing Pokemon Go. Its a violation of their policies and your pokemon go account may get banned for using spoofing apps.

Can I get iPogo for free?


iPogo offers both free and paid versions with free version being the most suitable for everyone. However the features are limited in iPogo free version. You can download the free version on iPogo website.

Can you still Spoof in Pokemon Go 2023?


Yes you can still spoof Pokemon Go in 2022. Download the files and read the instructions in this article to know how to.

Can you Spoof Pokemon Go without Root or Jailbreak?


It is possible to spoof location in Pokemon go without root on android and jailbreak on iphone. Pokemon Go++ works without jailbreak or rooting. So iOS users and Android users can definitely do it.

Is Pokemon Go Plus Discontinued?


The previously used actual pokemon go tweak by the name of Pokemon Go Plus is not avaialble now. However there are other working apps like iPogo which can be used instead of Pokemon Go++ as a spoofer app.

Is Pokemon Go ++ Safe?


Usually every third party spoofing app may get your account ban. Niantec does not allow any kind of location spoofing apps while playing pokemon go. You should always use a secondary account with poke go++ to keep yourself on safe side. And PokeGo hack is now changed to iSpoofer which is the most safest location spoofer yet available for pokemon go but still if you get caught on Niantec radar then your account can get ban for spoofing.

What are the additional features available in Pokemon Go++?


Pokemon Go++ includes various additional features that are not available in the official game, such as the ability to spoof your location, teleport to different locations, and catch Pokemon without having to physically move. It also includes features like auto-walking, unlimited Pokeballs, and enhanced throw accuracy.
That is all you need to know about Pokemon Go++ iOS and Android tweak app. If you have any other questions, comment down and we'll try to answere them. Share it and let us know if it worked for you.