There is nothing like Gaming on PCs, not even phones. But thanks to the emulators that we can install on our iPhone to make that possible. Xiaojigame or Happy Chick emulator for iOS 10.2/10.1.1/10 is the new one that can be installed on iPhone or iPad without jailbreaking. As you know that the popular GBA4iOS Emulator does not work for most of the users. So, you can try Xiaojigame iOS 10 emulator on iPhone. The interesting thing about this emulator is its a hybrid. It is packed with multiple emulation services combining platforms like PSP, N64, GBS, MD, PS, NDS, SFC, FC and some other.
Getting a working emulator without Jailbreak these days is hard. Most don't work. And you know how iOS 10.1 Jailbreak is still in beta phase. But Happy Chick iOS Emulator also know as Xiaojigame works. As it is tested for now by users and reported to be working good. Moreover it has also a built in appstore with different mods and games that can be downloaded. In short this is an all in one emulator that is worth having on your phone.
Happy Chick Emulator for iOS
Apple has a very strict security. Installing custom mods is very difficult on iPhone or iPad because after every new update they stop working. So, guys while you have a chance, try out the happy chick ipa emulator and make your dreams come true :). Don't be late because who knows when this stops working.
For installing the Xiaojigame emulator you first need to install an app from App store. And through that app you can install the emulator as a third party app. After that you can trust the developer profile and good to go. Below is the full tutorial. For installing paid apps for free, download Tutuapp or vShare or HipStore or Link Store.
[sociallocker id=1683]
How to Install Xiaojigame Happy Chick Emulator on iOS 10.2/10.1.1/10, No Jailbreak
Below are the methods to install this emulator.
Method- 1
Step-1
First of all unlock your iPhone. Connect to internet and open the App Store.
Step-2
Download the WeChat app from the appstore or itunes.
Step-3
After installing wechat app. Launch the app. Put your phone number, and verify with the code that is sent on your no. Now your are set to use the app.
Step-4
In the wechat app, it'll be in chinese language, use you sense and find the search option. In the search bar type Xiaojigame and search for it.
Step-5
An app will appear now in the results. Tap on it.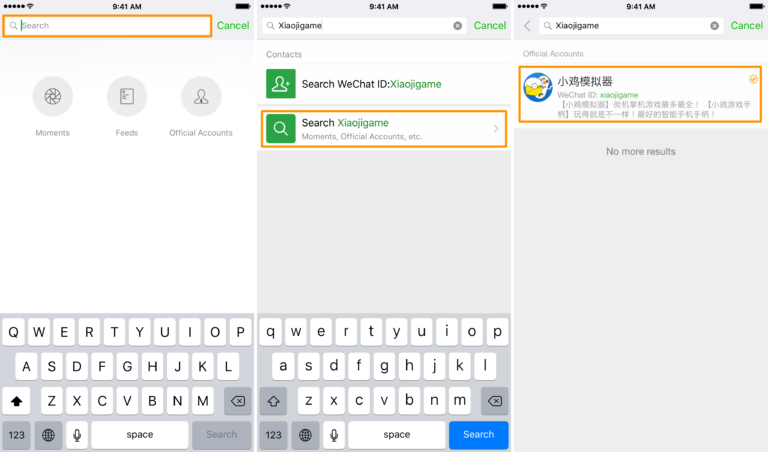 Step-6
Now after that tap on the iOS option at the very bottom. On next screen, tap on the blue link. Tap on the dotted button on the above right corner. Now choose the safari browser. You can understand it better from the screen shots below.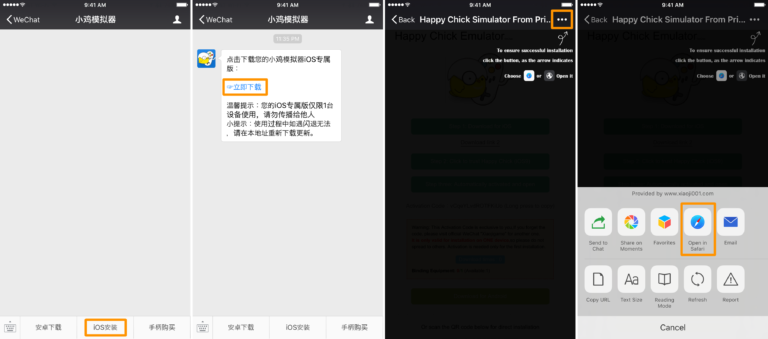 Step-7
Safari will take you the Happy Chick emulator download screen. First copy the Activation code you'll see below. Then tap on Download for iOS and install.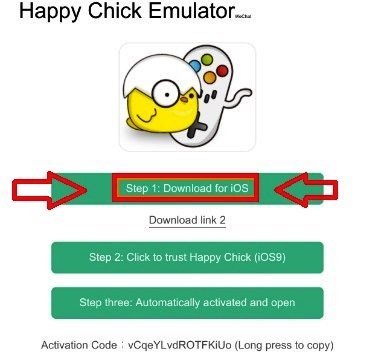 Step-8
After it is installed. Go to settings>>General>>Device Management and trust the app certificate, "henzhen Misi Interactive Entertainment"
All done, Launch the emulator paste the activation code you copied earlier and enjoy.
Method- 2
This is a pretty simple way.
Step-1
Unlock your iPhone, connect to internet. Open safari.
Step-2
Type the URL, xiaoji001.com and search.
Step-3
A webpage will load with link to download Xiaojigame emulator.
Here, first copy the activation code you will see below.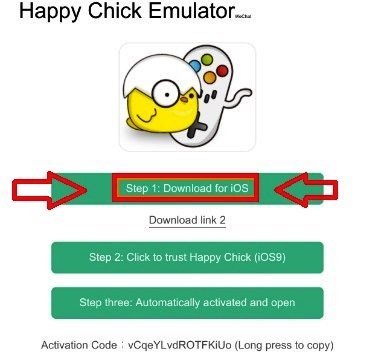 Step-4
Then tap on Download for iOS button and tap on Install.
Step-5
When installation completes. Go to settings>>General>>Device Management and trust the app certificate, "henzhen Misi Interactive Entertainment"
Launch the happy chick app now. Paste the activation code. You're Done.
Enjoy playing Games.
So, that was the tutorial to download Xiaojigame Happy Chick emulator on iPhone/iPad. Hope you like it. Follow us on twitter, Facebook, Google+. Drop you comments below.
[/sociallocker]