With new iOS 10.0.2 update release now users can enjoy vShare for iOS 10.0.2.  Let me ask you a question,! What comes in your mind when you need to install a paid app for free on your iOS device. Probably Jailbreak would be the first suggestion from any one or from you. But vShare has made this problem easy for us. Because vShare iOS 10.0.2 can be installed without jailbreak on iOS. And with vSHare we will get almost all the famous apps and games, whether they are paid, for free.
If you are previous vShare users, then you must know that previous method to install vShare from vshare's website onto your phone doesn't work anymore. Many people were having problem installing using the old method. But now I will show the latest and working method to install vShare for iOS 10.0.2 using vShare helper. This method will work on new iOS 10 version. You can follow the full detailed tutorial below.
vShare for iOS 10.0.2
vShare for iOS is great way to install paid apps for free. It is a perfect alternative of cydia, installaous, appcake etc. You don't even need to jailbreak your device. In this method I will show the perfectly working method to download vShare using PC with vShare helper on your iphone/iPad. Android users can download vshare apk.
Someother Appstores similar to vShare;
To install vShare for iOS 10.0.2 you will need a PC. We're gonna use vShare Helper tool to install vShare on iPhone through PC. Because this method is the new that works for the most. Older method to install vShare does not work for most users.
So, if you are ready then we should start. Read below.
Download GBA4iOS 2.1 for iOS 10.0.2
Things Needed
A PC or a Laptop with Internet connection.
IPhone or iPad
USB Data Cable
How to Download vShare iOS 10.0.2 without Jailbreak'
These are the steps to download vShare for iOS 10.0.2.
Step-1
Turn your PC or laptop on, connect to internet and open the browser you use.
Step-2
Type the URL: vshare.com and hit enter.
Step-3
vShare website will load now. Click on the Download option with desktop logo.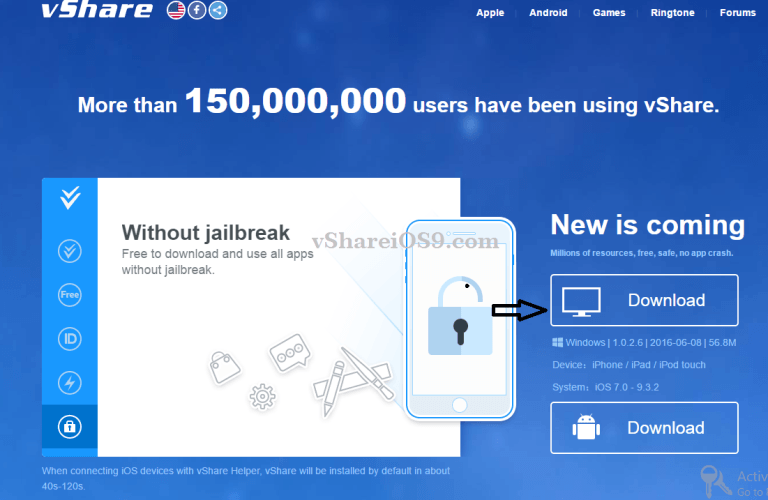 Step-4
vShare helper will now download on your PC.
Once it is downloaded. Install it on your PC. Chose any option from the provided ones while installing it. When it is installed. Launch the vShare helper tool.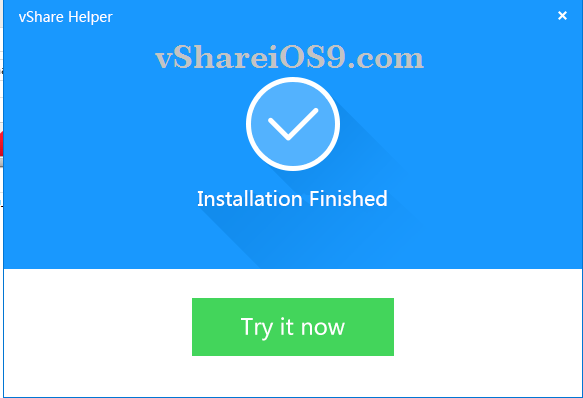 Step-5
Now connect the your iPhone/iPad to the PC via USB Data cable.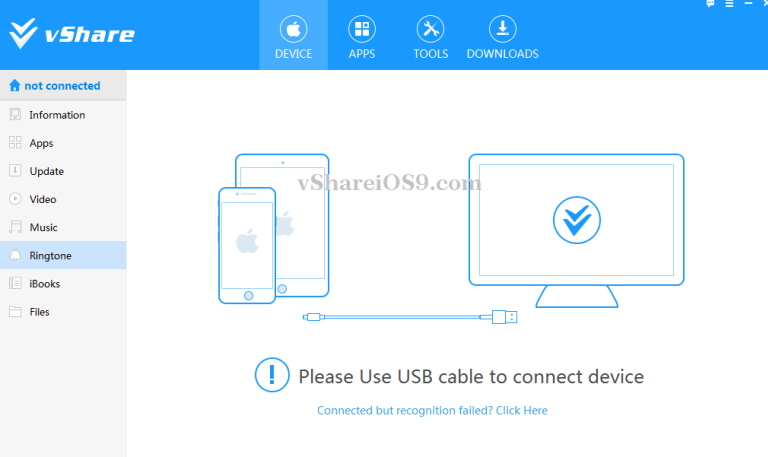 Step-6
When your device is detected by the PC. vShare helper will also detect it and after a few seconds its status will be shown on the screen of vShare helper tool.
Step-7
Now this is the final part. When device status is shown. There will also be a list of apps on the bottom. One will be vShare. You can see that in above screenshot.
Click on Install vShare app and install it. It will be installed on your iPhone or iPad with in seconds.
Step-8
After that, disconnect your device. Go to apps drawer. You will see vShare SE app. Launch it and enjoy playing free apps and games.
Source: vShare iOS 10.0.2
This is it. You have installed vSHare for iOS 10.0.2, No jailbreak. Drop you comments below. Follow us on twitter, facebook, Google+