Hi, guys. Guess What !!. I got a good news for you. I just installed tutuapp again on my phone and the Pokemon Go hack that was once vanished from it is now again available. Yes, the tutuapp pokemon Go hack is now once again available for your iOS and Android devices. You can bypass real life walking now. So, if you are impatient to install this hack again on your device or if it is first time on your device you can just follow the procedure below. Now Tutuapp Pokemon Go 0.87.5 and Tutuapp Pokemon Go 1.57.5 version is available.
Tutuapp is a chinese appstore that is trending now a days so much. It has a handsome amount of hacked and cracked apps for android and iOS for free. Pokemon Go hack is only available on this appstore which has become the major source of popularity for this app store. Tutuapp Pokemon GO hack is driving a huge amount of visitors to this chinese app store. You get a joystick and some other mods merged in this hacked pokemon go version.
Pokemon GO Tutuapp
The version of pokemon go that is available on tutuapp  is a cracked modded version. You can install it on your phone but you may face issues installing this. So, if you do, remember that it is a hacked app. If it runs properly then well and good and if it doesn't then don't be disappointed because there are other hacks you can try for pokemon go. See, below
Now, every one with iOS and Android devices. Both the tutorials to install tutuapp Pokemon go on iOS and Android are explained below. You just need to follow them for your respective devices. So, let's begin.
Note:
For the past few updates, Tutu app is providing regular version of Pokemon Go for 0.61.0/1.31.0. They say that Niantec has updated their antihacking system. Tutuapp is working on Pokemon Go hack and soon it will give hacked Pokemon Go. So, guys have patience. For Now you can install Pokemon Go++ for iOS and Fly GPS for Android to get joystick.
TutuApp Pokemon GO Hack Installation Steps
Follow the steps below for pokemon go tutuapp android version.
For Android without Root
Step-1
First of all unlock your Android device and connect to internet.
Step-2
Install tutu app on your device from the instructions provided in the link beneath
Step-3
Once you have installed tutuapp. Open it from the apps drawer. You will see a pokemon go game on the top. Its name will be written in chinese.
Step-4
Tap on the green button right next to it.The device will prompt you to open it in browser, select any browser, or if it doesn't then it'll directly open in a browser.
Now Pokemon GO app will start to download. If it asks you to download then select yes.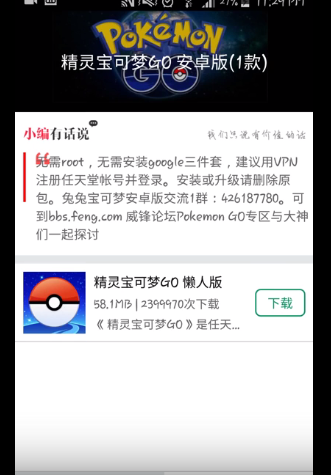 Step-5
Once tutuapp Pokemon Go is downloaded. Tap on it and install the game.
Now, go apps drawer and run the chinese Pokemon Go hacked game.
All Done !! You have successfully installed pokemon go tutu app version on android. Enjoy playing with joystick.
Now let's start the process for iOS tutuapp Pokemon Go installation.
For iOS without Jailbreak
Step-1
Unlock your iPhone/iPad and connect to an internet.
Step-2
Install tutu app on iOS device using the below link.
Step-3
After you install tutu app. Open it from apps menu. Hacked Pokemon Go iOS will be available on the top.
Step-4
Install the chinese Pokemon Go version by tapping on the green button.
It will prompt you, tap on the install button.
Step-5
Now you need to trust the enterprise of this newly installed app from settings>>general>>profiles.
trust the untrusted app profile of pokemon go tutuapp.
Step-6
After that go to apps menu and launched the newly installed hacked pokemon go. Now ply it with joystick without any jailbreaking.
 All Done!!
Suggestions!
You may have trouble signing in with your google account. So, if Google Account does not work. Sign in with Pokemon Trainer account. Make pokemon trainer account on Pokemon Club.
Before playing make sure to put coordinates of your location. This will prevent you from softban.
Hope you like this tutorial to install tutuapp Pokemon GO for iOS/Android. Discussion can be carried out in the comments section below. Please share it and subscribe. Subscribe to Droidopinions on Twitter, Facebook, Google+.